April 4, 2021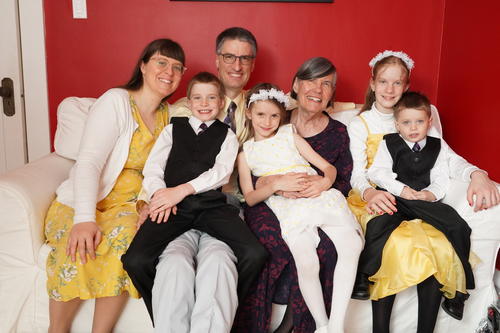 Alleluia! Christ is Risen!
We celebrated with:
An Easter egg hunt (12 eggs each)
Breakfast with Grandma J (bunny pancakes, chocolate nests and a side tantrum of what do you mean I'm not also allowed to eat my entire chocolate bunny instead of the extremely sugary and chocolate themed breakfast)
Photos in our Sunday best
Church in the basement
Distanced (masked) walk with Uncle Chris, Auntie Yukiko, Erika, Maria and Uncle Mark. The Ontario outdoor gathering limit is groups of 5 and we respected that. Erika met Elizabeth at the man with two hats, Uncle Chris, Maria, Uncle Mark, Brendan and Matthew met at the strange red statue and the rest of us met at the circular tulip bed. We waved to each other as we passed but mostly we chatted in our own little groups.
Zoom with Dave and Karen's crew, Auntie Janice, my parents and Auntie Heather.
Dinner - Green beans oriental, sweet potato, buns, a butter lamb, salad and the most enormous ham I've seen in a long time. Trifle for dessert. We're reading the Jungle Doctor right now and tonight's story was all about a snake that ate a hard boiled egg. The kids were also very amused by tonight's Zippy story. "Hey, that's us!" they said, seeing all the animals watching the zoom screen.
You might also like
- Easter Sunday
(0.368317)
- Happy Easter
(0.364571)
- Social Bubbles: Day 89
(0.364146)
- Old fashioned family day
(0.361079)
- Easter Sunday
(0.357654)
All
April 2, 2021
There was no family Good Friday service this year, so we decided to start ours early. We used the order of service sent by our church, but I substituted all the stations of the cross with a kids version that I picked up a few years ago and we selected our four favourite hymns. Aside from an ill-timed ad on youtube providing some levity in the middle of the service I thought it was a lovely service and the kids did pretty well.
After church we made resurrection rolls with the oven duly guarded by a few enthusiastic kids. Michael was quite perplexed "Where did my marshmallow go?!" Then we decorated our eggs. Michael and Amelia painted theirs with food colouring. Amelia did have a go at decorating with wax.
After egg decorating we went for a distanced walk with Michael's godparents Kate and Joel, along with not-so-baby Lucy. It was nice to catch up.
You might also like
- Good Friday
(0.347287)
- Good Friday
(0.346282)
- Good Friday
(0.344428)
- Cottage Arrival 2019
(0.338295)
- Lac des Loups
(0.337858)
All
April 1, 2021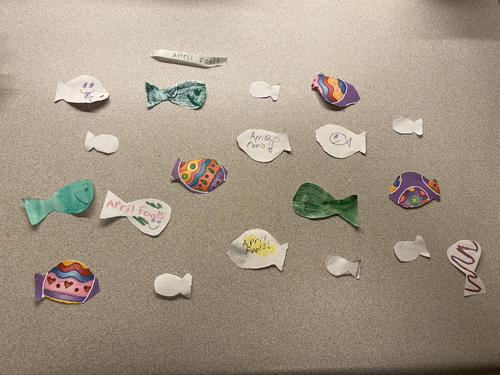 It's tradition to turn the milk and porridge green on April Fool's day. This year Matthew made me promise I would not turn them green.... so I turned them blue instead. And not very blue either. He was NOT terribly amused but I was. He really really hates coloured food for some reason.
Matthew put a fish in my pocket without me noticing. It was supposed to snow, so I told Brendan he needed to get up to snow-blow the driveway (we didn't get any snow).
Elizabeth got up at 5:40am (!) to make many, many fish and distribute them around the house. So. Many. Fish.
I was finding fish in my dishes and behind every curtain and door and even under the eggs in the fridge well into the evening.
Matthew gave his teacher and Ylan envelopes to open with fish inside.
I managed to tape fish to all of my kids' backs without them noticing and everyone had goldfish for snack. It was a fun day.
You might also like
- Bogonning
(0.336683)
- Karate Nationals
(0.336523)
- Room swap
(0.333898)
- Rube Goldberg
(0.333799)
- Canoeing
(0.332861)
All
Amelia's class finally finished the circus unit and made their presentation. Mme Martine acted as the ringmaster, talking into a giant spoon. It was kind of what you'd expect from a kindergarten circus show with the instruction "do some kind of circus act" but quite cute once they got going. Amelia found many of her classmates quite hilarious. After the show they seemed to segue right into magic tricks. They had some kind of special presentation Thursday afternoon but Amelia didn't remember what it was about because she spent her time making paper dolls and clothes for her dolls instead of paying attention. She mostly just likes cutting paper into tiny pieces I think.
For art this week I pulled out the watercolours for the younger three. Michael really enjoyed himself and did two separate pictures over nearly an hour! Amelia painted a unicorn with mountains in the back and rain. She had a very elaborate story to go with the picture. Matthew also had to draw a picture of a bunny. He continued working on his times table assignment (48 pages!) but he's done all the tables he knows now so we're back to working through MathUSee. I think it's better to learn them systematically one at a time so we're just not going to submit that assignment for a while. Mostly he worked on writing, reading and french grammar this week.
Elizabeth's art class was working with clay so we pulled out the plasticine and she made herself a new pet! It's a warthog dragon and pretty adorable in my opinion. She worked hard at the beginning of the week and finished all of her asynchrone work on Tuesday, so she had more time to work on the 1000 piece puzzle she's doing. Elizabeth and Amelia worked together to make pork chops and twice-baked potatoes for supper one night, and Elizabeth also made pasta another night. We've started going for a run.
It wasn't nearly as nice weather most of the week but the animals are starting to wake up. One highlight was the dead squirrel in the middle of the sidewalk. Michael in particular was fascinated and wanted to walk down the street to "go see the dead squirrel" several times that day. He was put out to discover someone cleaned it up. I was much happier about the abundance of (live) bunnies, although there are so many I fear for my garden! Michael presented his robot and a whole crew of animal stuffies at Grandir Ensemble this week, much to the amusement of the staff.
You might also like
- Virtual School: Week 20
(0.446864)
- Homeschool wk june 15-18
(0.442529)
- Virtual School: Week 12
(0.440693)
- Virtual School: Week 26
(0.437934)
- Homeschool wk may 11-15
(0.429081)
All
March 31, 2021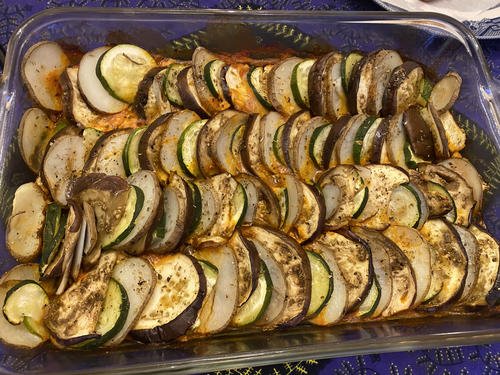 I find it really interesting to flip back through my photos of our meals of the month. The entire month was during lent, so in theory we eat simpler and less meat. I think we did eat more vegetarian meals than usual but a month with moussaka, ratattouille, lasagna, crepes and omelets probably isn't the simplest meal plan ever (!) Also please ignore the hair that apparently got into my picture of shepherd's pie (ewww). I promise I didn't eat that.
You might also like
- February Food
(0.314815)
- Winter comes back
(0.290766)
- Elizabeth baptism birthday
(0.288)
- Still Tulips
(0.277389)
- Apple picking
(0.273786)
All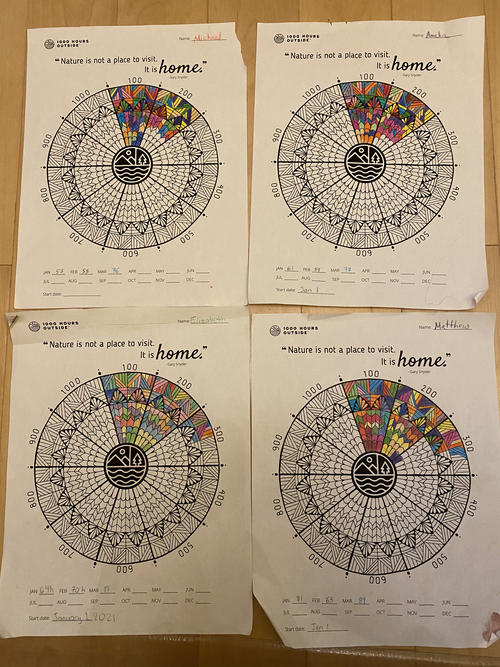 We kicked things up a notch this month - with the weather generally being pretty nice it was easy to hang out outside. We even had a few meals out on the deck, though I drew the line at camping given subzero temperatures... Everyone put an extra 20 hours in!
You might also like
- Dinner with Lorianne
(0.272727)
- Social Distancing: Day 69
(0.270349)
- Ice Cream Party
(0.266129)
- Outside
(0.258065)
- Gardening
(0.256684)
All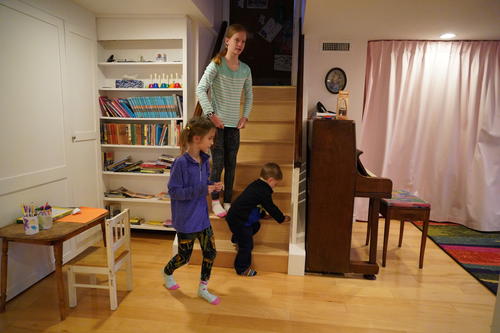 Our 30 pieces of silver coin hunt is always a holy week highlight. This year Matthew also made a hunt in Minecraft and Xander joined us to "multiplay" and find all the hidden coins (aka emeralds because there is apparently no silver in minecraft).
You might also like
- Palm Sunday
(0.238938)
- Marius Barbeau
(0.238636)
- Strawberry picking
(0.23494)
- Ballet and Paw Patrol Camp
(0.23301)
- Xander and Matthew
(0.232787)
All
March 29, 2021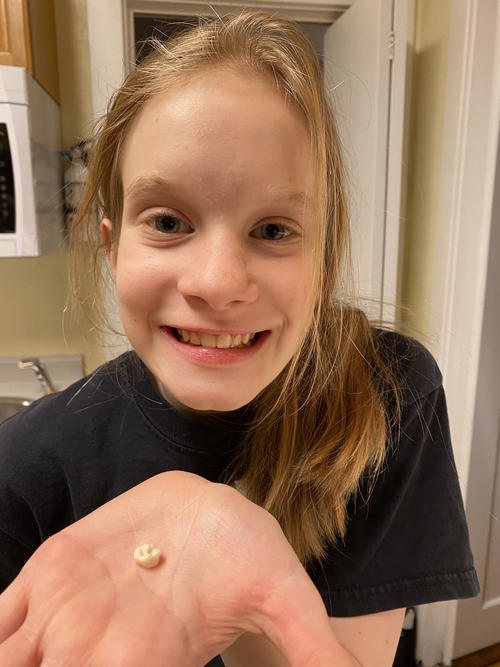 It's been a while since we had a visit from the tooth fairy, but Elizabeth lost her first molar Feb 22nd and had a second so loose she decided she didn't want to put it out until the second one could join it. That happened March 24th, in case you are wondering how long we agonize over wiggly teeth around here. And only some sixty or so more baby teeth to lose around here! To be fair this time round Elizabeth spent much less time moaning about how she couldn't eat anything or how much her teeth were bothering her.
You might also like
- Maria's first swim
(0.316973)
- 10 days
(0.314815)
- First Swing
(0.31117)
- Santa Ninja
(0.302505)
- A visit from Godmother Rachel
(0.3)
All