March 16, 2010
Elizabeth has been sick the last few days with a vicious tummy bug. Unlike last time, Elizabeth is as happy as a clam most of the time. She's even been helping us clean out our basement... (We went to Home Depot on Sunday before she got sick where she was thrilled to drive the race car shopping cart.)
Then she gets a bit fussy and we go through our list. "Do you need to go to the toilet?" "Need a diaper change?" "Are you hungry?" "Do you need a nap?" BWAWP... goes Elizabeth. Usually all over Mom. Getting completely drenched in vomit is not my idea of a good time. Elizabeth doesn't enjoy it much either, although she seems to love the baths afterwards.
Our employee Irina has been recommending black tea. A few years ago she dosed me with Eucalyptus tea that was very effective if a bit vile so if Elizabeth is still sick tomorrow I might try it...
You might also like
- Dentist
(0.344444)
- 52 cm of Snow
(0.34303)
- Ballet
(0.342566)
- Capital of extremes
(0.335394)
- First day of Maternelle
(0.33432)
All
March 15, 2010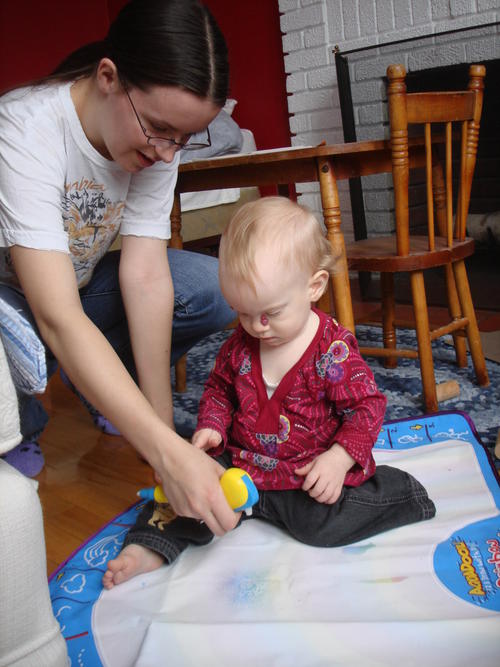 Elizabeth loves drawing but I don't always have the energy to supervise an actual drawing session.
A few weeks ago I pulled out our Aqua Doodle mat acquired to entertain Erika a couple of years ago and let Elizabeth try it out. She loves it! She's been doodling on the mat several times a day, crawling down the stairs on her own (with supervision) to the Aqua Doodle room with drawing obviously on her mind. Her drawings are getting more complex too, although they cannot be classified as anything beyond scribble.
I love it too because I can leave the "pen" lying around and even though Elizabeth has been known to "draw" on the walls, vacuum cleaner and floor, since it's only water it's not that big a deal. She also has been known to suck on her art supplies, so having something completely safe to eat makes this activity less stressful for both of us.
The mat itself is basically a thin sheet spread tightly over a coloured waterproof mat. I'm thinking about trying to make a few more with different backgrounds (we have lots of old sheets here!)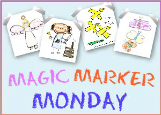 You might also like
- Painting; Take 2
(0.42723)
- Arts N Crafts
(0.408231)
- Valentine's Desk
(0.403209)
- Abstract Art
(0.393324)
- Playdough
(0.390173)
All
March 12, 2010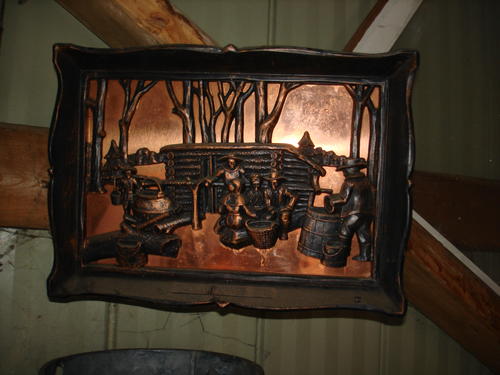 Before heading home from Great Grandma and Grandpa's, we stopped by the "family" sugar bush. I've never been to a real live maple sugar bush before so I found it really interesting although it wasn't a boiling day and things were quiet.
Great Grandma tried to get me to drink the sap straight from the bucket but I didn't have the nerve. I did catch a few drops on my finger to taste and was really surprised. It tastes just like watered down maple syrup! My mom laughed when I told her that, but for some reason I was really expecting something more tree sappy. Elizabeth seemed to like the sap too...
We didn't end up leaving Waterloo until quarter past four, but we were able to bypass the Toronto rush hour by taking the 407 all the way to the end past cows and the pinkest subdivision I've ever seen.
Brendan says that everytime he spoke to me Elizabeth was crying but I kept her well-supplied with potato puff chips. I did regret allowing her to play with her drum as it thumped, glowed and jingled nearly continuously, but it was a major factor in managing to drive straight until the first service centre past Toronto. Elizabeth had her first fast-food restaurant experience (chili at Wendy's) for supper and then I bundled her back into the car. She soon fell asleep so we drove from Port Hope all the way to Ottawa without a stop!
So the secret to travelling involves chips and driving at night. Too bad I really hate driving at night - my nerves were jangling every time we passed a jumping deer sign.
You might also like
- End of an Era
(0.383577)
- Family Retreat (Part I)
(0.377278)
- Trip to the big city
(0.368817)
- Road Trip!
(0.364198)
- Happy Birthday Uncle Chris!
(0.362745)
All
March 11, 2010
It was nice to spend some time with my grandparents and Elizabeth's great grandparents this past week.
I always love going to visit their house in Crosshill; it's the last remaining "place that has always been" (ie a place where things have been more or less the same as long as I can remember). This visit is one of the last times I will be able to do this as they have decided that it is time to move into an assisted living residence. I'm sad that no relative appears to be in a position to take over the house. It originally belonged to my grandpa's parents and both the fact that my grandparents have to move to a residence and the impending sale of the house represent a change in community cultural values that I kind of wish hadn't happened.
On Wednesday we got to go see the new place, and while it's going to be very different for my grandparents, I was pleased to see that it doesn't have the serious institution feel some places do. Elizabeth was a big hit. One little old lady came running after me. "Can I see the baby?" she begged. The new place has a library and public computer lounge with free high speed internet access so I'm thinking that maybe we can teach my grandparents how to access pictures of their grandchildren and great-grandchild. Maybe we can even Skype!
Wednesday evening, my grandparents took me and Elizabeth to her second restaurant (Crossroads). It's a favourite of ours because it has a celiac-friendly buffet. All the gluten-free dishes are labelled as such! My grandma borrowed their wheelchair so she didn't have to walk to the table. I pushed her while Elizabeth sat contentedly on great-grandma's lap. Wheelchair rides are apparently the best! Even my normally wheelchair resistant grandma liked this foolproof method of getting a baby snuggle.
You might also like
- How many weeks?
(0.384332)
- Rainbow party
(0.383525)
- Silly Sock Week
(0.379167)
- Grade 1 update
(0.378405)
- Dovercourt
(0.376812)
All
March 8, 2010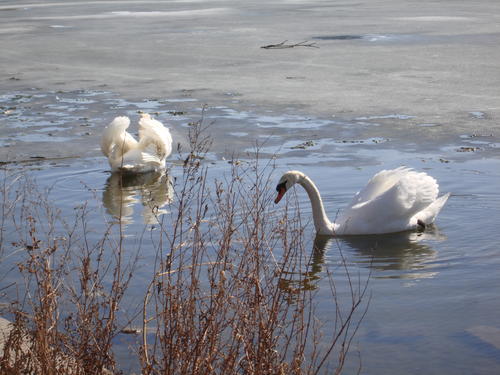 We had a day in Toronto to recover so we spent it hanging out with Cousin Donna and second cousin Lindsay. We went for a long walk in the park while the girls slept and the moms admired the signs of an early spring.
Elizabeth woke up in time to visit their little zoo. We saw Yaks yawning, African sheep that looked like goats to mom and beautiful peacocks strutting their stuff.
In the evening Elizabeth was on her best behaviour for great Aunt Muriel and cousin Pat, if not her best table manners... She apparently likes chili. And also if she's tired thinks nothing of actually resting her face on her plate. This was one of those moments best left to the imagination.
She played peek-a-boo and playing the "sharing game" with an envelope. This consists of giving away the envelope, and then snatching it back. Over and over and over. Pat made Bear wave and talk and Elizabeth was so intrigued that she climbed up on the couch with Pat and snuggled. Pat had Elizabeth under one arm and Bear under the other!
You might also like
- Apple Picking Reprise
(0.342535)
- Road Trip games
(0.341463)
- Trip to the big city
(0.335274)
- Easter Sunday
(0.334266)
- Flour letters
(0.330656)
All