February 23, 2014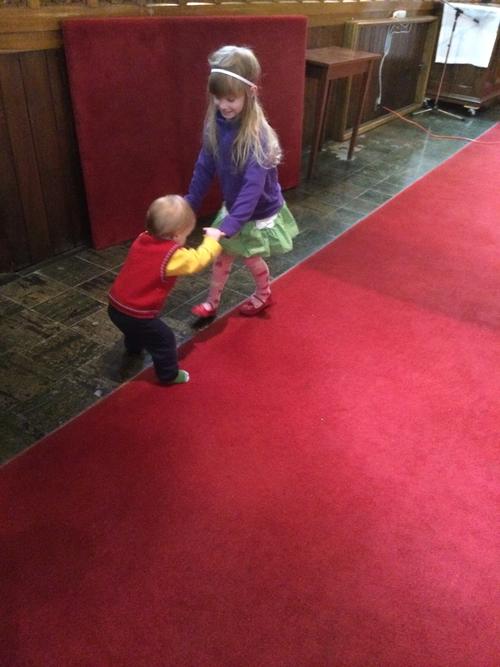 Matthew likes to go for walks. Elizabeth has started taking him places. It is terrifying...
We celebrated National Aviation Day with airplane sandwiches for lunch. Then we all got together for the last dinner at Dave and Karen's that we'll have for a while as a family. Elizabeth isn't fond of taking baths, unless she can use Xander's tub. Maybe we need bath crayons too...
You might also like
- First steps
(0.294643)
- Choir rehearsal
(0.293814)
- New favourite way to get home from the bus stop
(0.288462)
- Housey
(0.2875)
- Karen's birthday
(0.279904)
All
February 22, 2014
We gave Elizabeth a choice for her birthday party this year. She could have her own birthday party but with a very limited guest list outside of family, or she could have a combined "family" party with her brother and have a "friend" party later. Since she wanted to invite every single kid she has interacted with in the past year, she opted to combine parties with her brother. Especially since it meant she could choose TWO themes!
Anyway, she decided that "Matthew" would like a construction party. "Can we go shopping at Home Depot?" she enquired excitedly. Perhaps we go to the hardware store a wee bit more often than we should...
So with a little inspiration from Pinterest (of course) I put up some caution tape and balloons, made gluten free "paint brush" s'more cookies, served some nibblies in appropriately construction themed receptacles (toy dump truck, new paint tray) and decorated the table as a road. I was a little surprised that I could not locate any appropriate construction themed paper plates - everything construction related (including fake hard hats) around here is aimed at a later milestone and labelled with words like "old fart", "over the hill" and "turning 50". I was very pleased by the way the cakes turned out. Just a little digging into the side with a fork and all of a sudden we had ourselves a pretty decent looking construction site cake :)

Auntie Janice helped with the traditional "find the presents" scavenger hunt... with a twist. Each clue required the kids to do a construction related activity. She had them cleaning up a demolition area (ie toy room), set the table to feed hungry construction workers, rip a seam out of a cushion and "paint" with water to reveal the secret message.
Matthew wasn't quite sure about his cake but got into it once he tasted the chocolate. Elizabeth had no such qualms.

You might also like
- Rainbow party
(0.409011)
- Good Friday 2015
(0.40458)
- About the boy
(0.403458)
- Elizabeth's 9th birthday party
(0.402857)
- Preparing for Gingerbread
(0.397826)
All
February 21, 2014
We stopped at Auntie Muriel's on the way home. Elizabeth brought her cuckoo whistle just so she could properly say hello to the clock.
You might also like
- The Moon
(0.261628)
- Cheveux Fou
(0.241935)
- Housecoat
(0.238739)
- Auntie Mary
(0.235897)
- Mastering the umbrella
(0.234742)
All
February 18, 2014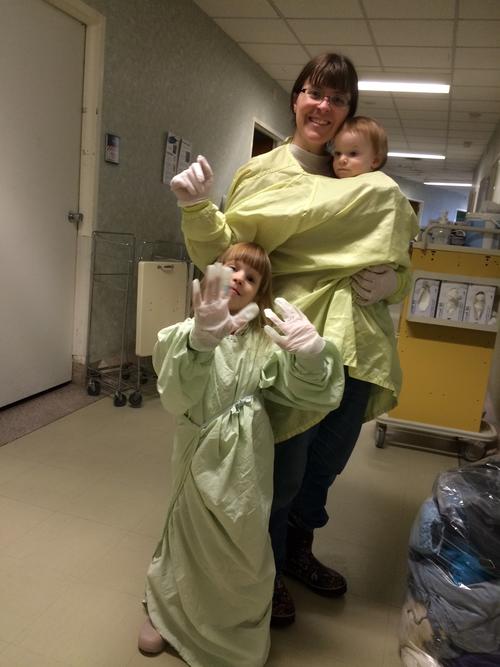 Daddy and Grandpa went back to Ottawa to work on the project-that-consumes-all-our-spare-time. I hear Daddy had to work and Grandpa needed to do some chores like visiting the Angolan embassy and renewing his driver's license etc...
Daddy said it was too quiet to sleep... I guess he missed us!
We had one good day splitting our time between Great Grandma and Grandpa (who are now 50 km apart!) and then Grandma ended up in the hospital with a pulmonary embolism. We were grateful for the excellent health care, but of course the hospital was another 50km and she was put into precautionary isolation, meaning we had to gown up during visiting hours. Elizabeth was not terribly amused by the rubber gloves in particular. I think I spent longer coaxing her into the gown than we spent visiting but she ended up having fun playing I-spy.
The kids were real troopers about all of the driving - we went from nursing home to nursing home to hospital and back around visiting with Great Grandma and Grandpa, helping Grandma and getting various things from the apartment. Luckily Grandma arranged for a sled and Elizabeth got a chance to burn off some of her energy that threatened to overflow after many hundred kilometres sitting in the car. She's also become quite the "bury your horses" expert - this is a car game we've played since I was quite small and my mother before me. You count all the horses you see and whoever sees a graveyard hollers "Bury your horses". Everyone else has to reset their horse count. We have a roadkill / fastfood restaurant version but we haven't taught that one to Elizabeth yet... Elizabeth was fascinated by all the horse and buggies and felt quite strongly that they ought to share with her (she wanted a ride too!)
I enjoyed being able to do
You might also like
- 52 cm of Snow
(0.403805)
- Mother's Day
(0.390519)
- Christmas with Great Grandma
(0.390093)
- Crazy Pickles
(0.388585)
- History Museum
(0.387424)
All
February 16, 2014
We had a family reunion with everyone at Grandpa's new longterm care facility. Mom rented their chapel and we played ticket to ride on the iPad and Scrabble on the iPhone (because we'd all forgotten the real board games!)
Matt and Kelly are expecting!!! (YAY!)
Grandpa was doing pretty well, all things considered.
You might also like
- Dentist
(0.273171)
- Le Patinoire
(0.271318)
- French class Halloween
(0.269504)
- Happy New Year!
(0.263305)
- Family Game Night
(0.259524)
All