February 14, 2017
We participated in the annual Valentine's day card death march, which was particularly notable this year in that my brilliant idea of getting valentine's cards that the recipient could decorate turned into my children insisting that they had to individually make every card beautiful. I lost track of how many the kids made. All I know is that I thought we were done early and that just meant that Elizabeth decided she needed valentine's for kids at music and church as well.
You might also like
- Twelfth night
(0.321353)
- Farm Camp 2014
(0.315331)
- Christmas Eve
(0.314103)
- Christmas Eve
(0.310941)
- Visitors
(0.307865)
All
February 12, 2017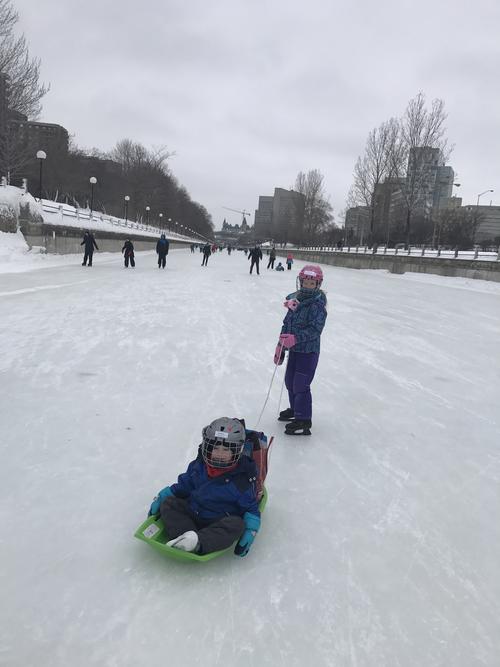 It was super cold but the older two and I decided to skate to church anyway.
Amelia and Daddy drove us part of the way and then met us at church. No sense in overdoing things!
You might also like
- Canal part deux
(0.324818)
- Ryan and Rebecca's visit
(0.262357)
- Photo with the bear day
(0.258065)
- Baby shower and Canal
(0.254545)
- Amelia's baptism birthday
(0.248148)
All
February 11, 2017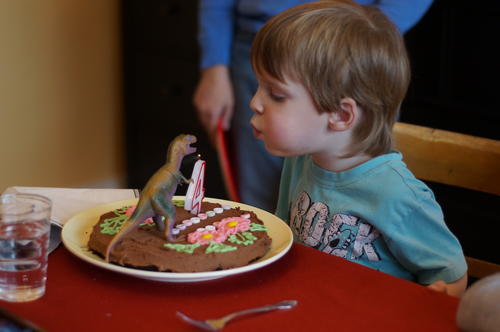 Much like his older sister at the same age Matthew has been looking forward to turning four for about a month. Much happy birthday to me has been heard echoing through the house. For his party he requested a dinosaur theme. There were dinosaurs everywhere. In the cake, flying through the air around the house and even at the restaurant eating the kids crayons. Four is still rather loud but showing definite signs of maturity. His ability to listen and concentrate have grown along with his height and curiosity. He's even showing faint signs of starting to pronounce words properly. He enjoys running around and pretending that he is fighting monsters. He loves to play on the iPad or mommy's phone and is actually rather disturbingly good at some pretty complex puzzle games. He loves to joke around and certainly has a sense of humour if a bit odd. His colouring is still mostly wild scribbling but occasionally he gives colouring inside the lines a try just to see what it is like. He eats most things although dessert is certainly the highlight.
All in all he's a fun and joyful little ball of energy and we are very proud of the four year old he's grown into.
You might also like
- Four
(0.370937)
- 7.5 ish years
(0.368421)
- Amelia 21 months
(0.361142)
- Amelia is 4
(0.357524)
- Bug Day 2017
(0.354374)
All
February 10, 2017
We stayed up really late to attend our first wedding in Hong Kong... from the comfort of our own living room.
Ray lived with us for a few years back before Elizabeth was born and we were pretty excited to be able to watch his wedding on Facebook Live - pretty sure we had some of the best seats in the house!
Of course we dressed up for the occasion and took the proper selfies with the bride and groom. The next morning Elizabeth rather indignantly demanded to know why on earth we were all up and "making a ruckus" at one o'clock in the morning. I gather we woke up the kids. Amelia of course decided at 11:40pm that she was ready to get up and play and since the wedding was about to start that meant she got to come.
Congratulations to Mr & Mrs Raymond and we're looking forward to having you visit us in Ottawa sometime :)
You might also like
- Grade 1
(0.363766)
- River Oak
(0.351573)
- It's for you
(0.349436)
- Sheep Shearing
(0.349206)
- First snow!
(0.346591)
All
February 9, 2017
I collected a series of photos of Matthew that I felt summed him up at four.
Some of his favourite activities:
-Doing "school" with Mommy
-Figuring out how electricity works with Snap circuits
-Being a "present" for church (he really likes to get dressed up)
-Building mazes out of lego for robotic cockroaches
-Playing in the snow
-Creating hiding places for his trains
-Playing at the park
-Cuddling his sisters
-Helping Daddy
You might also like
- Old fashioned family day
(0.275216)
- Treasure hunt
(0.272572)
- Summer week 4
(0.270968)
- Kitty Face
(0.263052)
- Nora has a bath
(0.259717)
All