December 24, 2020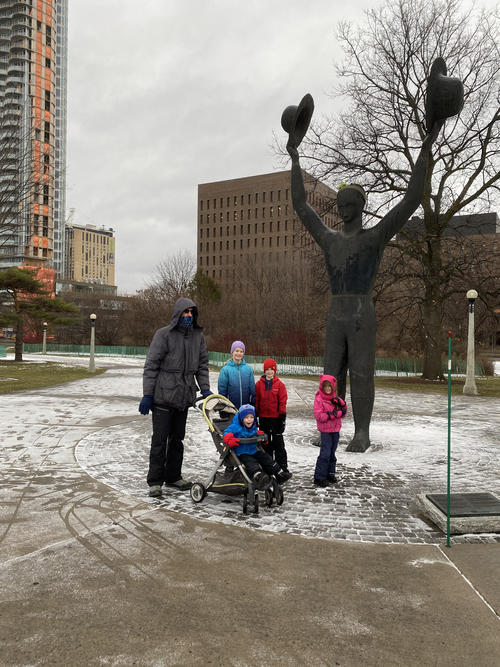 Our morning walk this morning was a longer loop around the arboretum. Some highlights included seeing the man with two hats (and a bonus toque, so now he's the man with three hats!) as well as all the stuff that's going out on the canal soon. They are getting ready - pandemic or no pandemic! Elizabeth and Matthew ran all the way up the top of the big hill. When they got to the top, Matthew asked Elizabeth "Want to see me do something stupid? I'm going to jump and run all the way down!" She apparently told him not to do it, with predictable results. Luckily only his dignity was injured although the hill was very icy and he lost his footing. His snowsuit got completely covered in mud. There was some snickering about the "bum bounces" he did all the way down the hill.
Matthew was very excited all day about a Santa Claus tracker he "searched up" during school last week. There was a countdown and he greatly enjoyed watching the icon move around on the map, especially when it got to Angola.
We stuffed the stockings. Michael was very enthusiastic, although he wanted to open the stockings as soon as he'd stuffed them. Not all the presents landed in the right stockings either - luckily we wrap stockings with custom paper for everyone!
Elizabeth made us tourtière for supper. Then the kids opened their Christmas PJs and put them on.
We put the younger two to bed and then had a candlelit service with Margaret. I gave both Matthew and Amelia the choice of staying up, with the caveat that they would go straight to bed if they were misbehaving. Amelia decided she was "too tired to behave" so she opted to go to bed so as "not to be grumpy for Christmas". Yes, that does mean that Elizabeth and Matthew attended Christmas eve church in pjs. We'd thought about dressing up but logistics around wanting to open presents and take photos before bed with some of the kids going to bed early meant we decided to take advantage of pandemic church dress code benefits.
We did not set fire to anything or anyone, though we were a little concerned about all the smoke when we blew out the candles right under the smoke detector.
We enjoyed Christmas eve very much.
You might also like
- Buskerfest
(0.398381)
- Party Part Deux
(0.396154)
- Halloween
(0.394495)
- Homeschool wk june 15-18
(0.391667)
- Ski Club 4
(0.390991)
All
December 23, 2020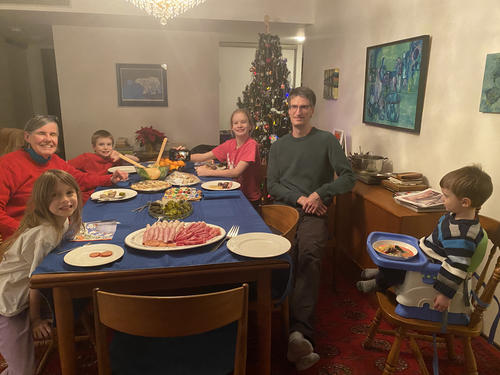 We went over to Margaret's to celebrate our annual raclette dinner. I'd dropped cheese off for Auntie Heather earlier in the week and she joined us over zoom. Then we dropped the machine and cheese off at Chris and Yukiko's for them to enjoy Christmas Eve. Strangely it took much less time to eat raclette with fewer people.
You might also like
- Raclette
(0.289575)
- Christmas Day
(0.276087)
- 12 Days of Christmas: Day 12
(0.26817)
- Raclette
(0.263383)
- Come Sing Messiah
(0.262599)
All
December 22, 2020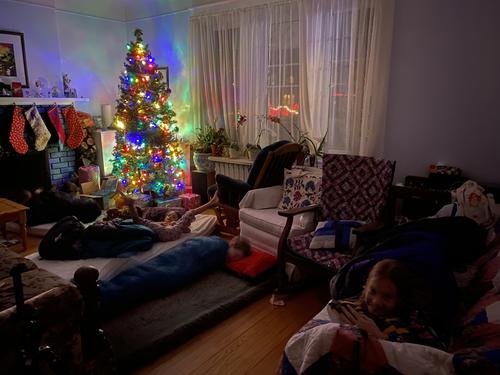 The kids thought it would be fun to sleep in front of the Christmas tree. Elizabeth found the younger kids annoyingly noisy and says next time she'll pretend to go to sleep with them and then go and sleep in her own bed.
I gather Matthew, Michael and Amelia spent a lot of time rolling around on the floor in their sleeping bags pretending to be worms.
You might also like
- Spring (and early summer)
(0.306733)
- Sleepover
(0.305913)
- Room swap
(0.296375)
- Christmas Eve
(0.295508)
- New Bed
(0.289941)
All
December 21, 2020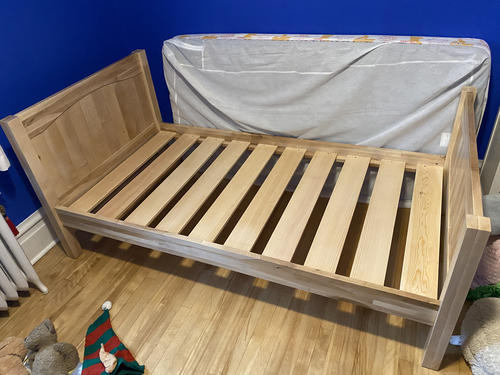 Some may recall that way back in 2017 our beloved tree was cut down. About a year later the wood showed up after having been sliced, air dried and then finally kiln dried. It then sat in our garage awaiting love and affection. The plan was to recreate the basic design of the bunk bed we had bought. We wanted something that would last and could hypothetically be handed down through the generations much as the tree had been a part of multiple generations.
Anyway, last year uncle Chris decided that Elizabeth had everything she could possibly want (which probably isn't far from the truth) and was seeking gift suggestions for Christmas. We suggested that kicking daddy in the pants would be a good gift for her as it was likely the only way the bed would get made before she moved out. Uncle Chris agreed and thereby signed himself up for many many hours of very hot and very dusty fun in the garage with daddy. They basically spent most weekends over the summer processing the rough lumber into usable pieces of wood more similar to what you might get from the store. This generated many garbage cans full of wood shavings and was probably at least half the work in terms of time. In the end they used more than half of the pile of wood to make a twin sized bed!
After the wood was cut into little bits using a combination of a table saw, band saw and a thickness planer, it then had to be glued back together to make pieces of the correct length and width. This may seem counter intuitive but none of the rough boards were long enough to cut the side rails from as a single piece. Also most of the rough boards had defects or waves to them which meant that by the time you straightened out and dodged the defects you were left with much smaller pieces. After the pieces were glued back together they then had to be planed down and cut to final dimensions and sanded. Then in the case of the head and foot boards the various parts had to all be assembled into a single part. This required cutting a huge groove into the top and bottom and then gluing all the upright parts into place. With so many pieces and limited amount of time to get it all lined up and square before the glue set it was quite the undertaking. After they dried the legs were drilled for the bed bolts which would hold the side rails on and then attached to the head and foot boards with dowels and glue.
Before the final gluing everything was test fitted inside the house to ensure that it would all actually line up and go together as a unit. Then finally finish was applied to the bed to protect the wood. That marked the end of the actual tree based bed, but it still needed slats to support the mattress. For those we sourced some Douglas fir from a lumber yard as it is very stiff and thus is suitable for use as slats. These were just cut to length and given a quick sanding to round off the sharp edges and then screwed down onto the bed.
In the end it turned out pretty well. It was certainly a lot of work and we tried not to think about it in terms of buying a bed vs making one because the economics were clearly not in our favour. Daddy worked very hard on it with help from uncle Chris especially during the initial processing of the wood and it still took a good nine months. Making real furniture is a lot of work! It is also somewhat amazing how much tree is needed to make something relatively small and simple. Daddy certainly learned a lot through the process as well and will do his best not to point out the (relatively minor) defects.
Needless to say Elizabeth was just a wee bit excited to finally get a real bed and no longer be sleeping on the floor. Hopefully she looks after it and it can be loved for many generations to come.
Now we just have to figure out what to do with the rest of the wood...
You might also like
- Child Labour
(0.470122)
- Homeschool wk may 11-15
(0.462162)
- Sewing with kids
(0.46123)
- 18 Months
(0.452015)
- Home again, home again
(0.451211)
All
December 18, 2020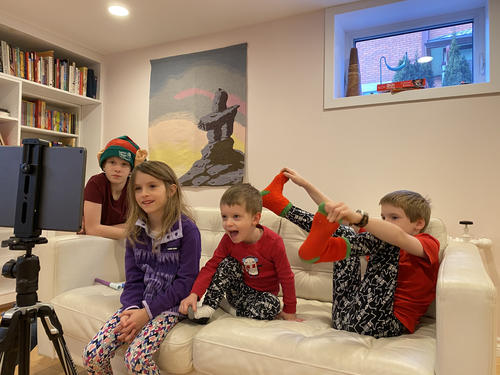 It's the last week of school before Christmas break!
For kindergarten the theme of the week was "forts". Elizabeth built the biggest fort ever. Amelia decided she needed a fort all to herself and made a very cozy little nook by the radiator. Unfortunately this needed to be dismantled every evening for activities, but on the plus side this gave Amelia the opportunity to build many forts all week. Her class continued to do a music unit, with a french Canadian folklorist coming to visit virtually. I got all the kids to watch some of his presentation and Matthew was quite taken by learning to play the spoons. We also played with marbles, Christmas clothespins, mugs and cotton balls, costumes and stamps. Amelia and Michael did some stamping. Michael continues to enjoy stamping one particular spot on the wall :( We also chased some rainbows.
We received boxes of citrus this week! Stacked up they are taller than Michael. I was very motivated to get those intended for others out of our house because Michael is convinced they make good bowling balls.
Much of the week was very cold. The kids played outside anyway. Amelia doesn't really like playing outside during the day but several days they went outside to play in the dark with the Christmas lights on.
Matthew took hand warmers to forest school both days. He's apparently building a hotel... WITH a hammock. His teacher says he has quite the imagination. On Thursday it was his turn to have his reading level evaluated by a second teacher. He's currently GB+ level 14, which he "reads easily", "with precision". He needs to work on his fluidity and not read too quickly. He makes a lot of corrections as he reads but it doesn't seem to affect his comprehension and he's very good at synthesizing what he read. This corresponds pretty much to what I've observed. Interestingly, I'd say he reads the same way I do (recognizing the shape of the word rather than actually reading it). He finished his reading challenge and got to pick a friend to play snakes and ladders with in a separate meet as his "recompense". They also learned to draw a reindeer - Matthew did one without following the instructions to see if following the instructions was necessary. He agreed that his second attempt was much better.
Elizabeth is having fun practicing her typing now that we've installed a new keyboard that forces touch typing. She's also been working on her watercolour techniques.
The last day of school was pajama day. Amelia got to eat breakfast (again) with her class.
You might also like
- Virtual School: Week 10
(0.428818)
- École LaGlace
(0.425532)
- Virtual School: Week 20
(0.425336)
- Virtual school: Week 2
(0.423106)
- Virtual School: Week 11
(0.42178)
All