March 28, 2021
We were invited to a masked, distanced, outdoor birthday party for Evelyn. We picked up cupcakes and jello, sang Happy Birthday, bopped a couple of balloons, chased around a skipping rope and then went home for the birthday zoom.
Elizabeth was still in the middle of her tournament so we ate lunch and zoomed in the car. Evelyn opened her presents and then we did a couple of kahoots. We didn't do so hot on the "how well do you know the birthday girl", though we managed to get her birthdate and favourite sibling right. Matthew was very excited that we won the general trivia edition, even if we didn't know that there are more pyramids in Sudan than Egypt. We know now!
After the zoom we headed to Grandma J's to eat our jello and cupcakes (or in Michael's case to lick off the icing and smear it in his hair). Grandma and I had tea - I felt very loved. Then they watched figure skating and complained about all the commercials while inspecting all of Grandma's treasures.
It was very exciting to get to go to someone else's house for a while and Elizabeth was very appreciative of the peace and quiet while competing.
You might also like
- River Oak
(0.370886)
- Sheep Shearing
(0.367862)
- Dance Camp
(0.365042)
- 12 Days of Christmas: New Year's Eve
(0.359006)
- Lac des Loups
(0.356841)
All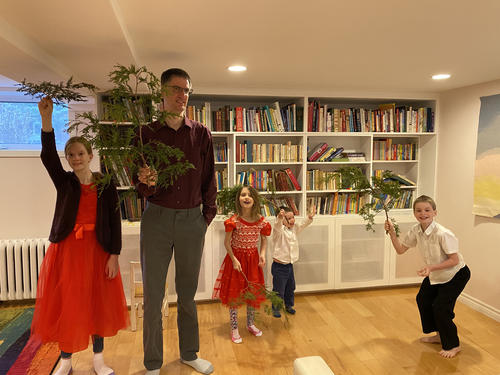 Last tournament we discovered that trying to do church during the tournament was not really feasible and we ended up skipping it altogether. This time around we decided to do our own earlier service using the order of service from our church, which worked out pretty well. We duly processed (and had mock sword fights) all the way around the house using some of the freshly cut cedar hedge pieces.
You might also like
- A masked visitor
(0.284337)
- Hair Tourniquet 3
(0.273292)
- Good Friday
(0.273077)
- Raclette
(0.267956)
- Ecole LaNeige
(0.267925)
All
One thing we do as part of our morning devotions is to work on memorizing the bible verse of the month. This month's verse was Isaiah 61:1-2
"The Spirit of the Lord God is upon me, because the Lord has anointed me to bring good news to the poor; He has sent me to bind up the brokenhearted, to proclaim liberty to the captives, and the opening of the prison to those who are bound; to proclaim the year of the Lord's favor, and the day of vengeance of our God; to comfort all who mourn."
It's pretty long and I want to remember how cute the kids were. Matthew said he didn't want to do it on camera. Michael actually knows it surprisingly well - it was the end of the day and therefore not his best effort but I think pretty good for just turned three. Elizabeth knows it the best but opted to do hers with Godmother Rachel instead. Rachel has been joining junior church some weeks from Port Perry and they've been chatting for a bit afterwards. This is a major highlight of Elizabeth's weekly routine.
You might also like
- Sheep Shearing
(0.354447)
- Rachel and Andrew
(0.351385)
- White Belt
(0.349719)
- Virtual InHouse
(0.343902)
- Wedding prep
(0.343203)
All
If you've never found a 12 year old girl to be downright terrifying you clearly haven't sat in corner of the same room as Elizabeth doing a Bo kata. Elizabeth didn't pull off quite as spectacular a performance this month but she did manage to get 1st for the second tournament in a row in traditional weapons making her firmly the person to beat in that category. She faltered a bit in her Jaws weapons routine and the judges had very mixed feelings about her forms. One judge placed her second so clearly she's doing something right but the other two didn't agree. She's still working on a new kata, so hopefully it will be ready for the next tournament in a month. Also hopefully for that one she'll be able to do it outside as she's getting a bit big for the indoor space we have. She's also outgrowing her white competition gi.
You might also like
- Rachel
(0.346218)
- White Belt
(0.335347)
- Battle Zone Karate 2017
(0.33377)
- Spit baby spit
(0.326398)
- WKC Worlds
(0.326266)
All
March 27, 2021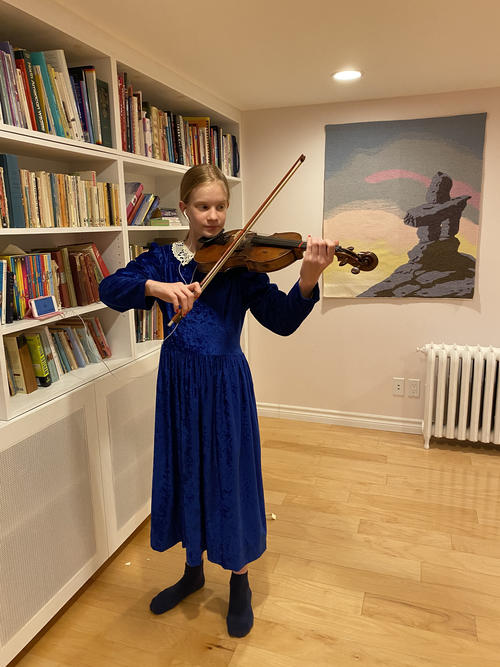 In September Elizabeth and Matthew agreed that she had progressed from "dying cow" to "squawking duck" on the violin. She's continued to improve over the last few months despite online lessons only and is now at the point where she is willing to share a couple of pieces.
You might also like
- 9 months
(0.280488)
- Skating
(0.275862)
- Last week of Summer 2018
(0.273026)
- Skate to church
(0.269841)
- New favourite way to get home from the bus stop
(0.269373)
All
We went for a distanced walk with Michael down to Patterson's creek and back. The kids were quite happy to see Amelia's "grandfather" as our Michael insists on calling him.
You might also like
- Social Distance Walk
(0.298113)
- Swiss Chalet
(0.294444)
- Cousins
(0.286364)
- Two Michaels
(0.285714)
- Baby time
(0.276151)
All
March 26, 2021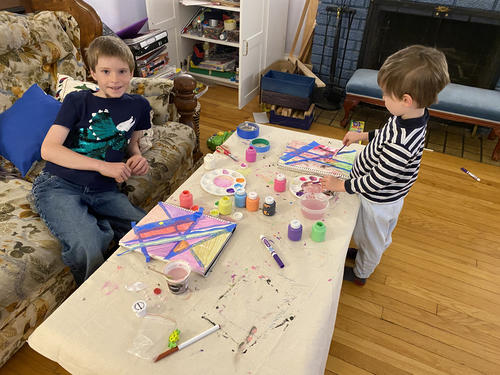 Amelia's class is doing a circus theme still. They started the week with a supply teacher which seemed to throw off the plans because as far as I know they still haven't done the presentation they were planning. They did make shakers out of toilet paper rolls and birdseed. I'm a little unclear why it had to be birdseed, but I guess having sunflower seeds scattered all over the floor was easier to clean up than rice. Amelia helped make pizza "J'adore t'aider dans la cuisine!" and has faithfully been reading in GB+ every day. She's up to level 4.
Matthew had a couple of art projects assigned this week - a colour contrast art drawing and painting using tape. Michael thought that looked fun so he did it as well (and Matthew helped finish it off). His math teacher abruptly started assigning multiplication problems. Last week they were doing addition up to 200 and subtraction without regrouping. This week Matthew had a few problems like "if you have a certain number of eyes and ears, and one tail, who is standing on the bridge?" He really didn't want to draw dots and circles as expected. "It would be much easier to use multiplication" "Ok" I said. Thursday he received a multiple choice multiplication spiderman quiz, which I thought was a little odd because I assumed it was for the entire class and I think most of the kids would have struggled if they haven't already learned their times tables. On Friday the teacher assigned him a 48 page set of a dozen or so problems per page up to 12x to fill out. Matthew nearly cried as it was a very long assignment coming on top of the similar math we're doing as part of MathuSee. I did explain he didn't have to do it all so he did 10 pages and called it a day. I'm thinking now that there is no way this is what the supply has assigned to the entire grade 2 class but it's the enrichment I was asking for in October. Speaking of Math u See, I was kind of amused this week when he showed off his understanding of negative numbers (but not his ability to observe the requested math operation). For science this week Matthew really wanted to do an experiment suggested in class to make a boat that is propelled by pouring water into the top. He met with his teacher and did some reading. There was a unit test on his ability to read a genealogy tree. I dunno what's up with the weird emphasis on this skill to be honest - it seems rather inconsequential to me. We did a lot of reading this week as well. He did some research into pokemon, and worked on writing a story about a tree. He learned the letters n, m and z in cursive, and practiced his Australia presentation. He helped me in the kitchen. At forest school they are learning about knots and he found a drone that he's hoping to take apart and maybe repair.
Elizabeth had a busy week. She's doing a group project on electricity. She has violin and piano submissions due soon and a karate tournament this upcoming weekend. She made lasagna. She learned about networking with Daddy. In art class they learned about zentangles. She tried a new tie-dying technique.
Michael had a lot of fun playing outside this week in addition to his online french preschool playgroup. We ate lunch and supper outside several times during the week while it was nice, digging in the lawn, scootering and skateboarding, swinging on the swing and generally enjoying the good part of spring. Grandma took the younger three to the spider park where they apparently dug a massive hole down to the bottom of the sandbox and buried treasure. At the end of the week it poured rain and although it was exciting to use umbrellas again Michael was sad because it was cold and rainy and he doesn't have proper rainboots yet. He had a massive meltdown one recess and broke the possibly not meant to be replaced glass in our non-standard sized storm door while apparently trying to kick Amelia. In case it sounds like the kids always get along perfectly. Thundering Threes is a great descriptor for this kid.
You might also like
- Homeschool wk may 11-15
(0.486766)
- Homeschool wk may 4-may 8
(0.482382)
- Homeschool wk apr 6-9
(0.47838)
- Homeschool wk apr 27-may 1
(0.477641)
- Summer School Summer
(0.462999)
All
March 22, 2021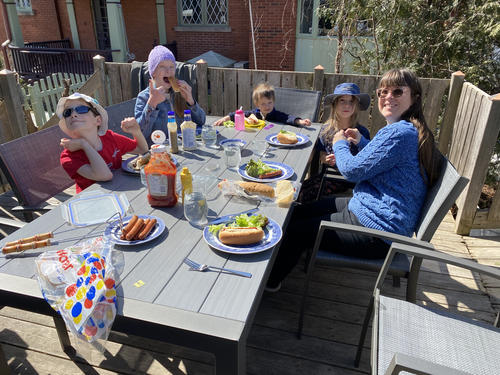 It was the first meal outdoors of 2021! The kids also wanted to eat supper outside but the temperature dropped very quickly.
Yesterday there was discussion of supper outdoors as well and the lobbying for backyard camping has begun. It was -7C overnight. I was tempted to agree for the learning experience, except that I don't really feel like hauling all the camping gear out yet.
You might also like
- Social Distancing: Day 69
(0.276042)
- Spring confusion
(0.268722)
- First Snow
(0.266892)
- Last day at the cottage
(0.265356)
- Breakfast at Great Aunt Muriel's
(0.264339)
All
March 21, 2021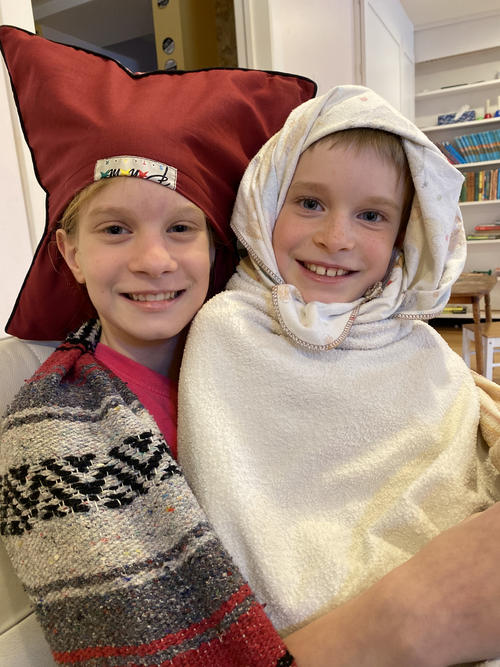 The kids dressed up as St Peter and St Paul during church and it was hilarious even while they were not exactly behaving.
You might also like
- Angie departs
(0.236842)
- Hatching reptiles
(0.236715)
- Tree decoration
(0.229167)
- More Mother's Day
(0.221198)
- Remember remember
(0.218085)
All