December 21, 2013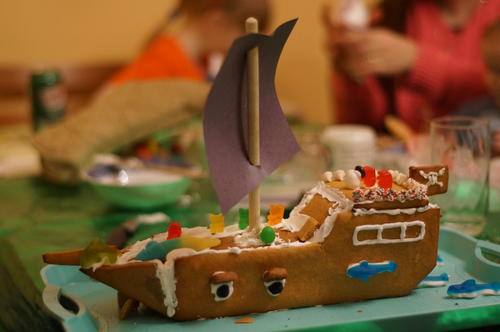 Matthew spent most of the week leading up to gingerbread trying to get into the candy. He finally succeeded with a few hours to spare. All the excitement was too much for him and he actually fell asleep in his high chair at lunchtime, to Elizabeth's great mirth.
Matthew enjoyed eating the decorations far more than placing them on his flat cookie, but Elizabeth and Aidan were very happy to help pick up the slack.
Lots of little houses and cars this year. The kids are becoming more independent and the decorating skills are noticeably improving... There was a stable (complete with horse!). The moose were also popular - our rather extensive cookie cutter collection was properly appreciated :)
Uncle Dave made a candy bowl, carefully measured with calipers for maximal candy usage. This was appreciated since someone may have overestimated the quantity of candy necessary. After eighteen years you'd think I'd have less trouble with that part!
Auntie Janice made the Old Ottawa South Firehall, to take to a potluck there the following evening.
Brian apparently lost rock paper scissors to son Ethan and showed up prepared with an elaborate plan to build an AT AT walker out of gingerbread (Star Wars!). Despite all the preparation, they had to finish assembly at home. Then it apparently lost structural integrity but all was not lost - Brian cleverly turned it into a rebel victory.
We also loved David and Aidan's pirate ship. Check out all the clever details - the sail, the anchor, the flag, the sharks circling in the water...
You might also like
- Now we are six
(0.40529)
- Je d'école
(0.4)
- Good Friday 2015
(0.399621)
- 17th Annual Gingerbread Party
(0.399602)
- River Oak
(0.396686)
All