December 21, 2014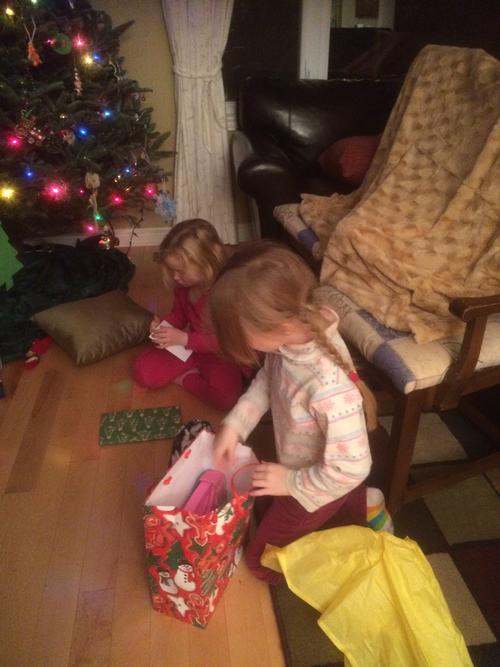 Nora's family invited us to brunch in the morning and we discovered ham wrapped eggs which are like bacon wrapped eggs but less fiddly. Very yummy food from a family that turns out to be even bigger than mine (!) Elizabeth was most impressed by the biggest Christmas tree she'd ever seen (more than 14') and the fact that the house had TWO trees (guess how many she wants next year?). Actually the house owners weren't even there, but it was the most decorated place I've ever seen and we were all impressed, if a little frightened. The kids had a lovely time bopping balloons around many sharp objects and generally having way too much fun.
After brunch, the girls headed to Jaya's birthday party. Jaya is a friend from Elizabeth's class who just turned four, which I find mind boggling since Elizabeth is about to turn six. No wonder Elizabeth seems so much more mature than some of the kids in her class this year... Jaya celebrated her birthday at Fun Haven. It was the loudest party I have ever been to and utterly convinced me that we will never book a party for Elizabeth there. Elizabeth enjoyed it but most of the kids were too young to "get" the games (eg in the laser beam maze it makes a cool noise if you touch the beams, but you are actually not supposed to touch them).
After the party Elizabeth headed to Adi's house where they skated, decorated gingerbread cookies, played in a blanket fort and had a great time together.
You might also like
- Elizabeth's 9th birthday party
(0.391753)
- Preparing for Gingerbread
(0.376331)
- Sheep Shearing
(0.3723)
- Skating
(0.372254)
- Christmas
(0.371991)
All