December 25, 2016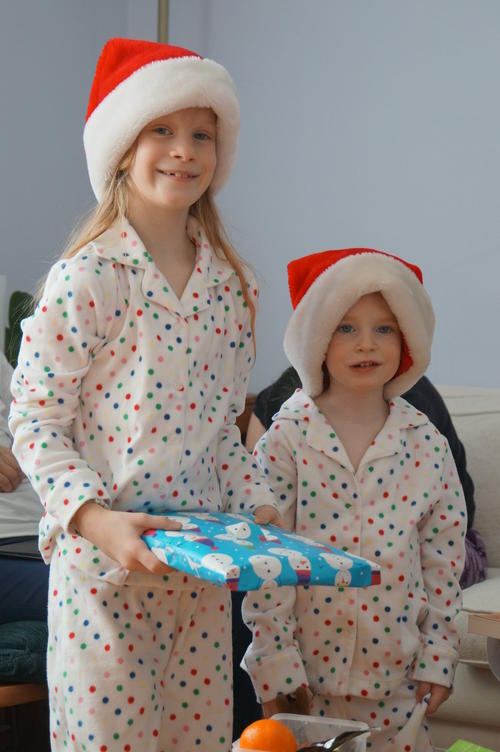 Turned out that the reason Amelia was fussy Christmas eve was that she had stomach flu, which we discovered in the wee hours Christmas morning.
She's at that stage where she thinks pushing away the bucket might make her stop throwing up. Not my favourite.
All thoughts of possibly attending Christmas Day service went out the window. Amelia was miserable and we didn't wish to gift anyone else with stomach flu. The older two kids very excitedly dug through stockings and insisted on helping Amelia. She half-heartedly investigated her loot but she was really too ill to be terribly interested and we soon fled upstairs to quarantine.
I of course checked with our soon-to-be arriving family as to whether they wished to avoid our house. But, you know... Christmas dinner... Plus we figured everyone had been exposed already.
Elizabeth and Matthew were playing happily outside with our neighbours, Amelia was throwing up and miserable and the rest of us were preparing dinner and hoping desperately no one else succumbed.
We called the kids in to take off their snowsuits. Uncle Dave and Auntie Karen and kids arrived. Things were looking up... Then we discovered Elizabeth, sitting by the front door in a puddle of her own vomit. Apparently she had suddenly felt extremely unwell. She was terribly upset to be told she couldn't sit down for Christmas dinner or play with her cousins. "But it's Christmas" she wailed. Even Curious George was not really consolation.
Turns out I needn't have bothered with the isolation protocols because before long Xander holed himself up in the bathroom feeling ill. I think we might have set a record for the number of kids puking in our house at the same time. I hope it is never ever broken. Eventually Dave and Karen made a run for it, but they prudently borrowed a bucket. It was needed.
I settled in for the night with my two puking girls, banishing Daddy down to Matthew's room for a sleepover.
Since the priority had shifted to looking after the sickies, we decided to postpone Christmas pudding. Presents were hastily exchanged. And that's the moment the base of our tree decided to fail and the whole thing fell over, antique ornaments and all.
You might also like
- St Nicholas Day
(0.438169)
- Race Weekend (2km, 5km)
(0.432035)
- Halloween
(0.42758)
- Mary Day
(0.426357)
- Racoon proofing
(0.421541)
All