April 8, 2017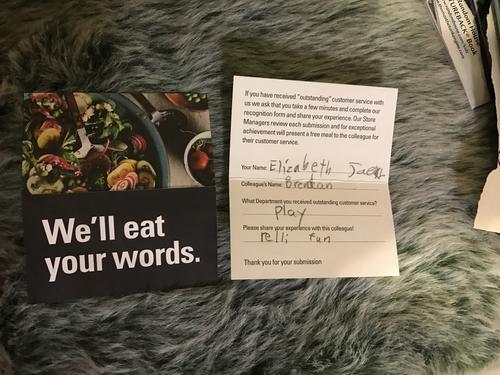 We were shopping at Loblaws (a whole 'nother story, since we left at bedtime and then in a fit of insanity I allowed the kids to participate in the Easter egg hunt in the store)
The kids had been banished to sit on the bench beside the checkout in order to stop getting in the way while Brendan and I scanned all of the groceries for the second time. As one does two hours past bedtime.
Anyway, the kids were looking around for mischief and saw these cards. "A free meal", read Elizabeth. "Hey Matthew, ask Mom if we can get a free meal." So Matthew trots over to ask if he can enter the free meal contest.
Needless to say I didn't allow them to put their submission into the box. I think the kids were a little offended that I couldn't keep a straight face.
1
On April 14, 2017 at 03:50 am
Grandma H
said:
Too funny!
You might also like
- Canoeing
(0.348201)
- Ski
(0.345566)
- Smiley Face Pancakes
(0.345146)
- Xander
(0.340568)
- First day of Maternelle
(0.338534)
All