December 14, 2009
When Brendan and I were first married, we decided we should send out our very own Christmas cards. We even sat down and wrote a multi-page Christmas letter.
You never got that one? That's because we didn't actually send it out. Eventually we updated it to be an Easter 2002 letter. That one starts: "We're told that during the first years of any marriage couples usually start to form their own traditions, particularly around the holiday season. However, as we prepare to celebrate our first Christmas as a married couple, we seem to have at least adopted one tradition [from Mary's side of the family], sending out our Christmas letter very, very late\u2026"
We still didn't actually send the letter to anyone. It underwent various iterations until March 2003 at which point I gave up.
So when Elizabeth was born, we thought maybe this would be the year we'd finally get around to sending out a card. Forget the idea of a letter though...
We are running out of time for a "real" Christmas card but we did manage to decorate and return Christmas cards for our church this week (Click on the picture to see all the photos).
We discovered a few things:
Elizabeth isn't quite ready for crayons
We're not so used to being parents that we check the ingredients of our art supplies before giving them to Elizabeth
Our crayons are non-toxic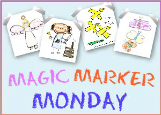 1
On December 14, 2009 at 12:54 pm
Marie
said:
I think the crayon people expect that to happen by now! Cute pics.
2
On December 15, 2009 at 12:05 pm
Heather
said:
Ha! mmmmm, crayons!



And yeah, Christmas cards. i'm SO hit and miss on those!
3
On December 15, 2009 at 11:13 pm
Vanessa
said:
Your list made me laugh! You have a great perspective on being a first time parent at such an early age. It's taken us much longer.
4
On December 20, 2009 at 10:12 pm
Childlife
said:
LOL! She looks ready for crayons to me :D That is one adorable photo :)



~Michelle @ 5MFSN
5
On December 21, 2009 at 02:38 pm
Stephanie
said:
I think our "Christmas Cards" are going to be New Years cards this year! ;)



I've selected the pictures, but haven't done any ordering yet...
You might also like
- Arts N Crafts
(0.461709)
- Painting; Take 2
(0.449657)
- Valentine's Desk
(0.436249)
- Playdough
(0.416114)
- Aqua Doodle
(0.38488)
All