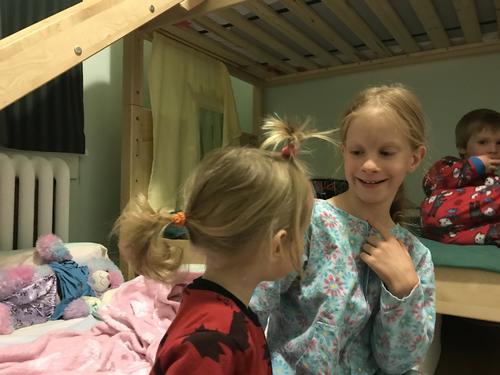 The kids have been sharing a room for about a month now and it's actually going pretty well.
There have been the usual and predictable complaints about siblings getting into each other's things, but Amelia seems to revel in her new status as being "big" enough to "have my OWN bed".
She goes to bed pretty peacefully and usually sleeps in it all night. I don't even nurse her to sleep anymore (she is still nursing, but we're down to before naptime, and maybe a couple of minutes before bed but not every night. Progress!!!)
Waking up is going well. The kids help each other get dressed (sometimes) and Matthew is generally sweet with Amelia in the morning.
Bedtime is rougher - mostly because it takes longer than I'd like. But to be fair this is not substantially different from the way it was before everyone was in one room. Matthew takes a long time to wind down and unfortunately likes to wind up his sisters by looming over Amelia's bed or kicking Elizabeth mattress from underneath. This is exactly the sort of prank my brother always played on me. I told Elizabeth to be thankful that he can't move the slats and make the mattress fall right down. She was horrified that Uncle Dave would get up to such shenanigans. Matthew couldn't stop giggling about it for a good five minutes.
Overall I'd say that the roommates experiment is going about as well as can be expected.
1
On September 21, 2017 at 04:17 pm
Grandma H
said:
Ah, yes, that bunk bed! Just the sort of thing that would touch Matthew's funny bone. Pleased to hear how well they are adjusting to one room. Quite impressive actually.