March 7, 2010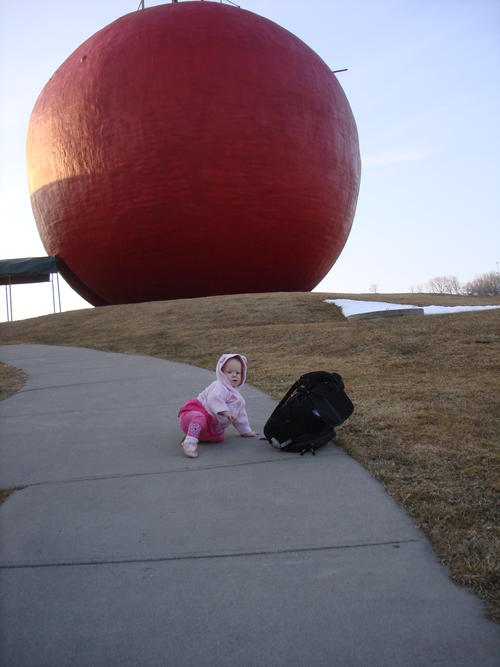 Elizabeth and I drove to Toronto on Sunday afternoon without Daddy en route to see my maternal Grandparents.
Elizabeth travelled very well... for the first ten minutes. Then she howled until I thought she'd make herself sick. No amount of Skinnamarrinky dink helped. Not wanting to pull onto the gravel shoulder I exited somewhere random and then discovered a long country road with nowhere to stop. I was pretty stressed but we managed to pull over without ditching the car. Cars were zooming past at ridiculous rates of speed so I didn't dare get out. Instead I climbed into the back, took her out of the carseat, and cuddled until she stopped crying with a final hiccoughing sob. Then we had a talk about behaving. I strapped her back in, gave her a potato puff chip and started out again. She was pretty happy as long as I kept feeding her chips and soon she passed out.
We made it all the way to the USA bridge before she woke up again and this time the food wasn't helping. I have to say that wailing is not my favourite soundtrack while driving. We stopped at the McDonalds service station (complete with Playhouse for ages three and up and one of the filthiest bathrooms on the 401). Elizabeth had a great time "walking" around the parking lot and when I decided we had to keep going half an hour later she hardly protested at all. It turns out that she needs one chip every ten km or so. It also turns out that passing chips backwards around the car seat is hard on the shoulder.
We stopped again at the Big Apple and admired the llamas! When we arrived in Toronto, we were treated to a wonderful lamb crockpot with my aunt Muriel, my cousins Ryan and Lauren, Lauren's wife Donna and three month old Lindsay. Unsurprisingly, Elizabeth didn't eat much dinner, though she did enjoy the lamb and demolished most of her cake. This may have had something to do with eating most of the way to Toronto...
1
On March 9, 2010 at 06:27 pm
Auntie Janice
said:
She's learning! I taught her how to play the piano...
2
On March 10, 2010 at 10:30 am
Grandma H.
said:
Ah, so that's why she's playing very carefully.

Maybe you need piano music for your trip home. Hope the trip home is more fun.
You might also like
- Big Baby Bed
(0.396872)
- Home again, home again
(0.396607)
- Broken nose
(0.396371)
- Summer Week 1 - Visiting
(0.395091)
- River Oak
(0.393852)
All