August 10, 2019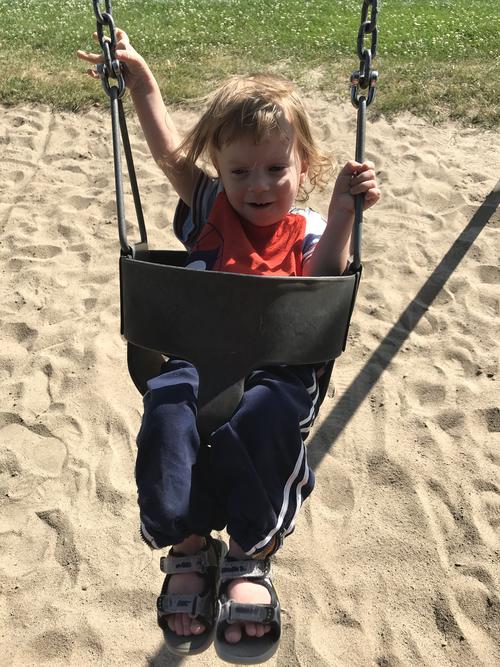 According to Erika, Michael at 19 months is "giggly, crazy, bouncy and runs around all over." Elizabeth says he's "wild, busy, likes to push me around on my bum". Matthew says "he eats me alive". Amelia says he cries a lot. Brendan says that is only when Michael's ideas about what he wants to do outstrips his ability to execute said ideas and admittedly that happens fairly often. Michael has LOTS of ideas and desperately wants to do all the things the big kids are doing.
New this month is playing a clapping game, especially in the car. He likes to clap frantically and yell "YAY" and especially enjoys if other people join in. He often yells yay after singing, even grace.
He's a very friendly little boy who talks nonstop. Aside from a very clear "Hello", he's kind of hard to understand but that does not prevent him from carrying on long conversations with just about anyone, especially if they have something he wants. He's a terrible mooch. His vocabulary has improved a great deal.
He's very comfortable in the water and now dunks his head forwards and backwards. Once he gets cold he is done and once he is done he is inconsolable until he's out of his wet things and on to the next adventure.
He is down to a single nap, not super consistent on time. Bedtime isn't very consistent either though; we've had a lot of summer and cottage adventure.
He saw stars for the first time this month and was VERY impressed. All animals have become woofs. More accurate to say WOOFS! He likes to tell us about the animals at high volume while pointing with great enthusiasm about the Woof and "What's this?" and telling us that he'd like to pat it.
You might also like
- 20 Months Old
(0.396709)
- River Oak
(0.396189)
- 4.5 Amelia
(0.393235)
- Amelia is 5 months
(0.3923)
- Seven
(0.388018)
All