June 27, 2010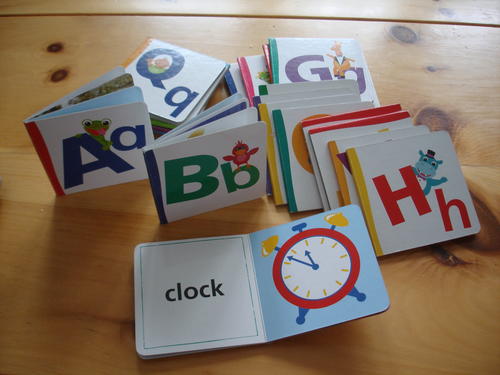 A few visits ago, Great Aunt Muriel gave Elizabeth a set of Baby Einstein Alphabet board books to read.
It's become fashionable to diss the Baby Einstein brand around here (especially after that whole video fiasco) but I must confess that I am turning into a big fan of their books and dishes. What's not to love? They are the folks who made Erika's beloved sippy cup (NOT toaster oven safe...), Elizabeth's favourite spoons and Elizabeth's snack bowl. I love the bright colours and the fact that green is a frog.
So I was probably predisposed to like the board books. Sure, the container is really annoying and the animals on the front are either really obscure or don't always start with the featured letter. The letter X shows a remarkable lack of imagination by the authors. X is for ... X? Really? But those quibbles aside, these are really wonderful little books and it's unexpectedly hilarious watching Elizabeth play with them.
There are only three words per book, which is great for this short-attention-span age. They don't take up a lot of space, but there are enough to make fetching each individual book amusing. The best part though is that Elizabeth is starting to do actions for each letter. "N is for Nose" has a picture of a baby pointing to the mommy's nose. So Elizabeth points to your nose. "H is for Hand" gets her to wiggle her hands at you. "H is for Hat" gets her to clasp her hands on her head to show you where the hat goes. "C is for Clock" starts Elizabeth rocking back and forth saying tick tock. "O is for Owl" - Elizabeth hoots. It's pretty funny.
1
On July 2, 2010 at 02:13 pm
Grandma H.
said:
Aww, what a cute clock!
You might also like
- Children's Museum
(0.386568)
- Grand Reopening
(0.373762)
- One!
(0.373246)
- Hawaii
(0.372614)
- 19 Months
(0.368845)
All