August 20, 2010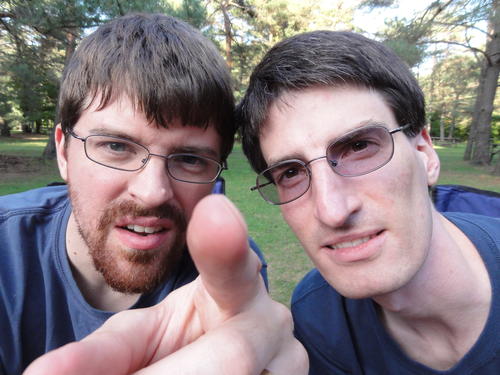 We're becoming masters of the overnight camping trip... No canoeing this time because the campsite at Lac La Peche was sadly full but Fitzroy Harbour park had a large group campsite available for us.
Camping with three children under the age of five was not as frightening as we thought it might be, especially after we arrived and were greeted by beware of poison ivy signs!
We popped all three girls into a tent as soon as we arrived but not liking to be confined Maria soon popped out again to crawl around on a blanket. Erika and Elizabeth were quite happy to hang out together out of sight of the grownups (Erika zipped all the windows and doors closed as soon as Maria left) but we could kind of tell what they were up to by all the singing. Ring around the Rosie was especially popular.
Eventually they wanted out to explore. Luckily Auntie Janice and Auntie Karen arrived so the kids were diverted to help put up tents. Auntie Janice's tent was the most popular by far, possibly because of the kid-sized cat flap. They really liked jumping on Auntie Janice's air mattress too. I don't recommend this though; it's hard on both the air mattress and the Auntie, especially if she's prone to sore backs.
Auntie Karen and Uncle Dave brought some glow sticks. These were a huge hit with the kids and actually made pretty good flashlights. Mom and Elizabeth went to bed early amid much giggling over the sleeping bag and headlamp flashlight. Elizabeth was fascinated by the red light filtering through her hand.
The rest of us all enjoyed sitting around the fire and admiring the moon and the stars in the night sky. We were quite startled when we heard some noises and thinking that we had a racoon shone our flashlights in the direction of the commotion. It was a skunk ten feet away. What happened next really surprised us. Instead of moving away from us after having been discovered the skunk just casually sauntered around and even came closer to us. Our skunk friend didn't seem to really care that we were there. We finally managed to show it away and settled down around the fire again. Several minutes later we heard a noise and found our beloved skunk just the other side of the fire pit! Yikes. At least this time it scooted with some enthusiasm. With some trepidation we all finally went to bed hoping that no one would have a mid-night run in with our furry friend.
1
On August 29, 2010 at 01:29 pm
Grandpa H
said:
Thank you for organizing that, it was so special! My glowstick lasted until morning light, at least...
2
On August 29, 2010 at 01:31 pm
Grandma H.
said:
What fun! I especially liked the pictures of the girls peeking out of the tent and and also "helping" Auntie Janice roll up the tent! wonderful memories.
3
On August 29, 2010 at 05:55 pm
Rachel@GraspingforObjectivity
said:
You're REALLY starting to make me want to go camping...but it needs to fall AND STAY below 90 degrees around here first...
You might also like
- Canoe Camping
(0.436055)
- Slides and Hogs
(0.422134)
- Erika and Maria
(0.420628)
- London
(0.419255)
- Family Day
(0.4191)
All