December 18, 2010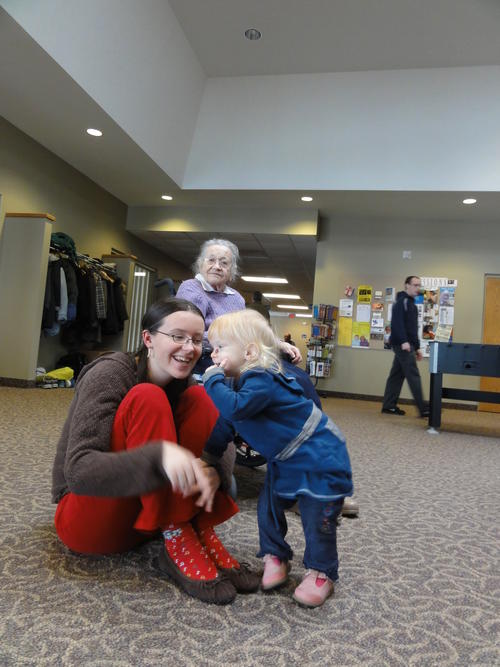 We went down to New Hamburg to visit my maternal grandparents, Aunts, Uncles and cousins, stopping in Toronto on the way there and back.
Elizabeth is now a veteran road tripper and let us drive from Ottawa to Toronto with only a couple of quick washroom breaks! No crying... Mommy and Daddy cheered loudly. Elizabeth serenaded us with endless renditions of "Zoom Zoom to the Moon". When we got to Great Aunt Muriel's house, Elizabeth gave us a full blown concert! She was quite suspicious of Great Aunt Muriel at first. We visited Muriel's new office and Elizabeth got to ride on the rocking horse and eat chocolates. That evening, Elizabeth was thankful for "Murl" and "rocking hoss" in her bedtime prayers!
All the out of town relatives arrived at the church for the family dinner first. We ate, played games and had a lot of fun. All the boys wanted a ride in my Grandpa's fancy electric wheelchair. Elizabeth played basketball. My Grandpa was even spotted playing wheelchair soccer at one point.
We were supposed to pick my parents up from the airport Friday evening but unfortunately their flight was cancelled due to bad weather in Europe. And then cancelled again. And cancelled again! So we eventually met up with them back in Ottawa.
You might also like
- Extended family Christmas
(0.371728)
- End of an Era
(0.364377)
- Crosshill
(0.359096)
- Trip to Wellesley
(0.358553)
- Easter Sunday
(0.357238)
All