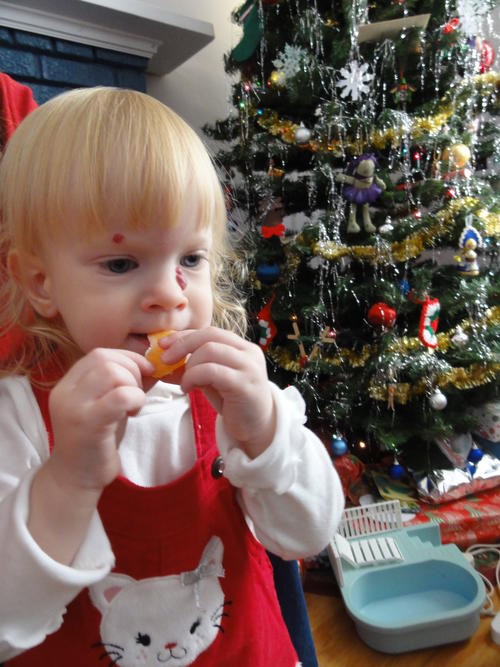 A few Christmas highlights:
We had mad libs in our Christmas Crackers. Maria was supposed to kiss Dave but she was having none of it. Janice and I finished making the crackers before Christmas Eve for once, probably because we made everyone else help decorate them... Janice thought it would be fun to put expanding sponge animals into the crackers, but neither of us expected that the animals would end up in people's drinking water. Perhaps that was predictable, but solvent-laced water turns my stomach. Ewww!
Elizabeth loved her kitty themed Christmas outfit so much that she agreed to get out of her Winnie the Pooh pjs. She's apparently developing strong preferences about her clothing. Grandma J says that she had to dress Brendan before he was fully awake in order to get him to wear certain outfits.
I was very surprised to find a brand new weather vane attached to the top of Elizabeth's playstructure Christmas morning. Somehow Brendan smuggled it outside after 11pm Christmas Eve and perched precariously atop a ladder installed two frogs dancing under an umbrella.
Elizabeth was ready to go to dinner long before her parents (something about forgetting that we needed to steam the pudding, make hard sauce and vegetables first!) She got into all of her gear and then followed me around chanting "ready to go-oh"
Elizabeth received a hand-me-down doll house from friends at church. She spends hours putting dolly to bed, giving her baths and taking her to pee on the toilet. She also received a felt frog bucket which she liked so much that she insisted on bringing it to dinner and then to bed.