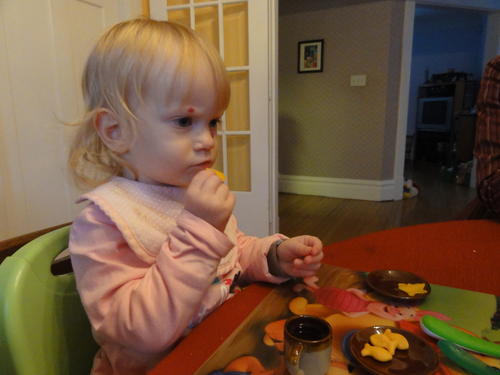 Elizabeth's appetite completely disappeared after Christmas. Whole meals went practically untouched - maybe a bite or two. We knew things were bad when she didn't even want a piece of chocolate. After a token bite she fed the rest to Mommy!
She was drinking a fair amount of water and nursing a lot. One day I nursed her for nearly fifteen hours. It was like having a newborn again. At least she was keeping well hydrated.

Grandma H thought maybe a tea party would tempt the appetite. Sure enough, Elizabeth nibbled her snack and drank peppermint tea. Later for supper we cut out pieces of peanut butter and jelly sandwich in the shape of hearts. Apparently Elizabeth likes to eat cute.
1
On January 6, 2011 at 05:54 pm
Rachel
said:
I understand... pretty food makes all the difference!! :)
2
On January 6, 2011 at 08:32 pm
Yukiko
said:
Cousin Erika and Maria would love to be invited to the tea party! :) Besides which, both of them can show Elizabeth their appetite so that Elizabeth will get a influence!