February 17, 2011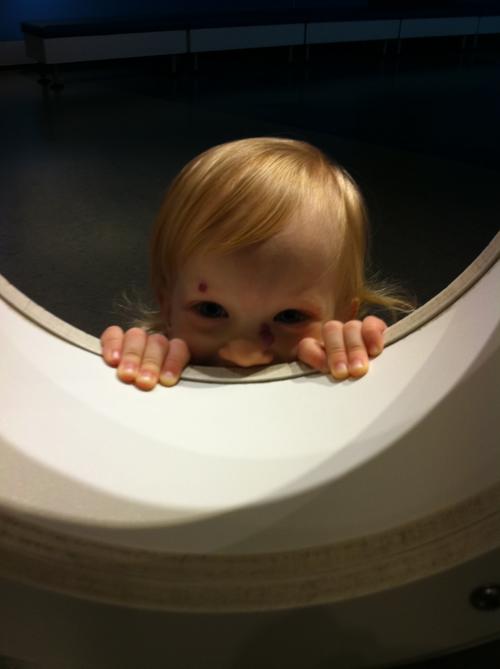 We took advantage of free admission to the Museum of Nature after supper tonight (they have free admission every Thursday evening).
Elizabeth wore her new green "froggy" shoes and they seemed to turn her into a toddler on the blur setting. The security guards seemed quite amused to see her go charging into exhibit after exhibit. We didn't get to the basement or the dinosaurs but we saw pretty much everything else. The museum seemed pretty spacious without all the opening day crowds (!) and I finally got to see the back of the blue whale exhibit.
Brendan's description of the evening: "We got there, Elizabeth went waaaagh! running, running, running waaaagh! [hands waving in the air wildly] until we had to go home. Then she said bye bye. The good news is that we seem to have successfully worn her out."
1
On February 18, 2011 at 04:09 pm
Rachel
said:
Fun!! That reminds me that our Children's Museum Membership is about to expire..we need to go one more time before it does!
2
On February 19, 2011 at 03:16 pm
Grandpa H
said:
Successful parenting is all about wearing someone out - generally, the parents ;)
You might also like
- Rachel
(0.313758)
- Trading Post, birthday party
(0.309154)
- Ultimate Dinosaurs
(0.308943)
- March Break
(0.308357)
- Car Exhibit
(0.307317)
All