October 18, 2011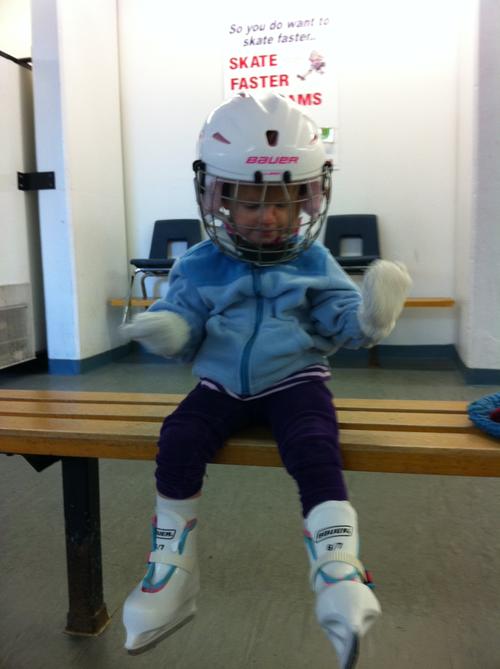 If you've read my blog over the last couple of winters, you may have noticed that we skate on the canal rather a lot. While I didn't learn to skate until highschool we figure canal time might be more enjoyable if Elizabeth learns skate sooner rather than later. She's theoretically old enough for skating lessons, so I figured - why not? It's great core exercise, she'd be interacting with kids her own age and the City of Ottawa lessons are only ~$40 for nine sessions. Mind you, the equipment was more than the cost of the lessons, but we're hoping that the helmet will fit for a while.
How to size toddler skates
Take out the skate insert and place it on child's foot. You can then see for yourself whether the skate fits or not, without having to rely on child's assessment of whether it feels "right". It's important for skates to be the correct fit to avoid ankle problems, not to mention that it's much easier to skate if your skates fit! Elizabeth wears the smallest skates sold by Canadian Tire (a 6/7), but she originally told us that the 8/9's were more comfortable and that the right size was too tight. She's since gotten over that!
The smallest helmet available on the market
We discovered that Elizabeth has a small head. It was looking like we were going to have to wait for her head to expand, but with a little combing through websites and comparing manufacturer head circumferance ranges we found something that works with a bunch of extra padding. It's a Bauer Lil' Sport, and it even comes in pink. Elizabeth loves it so much that she insisted on brushing her teeth with the faceguard down the first night.
The best way to help your learn to child skate
They should be standing with feet slightly apart (not too far apart) and arms out like an airplane. You should hold their hands (not under the armpits) and try to keep your back straight.
The first lesson consisted of lying down on the ice, swimming like a fish flopping on the ice and then standing up again. (Controlled falling and learning to get up) Elizabeth is good at the falling and flopping parts. She can get up half way but they want her to use her hands to push against her knee to help with getting up and that's NOT at all the way she gets up normally. So she keeps trying to get up and the skates go "whoom underneath" as she puts it. Then they gave her a toy to kick around the ice (to practice taking small "steps").
It's amazing how quickly she is learning. The first week she wasn't even able to stand by herself on the rubber mat on the way to the ice. By the second week she was able to walk around on the mat unassisted and balance on the ice without holding onto Mommy. This already exceeds my expectations for the class so I'm pretty happy.
1
On October 23, 2011 at 11:19 pm
Rachel @ Grasping for Objectivity
said:
That's so cool! I've wanted to take Ali Ice Skating (indoors, obviously. There's never been a body of water in Alabama that could be skated upon), but I didn't know how to teach her. I highly doubt we have beginner ice skating lessons around here, but maybe with your pointers I could teach her!
2
On April 3, 2014 at 01:24 am
Chuyang
said:
Very cool. I love this smallest helmet available on the market
You might also like
- Matthew's first skating class
(0.433086)
- Farm Camp
(0.424744)
- Family Day
(0.424409)
- London
(0.420077)
- 16 Months
(0.41988)
All