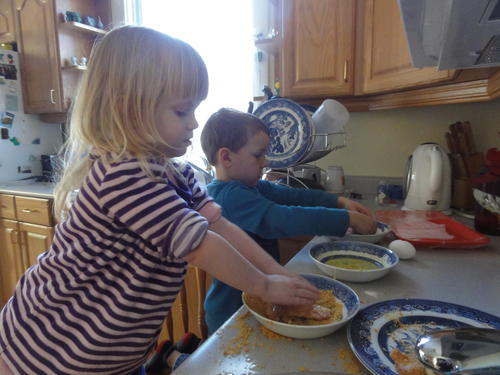 We had Josie and Daniel for the weekend, and they happened to come for schnitzel night (we've been planning out our meals a month in advance recently).
So Elizabeth and Daniel were tasked with making the schnitzel while Josie chopped many vegetables for the next day's lunch. No one even nibbled at the raw pork, though we had some near misses.
The next morning they cleaned bathrooms, scrubbed mirrors, washed dishes and generally tidied.
1
On April 5, 2012 at 11:39 pm
Auntie Janice
said:
Can I just point out that they all did an Amazing job? And so did my sister In engineering it all :)
2
On April 6, 2012 at 04:47 pm
Grandma H.
said:
Now THAT would take some coordinating! I may need to have Elizabeth and Daniel give me lessons on how to make schnitzel.
3
On April 12, 2012 at 03:50 pm
Rachel @ Grasping for Objectivity
said:
How fun!! You're brave to take that on. I always feel guilty by how little I get Ali to help me in the kitchen... I guess it's cookie-making time!