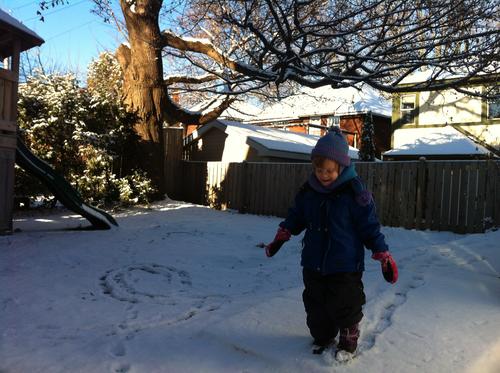 We haven't accumulated anything significant yet, and there's still no sledding or snowman building, but there have been a few flurries interspersed with freezing rain and more freezing rain.
Turns out Elizabeth currently loves winter. She'll play outdoors as long as we'll let her, even if she's gotten sopping wet from the slush that's masquerading as the real thing.
Anytime Daddy goes outside to clear the driveway, Elizabeth's right there with her boots and snowsuit ready to help. She'll take any excuse to play outside! Actually, it's a little frightening because her desire to frolic in the snow has spurred her most recent developmental milestone: she now knows how to unlock and open our front door. Luckily we do have an alarm system that will alert us if she does so without permission (but those of you with codes DO need to make sure you do not share them with Elizabeth lest we need to change them...)
1
On December 20, 2012 at 01:37 am
Grandpa H
said:
Elizabeth will have hacked the alarm code algorithm in no time, no code will ever be secure again...