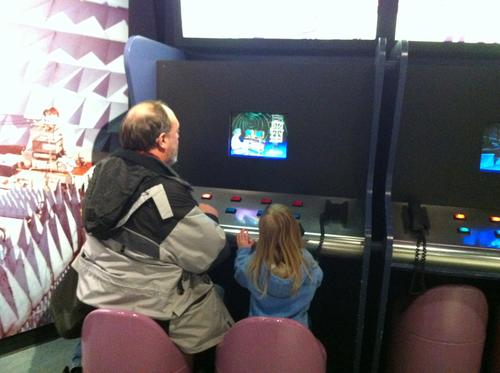 Grandma and Grandpa H are home from Angola for a six month furlough, just in time for baby!
Elizabeth still calls them "Flat Grandma" and "Flat Grandpa"... (since they are the ones she usually sees in 2D via Skype.) She's been enjoying having extra playmates on demand. Grandma has helped stage many puppet shows and endless games of Billy Goat Gruff clip-clopping across the basement. Grandma is quite popular as a bedtime helper, which bodes well for next week when Mommy will be otherwise occupied with brother.
Elizabeth took Grandpa to the Science and Tech museum and got him to pretend to be a hamster.
1
On February 8, 2013 at 08:34 pm
Grandpa H
said:
I was not pretending to be a hamster. They aren't smart enough to pace their running so as to light up a series of bulbs and set off sparks from a Van der Graaf machine ;)