February 24, 2013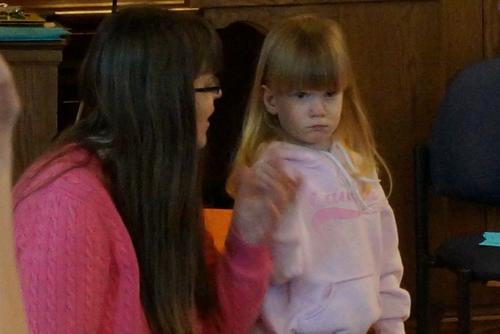 Elizabeth had her first music recital today. She's been taking Music for Young Children classes since September and although it's a prekeyboarding class, teachers Mrs Shana and Miss Hannah like to have all their students participate in recitals to get them used to the concept.
Elizabeth quite enjoys music class, but she's been a bit of a pill in the actual classes since late last year, being difficult about participating, scowling and refusing to make eye contact with the teachers. We're not quite sure why, though it is quite embarrassing (especially since she sings the songs at home and "teaches" her own music class to her dolls...). She also can be slow to warm up in new situations and in front of an audience, so needless to say we were a bit worried about how the recital would go.
Grandma and Grandpa J, Auntie Yukiko, Uncle Chris, Erika, Maria and Auntie Janice all came to cheer her on. We even brought Matthew. Uncle Chris immediately took charge of the baby and worked such magic that Matthew didn't peep once through the whole recital. Matthew seems to enjoy music; Chris said every time a new piece started Matthew craned his neck trying to get a look!
Elizabeth scowled through most of the recital but did go up on stage multiple times (with Mommy) and eventually started participating with a little bit of coaxing (okay - so actually a lot of coaxing!). The promise of a lollipop helped too! By the end she'd decided she wanted to do another recital "next week". Mommy is suspicious that this might be due to the magnet and sticker she received as a present from her teachers at the end....
You might also like
- First outings: Music, library, karate
(0.391795)
- Christmas
(0.39112)
- Happy Birthday
(0.390411)
- Race Weekend (2km, 5km)
(0.388592)
- Social Distancing: Day 3
(0.388376)
All