July 16, 2021
Last year's site (11) was nice aside from the swimming, so we decided to try out site 12 instead. It's our favourite at Lac Lapêche in Gatineau park so far. The sites were larger, there was a convenient gathering place for eating right by the water (so no need to schlepp all our gear halfway across camp) and the rocks sloped nicely into the water before a big drop off so no weeds to navigate.
The boys weren't too sure about the little fish that liked to nibble people's toes but I think everyone else went for a swim at least once while we were there. The main drawback to the site was the canoe landing spot but even that wasn't so bad. We had hotdogs and s'mores for supper and just managed to get things more or less away before the promised rain rolled in. I was pleasantly surprised to find that the campsite was pretty sheltered. Some places got wet but by the fire mostly just a few sprinkles. It rained on and off at five minute intervals but after the initial downpour it was pretty pleasant actually and Brendan and I stayed up watching the fire until nearly 9:30pm. Next time we might bring a tarp!
We tried out some new ideas including clips for the canoe and twisting the clothesline to hold clothes on without clothespins and both were very successful.
Matthew greatly enjoyed playing with the fire. It was a good thing I brought two lighters as he emptied the first one on day 1! This camping trip was also notable as it was both Margaret and Yukiko's first canoe trip (!) and it was our first camping trip without any kids in diapers (!!)
It rained fairly hard all night but cleared by morning. Amelia had me up at midnight and five am (she found the dark and rain rather scary) but the boys slept in until 7 and I actually ended up waking Michael! The "dark sky" fly is definitely highly recommended!
On our way back Yukiko, Michael and I had a loon swim right under our boat and pop up to have a look at us! It was possibly close enough to touch with my paddle. I really wished I had kept my phone rather than dutifully putting it in the waterproof case in Brendan's canoe! Elizabeth, Amelia and Brendan's canoe left the campsite last but arrived first - Elizabeth's competitive nature triggered "beast mode" and they paddled hard! Her technique has improved so much since last summer. Our canoe was the slowest but we probably traveled the shortest distance and we thoroughly enjoyed our ride. Michael didn't help our speed as he insisted on "helping" by paddling backwards, especially on the journey out.
We had lunch at the beach after returning our extra canoes and were thrilled to meet Mr. Fox who came to check us out.
All in all we had a fabulous trip and everyone enjoyed themselves greatly.
You might also like
- Canoe Camping
(0.473248)
- At Mary's
(0.442353)
- Virtual school: Week 2
(0.438648)
- Sewing with kids
(0.434548)
- Race Weekend (2km, 5km)
(0.432367)
All
June 30, 2021
June was hot, humid, rainy and some of the kids wanted to play minecraft more than they wanted to play outside - which is reflected in our results! Nevertheless we spent a great deal of time outdoors, despite this being the lowest number of hours since March!
You might also like
- Kids kicking cancer
(0.254499)
- Christmas with second cousins
(0.251989)
- Christmas Day
(0.250549)
- Family Day
(0.247031)
- Lightning Storm
(0.245791)
All
June 27, 2021
The 5th and final of the WKC virtual world qualifier tournaments. Elizabeth competed in the same 5 divisions and had a great day. She attributes this to her new mats which finally made it here a few days ago after being stuck somewhere on the ocean for months. She placed 2nd in hard style forms, 3rd in classical forms, 3rd in traditional weapons, 1st in extreme weapons and 2nd in creative weapons. Medal positions in all 5 divisions!
After totaling all the scores from the 5 tournaments for all competitors Elizabeth is ranked:
4th in hard style forms
3rd in classical forms
2nd in traditional weapons
1st in extreme weapons
3rd in creative weapons
If we understand things correctly this means she has secured the wildcard spot in extreme weapons for the Canadian national team and is eligible to attend the world championships in Florida this October.
There will also be a virtual world championships at the end of July in which the 1st place position in each division will face off against the winner of an elimination series of the other competitors for the title of virtual world champion.
All a bit surreal and very exciting.
You might also like
- Michael Bernardo's WKC virtual worlds qualifier #3
(0.409346)
- Grand Slam WKC virtual worlds qualifier #4
(0.381415)
- WKC Worlds
(0.368235)
- Plowden 2021
(0.335955)
- WKC Provincials
(0.322176)
All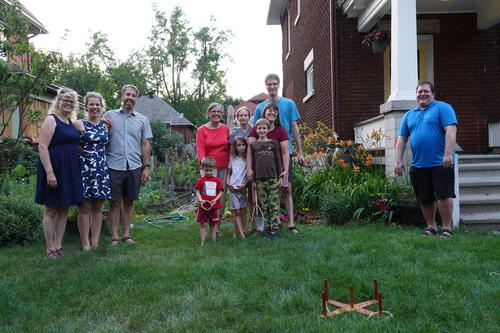 It was Amelia's baptism birthday and with relaxing covid rules and imminent entry in to stage 2 we decided it would be great to have her godparents over in person to celebrate rather than a zoom.
Lorianne is moving to Toronto so we had her and her parents who were in town to help over for a distanced farewell dinner. Originally I had this whole plan where we would be fewer than 10 people at any one time but as anyone who isn't me could have predicted, we were running late and Michael ended up coming in time to watch us eat. I should have just invited him to dinner although we would have been one person over. Aside from that rudeness on my part it was very, very nice to have our celebration in person.
You might also like
- Baptism Birthday
(0.357834)
- Good Friday
(0.345955)
- Elizabeth baptism birthday
(0.33945)
- Amelia's baptism birthday
(0.333333)
- First Communion
(0.333333)
All
Michael wanted to make another rhubarb pie with Grandma because last time they actually didn't make pie. Not that he actually helped much last time anyway, but since Elizabeth had another tournament it seemed like as good a time as any to make Michael's pie dreams come true.
He wasn't particularly interested in helping (as expected) when we got there, but when I pointed out that Grandma and Matthew were making the pie without him he did get interested enough to "help" roll out the dough. Or in other words he took grandma's nicely rolled dough and wrapped it around the rolling pie, making it such that she needed to roll it out again.
You might also like
- Flu shots
(0.340659)
- Apple picking
(0.334638)
- Sleepover
(0.334081)
- Skating on the Canal
(0.327715)
- First day of Maternelle
(0.327586)
All
June 26, 2021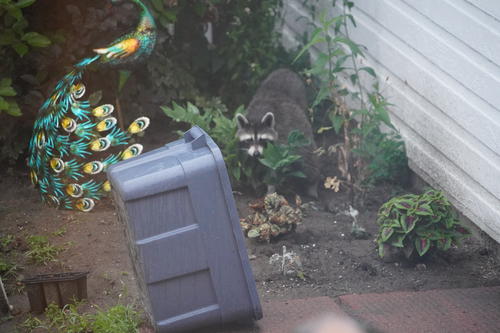 We had three visitors to our backyard this evening - Momma raccoon and two babies investigated my flowerbed before deciding to leave for a quieter (camera free) yard. One of the babies wanted to go the other way but eventually thought better of it.
You might also like
- A masked visitor
(0.270777)
- Fall
(0.255973)
- 12 Days of Christmas: Lego day
(0.252252)
- Raclette reprise
(0.250896)
- Hi Uncle Mark
(0.243161)
All
June 23, 2021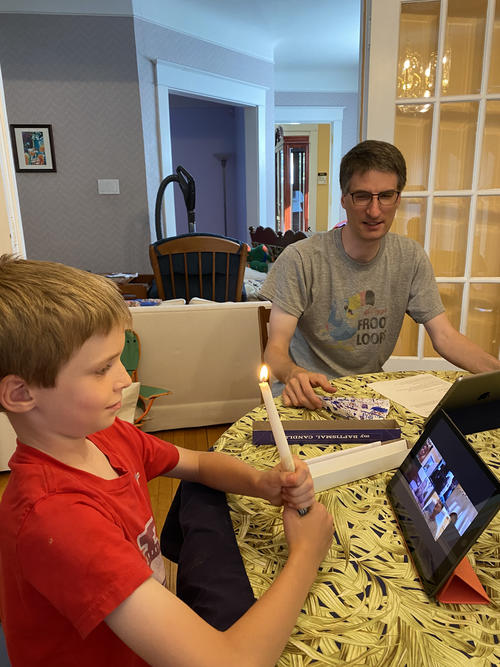 Matthew's baptism birthday was also over zoom, although we did inquire whether Janice wanted to attend outdoors. Matthew specially requested chocolate confetti as his baptism birthday cake.
(Those wondering what the story is with all the furniture in the hall - this is the downside of our own personal dojo.)
You might also like
- Baptism
(0.303855)
- Sand Delivery
(0.289979)
- First Restaurant
(0.289406)
- Brendan and Mommy-dear
(0.284382)
- Sledding and stripes
(0.28401)
All