August 31, 2021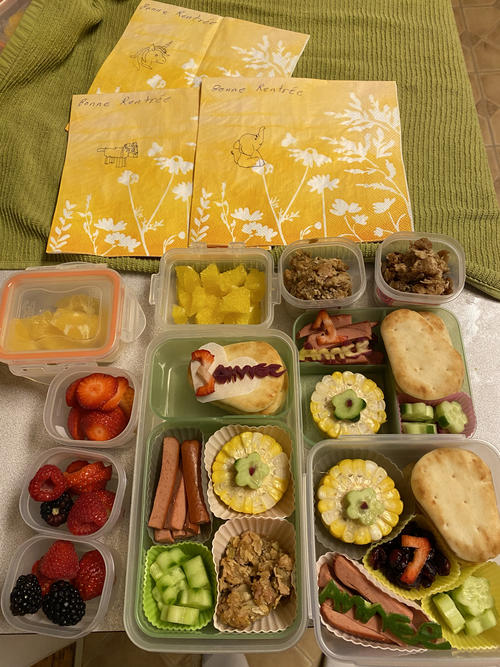 It's back to school day, and new school (buildings at least) for both Elizabeth and Amelia.
Amelia is starting grade one, with Mme Marie-Claude. I nearly cried with relief when I found out that Amelia was going to have the same excellent teacher that both Elizabeth and Matthew had for grade one! Amelia's friend Josephine from last year is in her class. Amelia was relieved to have kids she knew and who were also in PAVE.
Matthew is starting grade three, with Mme Josée. She's unknown to us, but our violin teacher Mme Danielle says she's nice so Matthew is looking forward to it. His friend Leo is in his class so he's happy about that. Actually Leo was also in his online class last year too.
Elizabeth has the biggest change as she has graduated from elementary school and starts high school at De La Salle this year. They grouped students into cohorts by instrument, so her friend Bianca isn't in her class, but Samia, Olivia and Shaughnessey are! She's excited but a bit nervous to be biking solo with her friends.
Matthew, Amelia and I are also biking to school every day, and Matthew's friend Nico will be joining us.
You might also like
- Grade 2
(0.358974)
- First day of Maternelle
(0.34947)
- Bike swap
(0.349231)
- First day of grade 3
(0.340461)
- Dance Camp
(0.337905)
All
August 30, 2021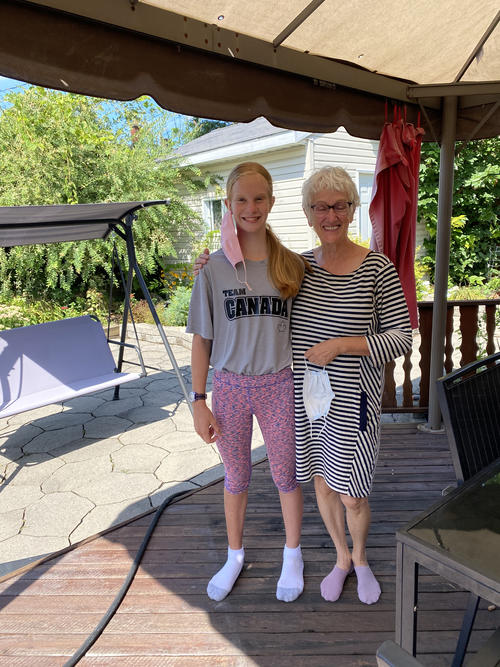 It's been three years of violin lessons - including one mostly online - with Mme Danielle. Elizabeth has learned a lot and we are very sorry we cannot continue as Elizabeth now moves to a teacher through her new high school.
You might also like
- Violin
(0.29562)
- Elizabeth lost (part of) a tooth
(0.276817)
- Elizabeth's baptism birthday
(0.267925)
- Violin
(0.265351)
- Candlemas
(0.262357)
All
August 27, 2021
Matthew and Amelia have been playing "restaurant" with Grandma Audrey and long story short they conned her into running one for supper where Matthew got to be the cook and Amelia was the waitress. Elizabeth was happy to be a guest for once, as was I. Matthew made the menu and a treasure map for Michael and Elizabeth to follow in order to find the restaurant. Michael wanted to be a helper too so he got all dressed up but was eventually convinced to come and sit down and play his role of guest.
You might also like
- Pie Day #3
(0.323741)
- Hashi
(0.317708)
- All Saints Day
(0.317391)
- Fort Magic
(0.311778)
- Hello, Goodbye
(0.309322)
All
August 24, 2021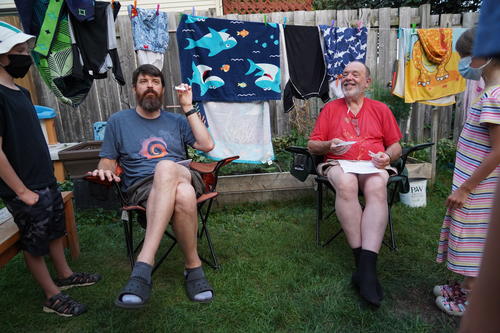 We made Uncle Dave a video of everyone doing 41 things in his honour on his actual birthday (while we were at the cottage). Now that we are back we went to Uncle Dave's house for a BBQ to celebrate properly, as well as to celebrate Grandpa H's birthday. The kids enjoyed playing together in the backyard and explaining all their birthday artwork.
You might also like
- Happy Birthday Janice
(0.314286)
- Elizabeth's baptism birthday
(0.311419)
- Museum and Birthday
(0.291667)
- Grandma Norman
(0.290221)
- Theo is 5
(0.288525)
All
August 18, 2021
One of our summer traditions is to do a survival day at the cottage where we tip and swamp our canoe. We also practiced getting into a canoe while out on the water, swimming in our life jackets and swimming in our clothes.
This endeavor is usually met with some initial resistance but everyone always has fun in the end and this year was no exception. Swimming in our clothes was especially popular.
Some of our discoveries this year:
-Erika is very good at getting into the canoe from deep water
-Maria needed to open her life jacket as the extra padding made it impossible for her to flip herself into the canoe (she's very persistent though!).
-Elizabeth's method of climbing in involves bending in ways most of us can't
-Everyone except Amelia can get into the canoe from deep water, and Amelia is still light enough that even Matthew can haul her in.
-Maria is very good at flipping people into the water
-Elizabeth and Matthew's sandals float
-Elizabeth and Erika can empty their canoe by themselves now
-Matthew likes bailing water
You might also like
- Life skills
(0.353323)
- Cottage Days:Cousins
(0.345679)
- African Lion Safari
(0.345479)
- Sledding disaster
(0.345369)
- Cottage Days: Feeding the deer
(0.345157)
All