March 9, 2023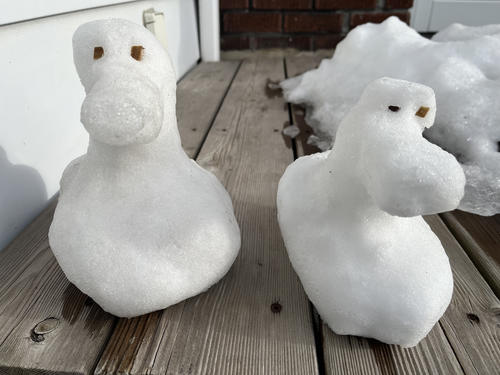 Today Matthew spent a good hour carefully crafting some adorable snow ducks.
You might also like
- Go jump in the lake
(0.21118)
- Matthew
(0.210145)
- Matthew is 9 part deux
(0.207547)
- Bus stop cute
(0.196429)
- Good Friday
(0.195266)
All
March 2, 2023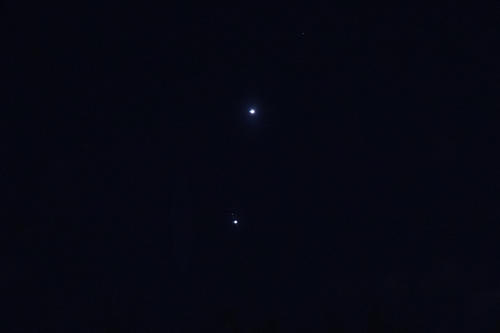 While mommy was out taking Amelia to Embers she noticed two very bright lights in the sky. Calling home to daddy we figured out that it was Jupiter and Venus kissing in the sky. Daddy got out the big lens for the camera and did his best to get a shot of them. He was doing this through the window (which is not idea due to potential reflections and noticed that there were a few tiny dots by one the planets (Jupiter apparently). He figured they were reflections in the glass but on checking out some other people's photos we found out that they were actually Jupiter's moons! Pretty cool. Daddy says maybe he needs to buy a fancy telescope to get a better view of such things...
You might also like
- Come Sing Messiah
(0.316342)
- Maggie's birthday pinata
(0.312821)
- Cottage Days: Feeding the deer
(0.309593)
- Grandir Ensemble
(0.307566)
- Wildlife
(0.307153)
All
February 25, 2023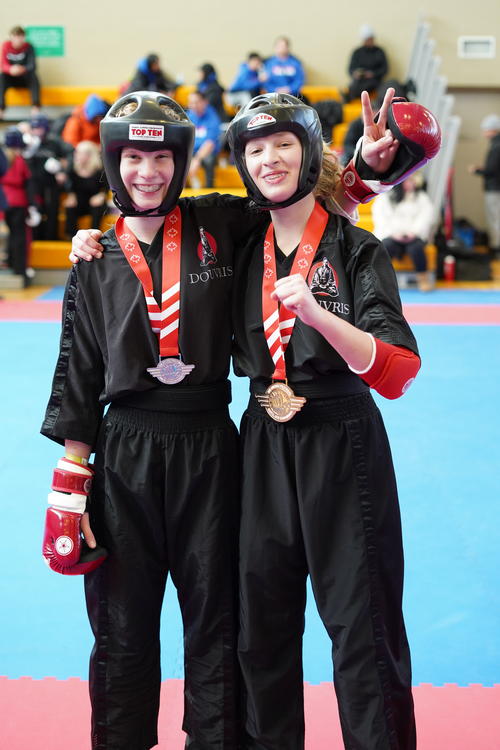 Daddy, Elizabeth and Erika all headed down to Burlington for the Ontario Provincial Martial Arts Championships (not to be confused with the WKC provincial qualifiers which are coming up on April 1st). Auntie Yukiko wanted to come too but was still not feeling up to it after having had Covid a few weeks ago. We stayed with auntie Muriel and had a lovely time catching up.
At the tournament they decided to run the divisions in an odd order which meant that Elizabeth had to change between nearly every division. While annoying she and her valet (Erika) did a great job and it wasn't even really obvious that she was off changing in terms of the proceedings.
Elizabeth opened with a gold in traditional weapons. She followed up with a bronze in traditional forms, bronze in a combined open weapons/forms division and 4th in creative weapons. The divisions were quite large with pre-covid levels of competitors. We also saw Eccia for the first time in ages. Apparently she took a year off to do acting and stunt work.
The real excitement came with the sparring division. There were 10 competitors in the 13-14 division. Remi opened with a 10-0 win. Elizabeth followed with an 8-0 win. Remi again clobbered her second opponent and Elizabeth did the same. That put the two Douvris teammates in the final for Gold/Silver. The head ref (who has seen them both many times) looked at them both smiling after having watched them decimate the rest of the field and said "you two are going to go easy on each other right?". The girls replied with a grin "maybe...". Remi won the gold and Elizabeth the Silver but after the match everyone was all smiles and super excited by the tremendous performance of skill that both girls put on. There were many high-fives, hugs and fist bumps from all the Dourvis teammates who had been madly cheering them on from the sidelines. Elizabeth said afterwards that the highlight of the tournament was definitely the sparring.
Erika had a very respectable traditional forms performance but a slight wobble cost her a chance at a medal against a large field of experienced opponents. She ended up around 5th.
You might also like
- WKC Provincials
(0.442991)
- Karate tournament: Challenge Rive Nord
(0.43996)
- WKC Provincials
(0.425486)
- WKC Worlds
(0.421675)
- WKC World Championships 2022
(0.419383)
All
February 12, 2023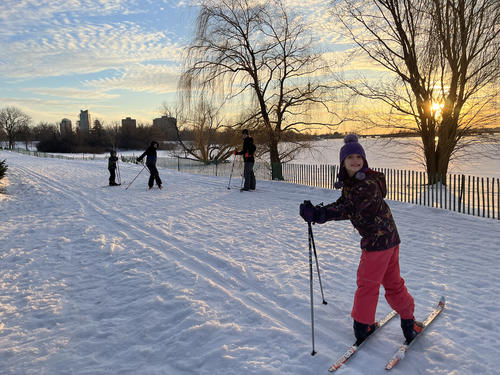 I took the four kids skiing by myself as the sun went down. We decided we'd ski as far as we could before the sun touched the horizon and we made about a kilometer and a bit from Remic Rapids. I think in total we skiied around 2 and a half kilometers, which is definitely the furthest Michael has ever propelled himself and probably about half a kilometer too long. The kids all did very well though. Michael fell and bruised his cheek and was less enthused after that, but Elizabeth was super patient with him and helped everyone back on their feet countless times (including her mother once, to great hilarity). Elizabeth would have enjoyed herself more with just her mother but she did not complain aside from one request to have a ski day where she could just ski.
The sunset was spectactular but the real highlight was on the way back when Elizabeth spotted a "beaver" in the water. Sure enough it looked very much like a beaver head. Michael was very excited to see it (the other two had gone whizzing by quite a few minutes earlier and missed it). Far too big to be a muskrat, we listened to it chattering until it finally got tired of being peered at and splashed back into the river. We think it must have been an otter.
You might also like
- Ski
(0.396671)
- Calypso
(0.394708)
- Party Day
(0.390751)
- End of an Era
(0.383155)
- First outings: Music, library, karate
(0.382857)
All
February 11, 2023
In all the commotion, Amelia lost her tooth! The toothfairy was strangely very late coming to get the tooth the next day - when Amelia woke up the tooth was still lying on Mommy's desk in the red room where Amelia had left it. But later when she went to open the curtains the money was lying on her windowsill in her bedroom, covered in fairy dust. Then the tooth was gone! Perhaps too many children had lost teeth the day before, she theorized...
0 comments
You might also like
- Olive and Chili and pumpkin carving
(0.267606)
- Elizabeth lost (part of) a tooth
(0.256024)
- Still Tulips
(0.255102)
- Visitors
(0.254945)
- Travel Food
(0.252475)
All