May 27, 2023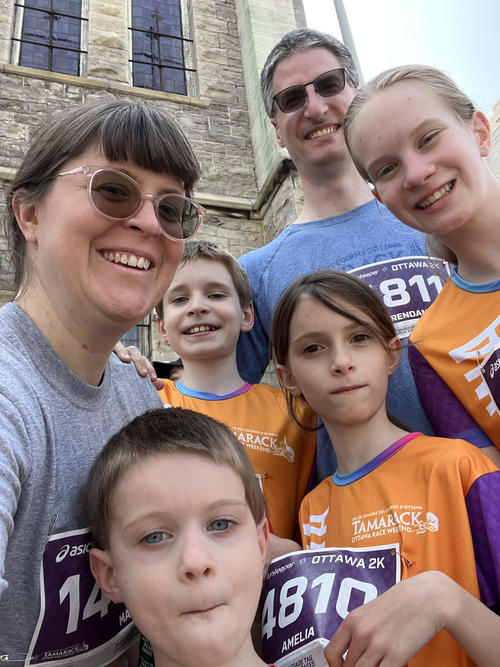 The whole family ran the 2k. Elizabeth was persuaded to move up to the front so as to not be impeded by other slower runners and said she had a very nice jog with no one in the way. She didn't sprint as she didn't want to over do it with her 10k still to come. She still finished first out of all girls under 19.
This was after walking to the race. In retrospect we ought to have biked but we thought we could catch a bus.
The rest of the family did a more leisurely 2k. Matthew and daddy ran together but with Matthew recovering from a bit of a cold he did more walking than running. He did sprint the last stretch leaving poor daddy to actually have to work to catch him by the finish line.
Michael had a blast after he discovered that basically anyone and everyone would give him a high-five if he ran along the edge with his arm outstretched and hand ready. He was so into this that he nearly ran right off the course in the excitement. He was also very excited to see that the dinosaurs were cheering us on again.
Amelia was not nearly as keen. Amelia had been told prior to the race starting that if she didn't want to run with an adult she would need to wear an airtag but had refused on the grounds that it was "weird". So Elizabeth put it in her hair and Amelia was told she needed to stay in front of Michael. She started out fine but about thirty seconds into the race she decided she was done running, made a bit of a fuss and pulled backwards against poor mommy who was trying to keep up with Michael as he disappeared into the distance giving everyone high-fives. It was very difficult to keep Michael within sight, even though he kept stopping to look backwards and wait once in a while as mommy grimly propelled Amelia along.
Finally we got within sight of the finish line and Amelia took off. "I beat you!!! I beat you!!!" she crowed. Mommy felt extremely ill after all that effort in the extreme heat and for a moment thought she was going to throw up, but a few minutes in the cold sprinkler and some water helped enormously.
In the end everyone made it across the finish line. Amelia 17:23, Daddy 16:07, Elizabeth 10:14, Mommy 17:35, Matthew 16:07 and Michael 17:35.
Later in the evening Elizabeth and Erika ran the 10k. The girls managed to hitch a ride with our neighbour Lauren who was also running the 10k. They beat last year's time nicely coming in at 64 minutes and 58 seconds. They didn't quite make their goal of one hour but given the heat felt it was acceptable.
You might also like
- RACE
(0.429868)
- Family Day
(0.42691)
- Spartan Race
(0.426357)
- Triathlon
(0.424242)
- Mooney's Bay
(0.423729)
All