January 28, 2023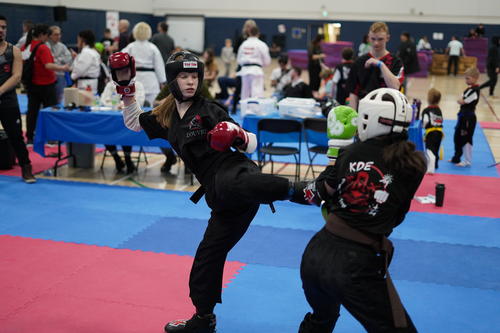 This time Erika managed to not get sick the day before the tournament so auntie Yukiko, Erika, Elizabeth and daddy all piled into the van and made their way through the sleet to Montreal.
This tournament only had a single forms division (rather than both hard style and classical) and no creative weapons division so Elizabeth was only competing in 4 divisions and Erika only in 1.
Elizabeth started strong with a silver in traditional forms, followed by a silver in traditional weapons. She had a fumble in extreme weapons (set to her new music) and the judges gave her super low scores. The fumble was honestly not that bad and the other competitors not that good so we were quite surprised. The scoring had been quite odd though for the various other divisions with some scores deviating wildly across the 3 judges (9,5,4 for example). As such we chalked this up the the judges being inexperienced and moved on. Erika scored middle of the pack but tied a very experienced competitor so she was pleased with that.
In sparring Elizabeth had 3 fights. She won her first one handily (7-4) and showed great control throughout the match. Her second fight went to overtime and her opponent scored a quick two points to win it. Her third match was immediately afterwards and at this point she was pretty tuckered out. She still fought well and scored a number of points but lost the match. While she was disappointed not to get a medal despite her great performance she quickly shook it off and went to cheer on her teammates. We've noticed a real change in her sparring over the past year. She's moved from being extremely defensive to being more comfortable and trying out many new moves in competition. She has an excellent set of technical skills and training but has until recently lacked the confidence to pull them out in the ring. As she has become more confident she's started scoring more points and winning more matches despite competing at a more and more advanced level. In these three matches she looked very calm and in control of the match the majority of the time. You could see her using more of her techniques and moving in closer to her opponents without fear. Her opponents, many of whom she has fought and lost to regularly over the years, often appeared terrified.
You might also like
- Nationals
(0.451383)
- WKC Provincials
(0.449859)
- WKC World Championships 2022
(0.437222)
- WKC Nationals
(0.436515)
- WKC virtual world championships
(0.430649)
All
January 21, 2023
I guess they are rebranding as "Embers" instead of Brownies.
Anyway, Amelia's troop had a sleepover at the church last night. In the morning I went to her room and called her to wake up. "Amelia isn't there" said Matthew. "Oh" said I, going downstairs to call for her to come for breakfast. "No!" said Matthew. "Amelia isn't here!" It may have taken a moment for me to remember that she was actually not home!
They were learning about the Chinese Lunar New Year. Amelia enjoyed getting chocolate coins in a red envelope, and sleeping next to her friend Charlotte from school.
I was thankful Janice brought her to and from the (brownie) church because this morning I was at the women's breakfast to celebrate Pastor Michelle's birthday.
You might also like
- First Sleepover
(0.335835)
- Life with two kids
(0.325424)
- Flu shots
(0.324916)
- Matthew is Two!
(0.324405)
- Valentine's Day
(0.323572)
All
January 16, 2023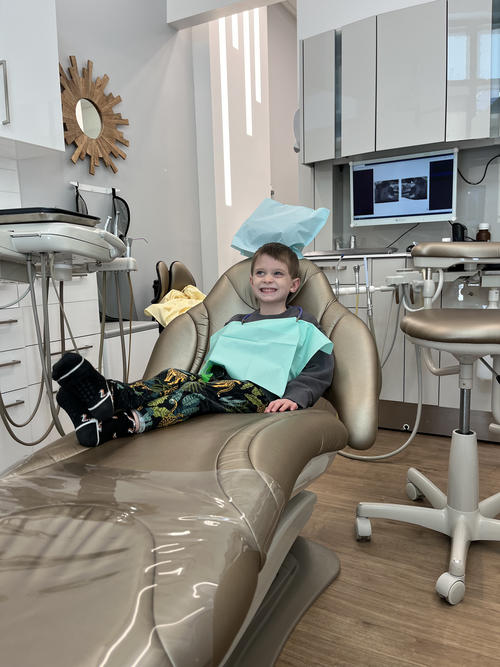 Michael went back to the dentist for another filling. I was surprised to discover he was keen to go get more "sleepy juice". Seems like the treasure chest was popular because he wanted another ball. It was a different dentist whom he liked, but not as well. The appointment itself was very efficient. I was surprised to hear that there was one more surface cavity that the dentist planned to monitor instead of filling. "Wouldn't it make sense to do it while he was frozen?" I inquired? Apparently the filling would not necessarily need freezing, but more importantly Michael was ALL DONE opening his mouth and had kept closing on the tools. So the dentist thought better to continue another time since the filling location is at the back. To be fair, it's quite tough for Michael to open wide enough for the particular area and he was very good about the whole thing. He still seems very positive about dentists. We have one more filling to do for Amelia and then hopefully that's the last dental appointment for a few months.
This week was dubbed "appointment week" because in addition to Michael getting his other filling done, all four kids had appointments with the eye doctor.
I had to work, so Brendan took them. I booked Matthew and Amelia back to back, since we can easily pick them up from school at the same time. Apparently this was by far the hardest appointment. Amelia was bouncing on the fancy chair and wiggling around while Matthew was doing his best to annoy his father and sister. Brendan said he barely managed to prevent them from completely dismantling the office.
We are pleased to report that none of the kids need glasses yet. Elizabeth's doctor was expecting to prescribe glasses this time but in the year and seven months since we last had a check up her eyes have changed very little. It was Michael's first appointment!
You might also like
- River Oak
(0.42654)
- 12 Days of Christmas: New Year's Eve
(0.417736)
- Hike in the woods
(0.417112)
- Broken nose
(0.414286)
- Virtual School: Week 37
(0.411585)
All
January 15, 2023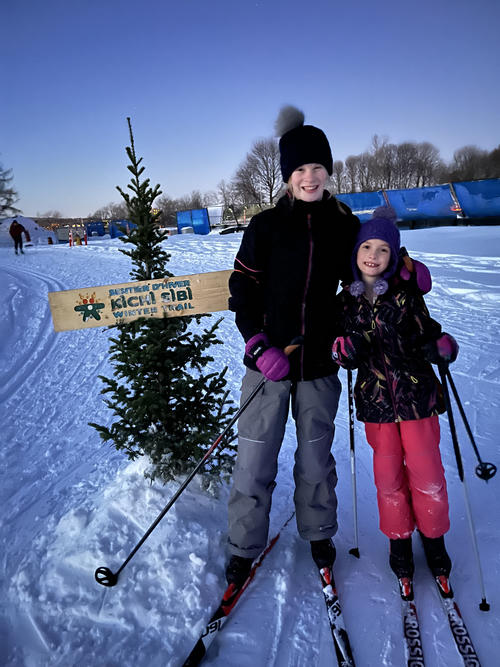 I wanted to go skiing again, a little earlier. Matthew stayed home to make supper and Michael to play with Daddy.
We did get out a bit earlier and went from the end of Churchhill to the sign at Westboro beach before the sun dipped below the horizon and it was time to head home.
You might also like
- Fall
(0.327465)
- Greek Night
(0.284483)
- Museum of Nature
(0.283388)
- Back to church
(0.277523)
- Grading
(0.277397)
All
January 14, 2023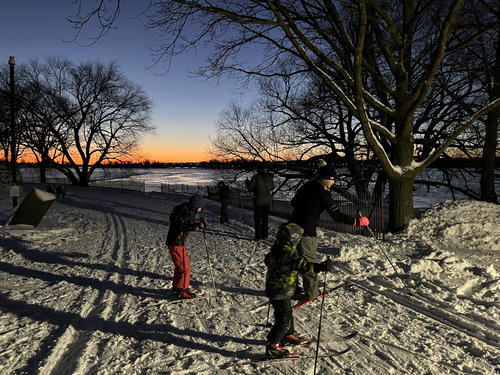 It was a beautiful day, so even though it was getting to the end of the afternoon by the time we got home from karate and horseback riding, I decided it was high time we took advantage of the snow and went skiing!
It took longer than hoped to gather skis and distribute ski boots (aka "No those were your boots LAST year. Now they belong to younger sibling") but finally we were off and just getting to the entrance when we discovered Daddy had left the keys to the ski rack at home. By the time we had retrieved keys and gotten back to the trail it was very definitely sunset and light was fading fast. We did not go far, having not brought headlamps with us but it was enough.
You might also like
- Opthamologist
(0.324138)
- Late night skate
(0.30855)
- Last day at the cottage part 1
(0.307836)
- 12 Days of Christmas: Lego day
(0.307339)
- Erika learns to Skate!
(0.307002)
All