January 3, 2021
Michael got a helmet for skating. Matthew received a long anticipated basketball. Amelia received a frisbee and Elizabeth received a better skipping rope to use for karate training. We also acquired a dining room table to table tennis conversion kit :)
You might also like
- Stripes
(0.263736)
- New Bed
(0.249221)
- Stella Luna
(0.247967)
- Fort Magic
(0.246445)
- Green Belt
(0.245955)
All
January 2, 2021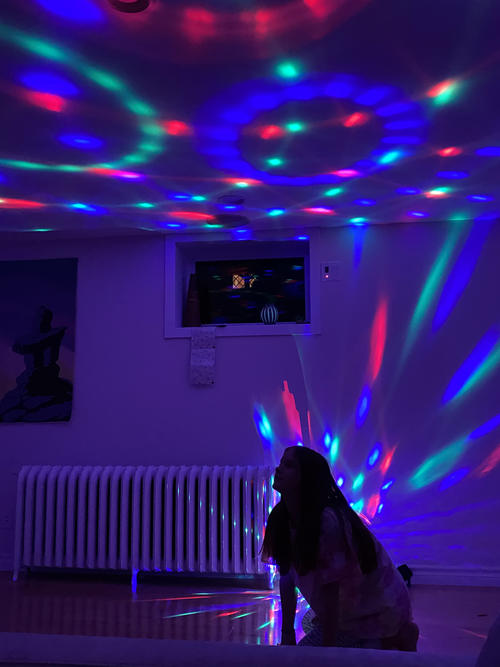 We spent most of the day outside today playing in the snow. Elizabeth made a little fort for herself and Matthew is working on an igloo entrance. Then the older three and I went skiing on the SJAM. We parked at the parking lot just outside of Westboro beach because there was a parking ban on the street for snow clearing in effect. It was a zoo. We waited about ten minutes for a spot and getting out of the parking lot was a little hairy. In fact there were so many people right near the bridge that the kids didn't want to go that direction at all. The trail itself wasn't too busy so we decided to ski past the sledding hill where people were congregating as quickly as possible.
We had a good time, but we were glad of our masks and will probably avoid the SJAM on the weekends for a little bit.
The 9th day of Christmas is nine ladies dancing so today's gift was a disco light for a dance party.
You might also like
- New Year's Eve
(0.339779)
- Come Sing Messiah
(0.339411)
- Grading
(0.338961)
- First Snow
(0.338594)
- Fall Fair Birthday
(0.336406)
All
January 1, 2021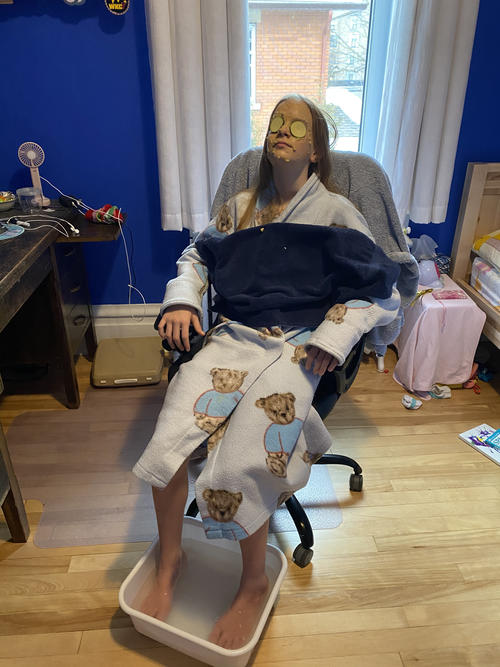 We tried making homemade facial masks with oatmeal, turmeric, honey and yogurt. This was deeply unpopular. Matthew declared the smell unbearably vile. They appreciated the bubble bath and foot soaks more.


Afterwards they read books in front of a blazing fire while they dried off.
You might also like
- Accident prone
(0.233438)
- Palm Sunday
(0.217158)
- Gingerbread Dough
(0.217033)
- Auntie Mary at Xander and Isabelle's
(0.217002)
- Teacher gifts
(0.214623)
All
December 31, 2020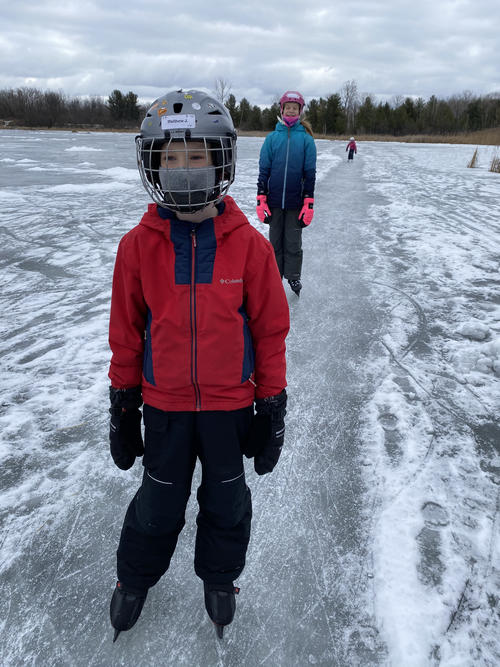 Day 7 was the last day of the year, so we opened some accessories for our New Year's Eve celebration, like glow balloons and noisemakers. I almost immediately regretted the noisemakers, but not for the reason you might think (the kids pulled off the tassels and strewed them all over the house)
In the morning we went to Bruce Pit to go sledding and skating. Friends Dianne, Alison and Heidi and their kids happened to be there as well. We skated and sledded together but apart. There wasn't a lot of snow on the hill - in fact had I not been assured that it was sleddable I probably wouldn't have braved it. We likely wouldn't have ventured out at all had we not had a report of the number of people on the hill first as we were worried about crowding.
The lake was a bit rough skating in places but while Elizabeth and Matthew thought that "even the canal is better ice" I noticed they skated the loop quite a few times. I was expecting Michael to skate a few steps and then declare himself all done, so I was very surprised that he skated halfway around the loop circling the 400m long lake with help and even did some steps by himself. He is already able to get up and stand unassisted! I can't recall whether this was Michael's first time on skates but Brendan and I kind of think so. In which case he is a complete natural.
We had our traditional fondue WITH peas for dinner. Apparently the peas are the important part for Elizabeth, sitting in front of the fire with fondue is Matthew's main concern and having glow stuff is Amelia's.
You might also like
- Piano Recital
(0.415803)
- Matthew's first skating class
(0.412141)
- Egg Hunt
(0.409905)
- Cottage Arrival 2019
(0.409035)
- Skating
(0.408371)
All
December 30, 2020
New books for everyone! Mostly this was an excuse to acquire more Asterix since they wouldn't fit in stockings.


Today's outdoor adventure was another visit to Commissioner's park. Elizabeth met up with Erika and promptly vanished. We never even saw Erika!
The rest of us made "skating rinks" in the forest and wandered around in hopes of seeing the girls before giving up and going home.
You might also like
- Thanksgiving
(0.306931)
- Costume deliberations
(0.297189)
- Spring
(0.290722)
- Sand Delivery
(0.290526)
- Hello, Goodbye
(0.289855)
All