April 22, 2009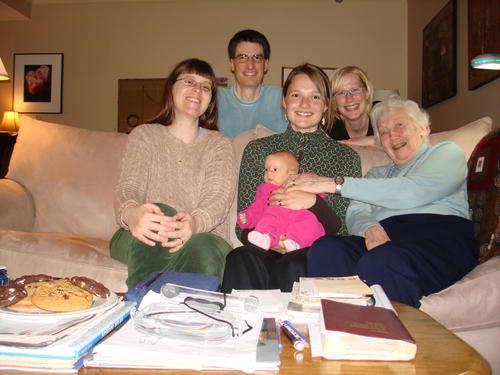 Elizabeth and I had a big expedition to the grocery store today. She enjoyed the stroller walk over to the Loeb (our closest grocery store), but by the time we got to the meat section she was just howling. I haven't quite figured out how to manage all the extra baby-related paraphenalia in addition to a grocery cart, so I opted to push the stroller with one arm while piling groceries into my other arm. At some point I will try the sling, but this particular store is so teeny tiny that it didn't seem worth it, especally since our mission was limited to getting milk and eggs.
Heads turned as I dashed towards the exit, while two dozen eggs teetered precariously atop of the bread. As my wailing infant increased her volume, the staff opened a new checkout lane for us and other customers graciously stood aside. Of course, once we were back outside she immediately stopped crying and went to sleep.
In the evening we braved house group for the third time. Elizabeth continues to be a head turner at the Lord Landsdowne Apparently they don't see a lot of babies there or something because everyone seems to be quite surprised to see Elizabeth (and subsequently spend a couple of minutes oogling instead of whatever they had been planning on doing). The good news is that Elizabeth doesn't seem to mind all of the attention and generally behaves herself. Elizabeth has even started to contribute to housegroup discussion (other than in the form of a distraction). When asked how Jesus must have felt about Judas' impending betrayal she promptly burped.
You might also like:
-
Matthew's first skating class
-
The birds and the bees
-
23 months
-
-
The Big Clock
April 21, 2009
Today's pictures were actually accumulated over the last few days, but we haven't had the energy to sort through and post them before now. In theory Elizabeth is supposed to be declining from "peak fussiness" since she's seven weeks old, but the last few days have had her parents checking to see whether she has any curls in the middle of her forehead which might explain the various screaming fits.
Luckily various aunts, uncles and cousins came over to give us a little break. Erika explained to me that it was just Elizabeth's "cranky, cranky time". No kidding! There's a joke about a Jekyll and Hyde baby somewhere here but I'm too tired to find it.
Today was much better - she slept 4 hours in a row (twice!) during the night and settled down for a big nap in the afternoon. It's amazing how much difference that makes to a baby's mood...
We even braved the driving rain to visit the Ottawa Public Library for "Babytime". Elizabeth was asleep when we first arrived, so with the help of a friendly librarian I selected some age-appropriate board books in both official languages. They recommend you choose books in black & white at her age, so we have a book with farm animals in silhouette, a book of panda photos, a book about busy babies yawning and splashing, and a book about an ant and a dinosaur who hatch at the same time and think they are each other's mommies. The last two aren't entirely black and white so are "a little advanced". Given that she hasn't quite figured out that she's supposed to be looking at the book, I'd say they are all a little advanced but they keep Elizabeth's parents out of trouble.
When Elizabeth woke up we joined the dozen plus other moms and their babies. Babytime is advertised as a way to promote early literacy, but there was nary a book in sight. Well okay - there were lots of books on the shelves... I'd had visions of someone reading board books but it seemed to consist entirely of singing popular baby songs in a circle with other moms who are jiggling their babies in time to the music, while the librarian waves various stuffed animals around at appropriate moments ("Old Macdonald had a sheep"...) It was surprisingly fun and utterly ridiculous. I'm totally going back. If I have enough popular demand, maybe I'll even take a video of Elizabeth doing the Hokey Pokey.
You might also like:
-
Pumpkin picking
-
London
-
Canoe Camping
-
London
-
Homeschool wk apr 14-17
April 17, 2009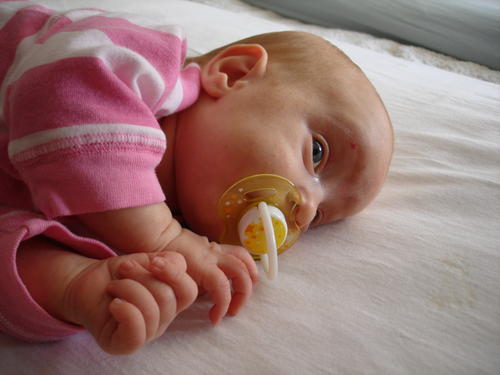 The soother fairy (Auntie Janice) came by yesterday with relief for our aching pinkies... At first Elizabeth would have none of this glow-in-the-dark nonsense, but Daddy persevered and she finally got the idea!
Today was also our last appointment with the Midwifery Group of Ottawa. We have officially graduated!
Midwife Kim weighed and measured Elizabeth. She didn't quite make nine pounds, but it was close - she weighs 8 pounds, 13 ounces. She's 57cm long, which puts her over the 50% percentile. I can hardly believe that we have no more appointments though. We really enjoyed the whole midwife experience and we're a bit sad that it's over. I'm relieved to hear that they would take me on in the future - I was worried that the c-section and all that led up to it might have bumped me into a category of ladies requiring obstetric care throughout their pregnancy. I really liked the obstetrician they referred me to, but I still prefer midwifery care over an obstetrician.
I was interested to read this article in the Citizen the other day about why access to midwives is artificially limited in Ottawa. I'm a huge fan of midwifery and think that the way it worked for me is really the way maternity healthcare should work in Canada generally. I appreciated the continuity of care provided by the midwives and especially the educational component that the poor overworked obstetricians simply aren't able to provide at the level of funding they receive from OHIP. Furthermore, it seems to me that it would be better if the obstetricians were able to focus on the more complicated cases they train for. Not to mention that a less medical approach to childbirth would be less expensive overall. So hopefully the privilege issue gets sorted out soon.
Of course, this is totally academic for me at this point. I'm supposed to wait at least one year and ideally two for my body to heal properly before thinking of another pregnancy (and presumably to get the hang of looking after wee Elizabeth). We also have no idea whether we'd be able to have another baby or not. Is it greedy to want more than one miracle baby?
You might also like:
-
-
Breech Baby - 35w 5d
-
Vanier Museoparc
-
Healthy Girl
-
2 month checkup
April 16, 2009
Elizabeth was terribly out of sorts this morning, so we went for a long walk around the Glebe in the beautiful spring sunshine. No sooner did we get on the road than her eyes closed, so I was the only one to enjoy the flowers just poking their heads out of the soil. We met a new-to-us neighbour and several friends from church along the way, investigated a number of local parks and generally soaked up the vitamin D! Don't worry, as our neighbour approvingly noted, Elizabeth's eyes were adequately protected from the sun by the stroller awning (or, as Brendan likes to call it, the fold down roof for her convertible).
You might also like:
-
Canada Day Street Party
-
Tulips
-
Crawling...
-
Ice Lanterns
-
Spring in the park
April 15, 2009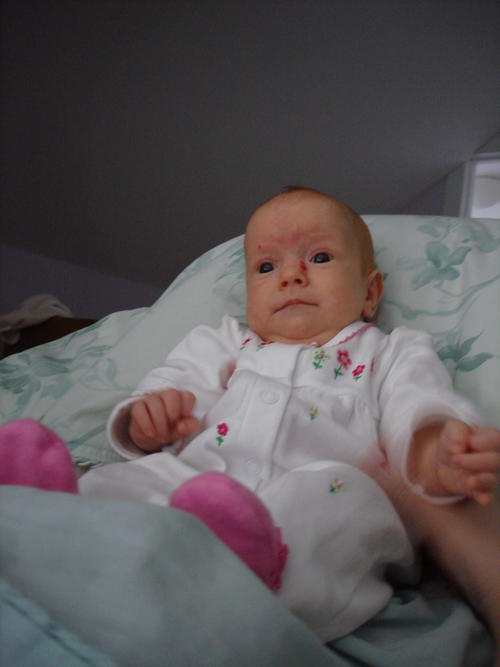 It's the last time Elizabeth will wear the cute outfit (including built-in shoes!) shown in these photos as she is about as tall as it will stretch. We're joking that she's trying to impress the midwife by making it to nine pounds by her last appointment on Friday.
Unfortunately, this meant that she's spent the last day or so eating every two hours. Not just a snack either! She's slowed down today, but still wants the comfort of sucking even when she's full to the brim. She'll suck on her hands from time to time but mostly likes knuckles or mom's little finger. She definitely has the concept that breastfeeding provides food while knuckles or fingers don't, and will wail until we figure out which one she's looking for.
Before becoming parents we thought we'd never use a pacifier with Elizabeth, since it's easier to break a habit if it doesn't start in the first place. Several rather bruised pinkies later, we've completely reversed our thinking. At least she hasn't given anyone a hickey yet!
You might also like:
-
Amelia 21 months
-
Cottage Days: Support boat
-
Orange swimsuit please
-
New Year's Day
-
Weather board