April 29, 2009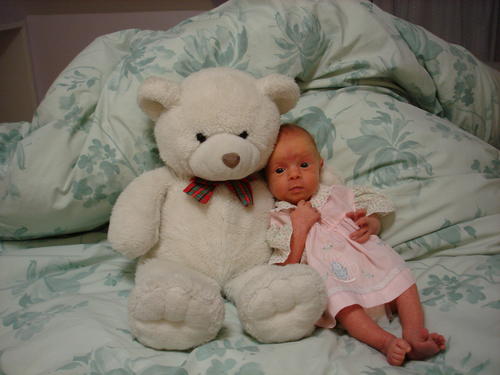 Elizabeth is now (more than) two months old by any measure, so we decided it was photo with the bear day.
I'm already forgetting how small she used to be. In another month she may be bigger than Teddy!
You might also like:
-
Hold the hand
-
Four Month Teddy Photo Shoot
-
Groceries by sled
-
Skiing
-
A week in review
April 28, 2009
We had cousin playtime today, beginning with a trip to Cosmic Adventures! Elizabeth's day actually consisted mostly of eating and sleeping - I guess she wanted to make up having slept a record five hours in a row the night before.
Yukiko looked after Elizabeth while Erika and I got to play in the ginormous play structure. It's been a long time since I got play in one of these - at least to this extent... Erika moves quite a bit faster through the tunnels than I can, but I managed to keep up okay in most without too much damage to my knees. She's still a bit cautious about going down the steep tube slides, so we did those together (at least the first time!) I'm moderately frightened by the idea of trying to keep up with more than one child in this, but I guess that by the time Elizabeth and baby-cousin-to-be are old enough to go on the large play structure Erika will be big enough to look after them! Here's hoping anyway...
Erika's favourite slide was apparently "the gray slide", for which we searched for high and low without any success. Luckily Erika agreed it had probably gone on holidays and I was able to tear her away from the playground even though she hadn't been able to slide down her favourite slide.
Afterwards we went back to our house. Yukiko expertly napped with Elizabeth while Erika and I made "a messy business" in the kitchen (aka cookies).
You might also like:
-
Strike Day
-
Erika and Maria
-
Climbing dome
-
Gingerbread
-
Family Day
April 26, 2009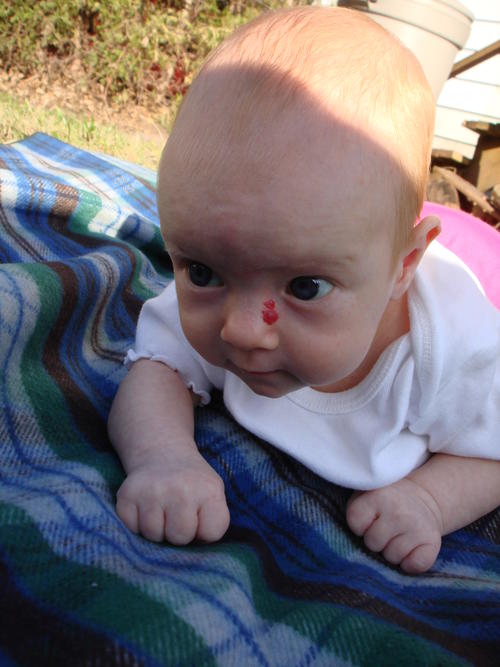 Erika and Auntie Yukiko came over yesterday to play with Elizabeth and me while Uncle Chris and Dad spent some quality time pulling down our ramshackle excuse for a fence. It turned out that more than the fence came down - with the enthusiastic help of our neighbours. We only left the boys alone for a few hours!
I did know this was happening, but losing the fence and entire hedge was not quite what I had envisioned as the end result. Erika thought it was all very interesting, especially helping water the bits of cedar we replanted. Elizabeth was just happy to be able to nap on Auntie Yukiko.
Later in the day Elizabeth made her first visit to Britannia Yacht Club to see Kokopelli. We forgot the camera and to Mike's great horror we also forgot her hat! She seemed pretty interested in all the boats, but quickly fell asleep once we got to the club.
There was a massive windstorm (and maybe a tornado) that especially damaged houses and trees in the Britannia area less than an hour after we went home. What a storm! Our newly replanted cedar bits are all leaning at a bit of an angle but otherwise we experienced no damage. We did field a call from my sister wondering what to do with my parents' gas bbq which was flipped right over.
You might also like:
-
Racoon proofing
-
Visitation and Recital
-
Happy Birthday Uncle Chris!
-
A shower and the Great Glebe Garage Sale!
-
Mary Day
April 23, 2009
It's probably time for a cloth diaper update.
Last time I posted about them we were disappointed that Elizabeth still didn't fit them properly. The big problem was that diaper incidents were not being contained by the diaper. We kept at it but mostly limited our experimenting to daylight hours as we didn't want to risk a blowout on mom & dad's sheets... Disposables are not immune to blowouts, but while we lacked confidence in the cloth we figured it would be a good idea to remove the temptation to blame the type of diaper!
As she's filled out the number of disposables we've needed has dropped and I'm pleased to announce that we're pretty much entirely using the cloth now - a few here and there when out and about or nameless parents have forgotten to flip the laundry (ahem). In fact, we're coming up on our hundreth cloth diaper (we know this because our first roll of diaper liners is about done). I'm ambivalent about the diaper liners. They reduce the amount of money you save and are another piece to fiddle with when putting on the diaper but not having to rinse out the diapers is a huge huge plus. On balance I think I'd recommend them (Brendan definitely would - the idea of "rinsing" frightened him a great deal).
You might also like:
-
Shark!
-
MYC
-
Terrible Horrible
-
Where does all the laundry come from?
-
Skating Show
April 22, 2009
Elizabeth and I had a big expedition to the grocery store today. She enjoyed the stroller walk over to the Loeb (our closest grocery store), but by the time we got to the meat section she was just howling. I haven't quite figured out how to manage all the extra baby-related paraphenalia in addition to a grocery cart, so I opted to push the stroller with one arm while piling groceries into my other arm. At some point I will try the sling, but this particular store is so teeny tiny that it didn't seem worth it, especally since our mission was limited to getting milk and eggs.
Heads turned as I dashed towards the exit, while two dozen eggs teetered precariously atop of the bread. As my wailing infant increased her volume, the staff opened a new checkout lane for us and other customers graciously stood aside. Of course, once we were back outside she immediately stopped crying and went to sleep.
In the evening we braved house group for the third time. Elizabeth continues to be a head turner at the Lord Landsdowne Apparently they don't see a lot of babies there or something because everyone seems to be quite surprised to see Elizabeth (and subsequently spend a couple of minutes oogling instead of whatever they had been planning on doing). The good news is that Elizabeth doesn't seem to mind all of the attention and generally behaves herself. Elizabeth has even started to contribute to housegroup discussion (other than in the form of a distraction). When asked how Jesus must have felt about Judas' impending betrayal she promptly burped.
You might also like:
-
Matthew's first skating class
-
The birds and the bees
-
23 months
-
-
The Big Clock