May 23, 2009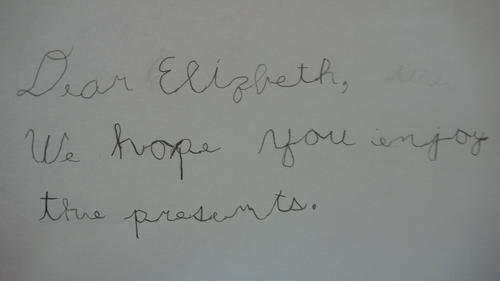 Like a child on Christmas morning Elizabeth was up at 5:30 this morning. She must have known it was going to be a big day.
Today was the 23rd annual Great Glebe Garage sale. We've been donating lawn space to Grandma J's dragon boat team for the last couple of years, and I'm always amazed by how organized they are about the items they sell. It's really great having them because it means that our lawn is a happening place year after year (and repeat visitors are starting to pick that up). We can also sell a few items of our own without needing to save up junk - if we didn't have other people using our lawn, our version of the garage sale would be rather sparse. Since we were up anyway...we helped set up.
My mom and sister sold a few items too, including a bike and my Dad's old windsurfers. Many people stopped to look at them, weighing their desire to purchase the boards against how unimpressed their significant others would be if they brought home an eight foot long or a six foot long garage sale item to store. We had to get Dad on the phone to figure out which sails, masts, wishbones and other paraphenalia went with which board!
With the garage sale going full tilt Erika and Uncle Chris came by to visit and play with Elizabeth. "We have a new Maria-baby" announced Erika proudly. Chris may only have a few days experience of handling two kids at once, but he is very very good at it. I got to practice a little bit later while both dads succumbed to the charms of a nap. Erika and I made "a very messy business" (lunch and brownies) to feed our hard-working garage sale sellers. Erika cracks me up...
After the garage sale Grandma H, Janice, Elizabeth and I piled into our car and headed off to Elizabeth's baby shower, where we were shown much love and affection, and played pass-the-baby. Elizabeth was as good as gold, sleeping most of the time to make up for the napping she missed earlier in the day due to the garage sale noise. Grandma H was quite discombobulated by having driven our car instead of her own and was quite shocked when leaving the shower to find that her car was not in the driveway where she had left it ;-).
In case the day hadn't already been exciting enough, coming up Bronson on our way home from the shower (via South Keys) we got to see thousands and thousands of runners streaming across the street as far as the eye could see. It was a bit like watching a really long train and completely amazing to realize how many people were participating!
Elizabeth seems to have taken it all in stride (or snooze I guess). She is such a good baby.
You might also like
- Karate Tournament, Birthday and ER Part 2
(0.449747)
- London
(0.449231)
- Home
(0.442385)
- Family Day
(0.440559)
- Social Distancing: Day 20
(0.43865)
All