June 4, 2009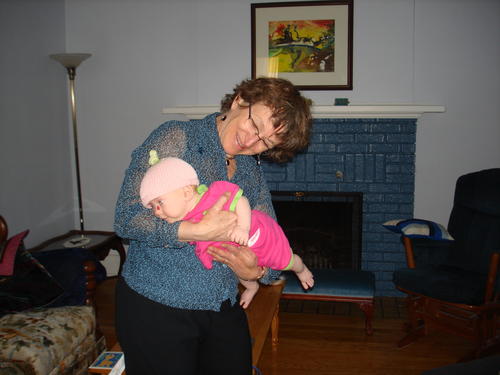 Elizabeth is battling her first cold, and as a result spent the last couple of days coughing, eating and sleeping in frequent short bursts. She sounds miserable and it is heartbreaking that I can't do anything at all to make her feel better.
Ottawa is pretending that it has remembered what proper June weather looks like, so Elizabeth and I decided to go for a walk in the hopes that the motion would help her get a proper nap.
My mom and Aunt Mary came too - we walked all the way around Dow's lake and through the Arboretum! Oh - and no, I wasn't threatening to throw her in the Ottawa Canal - we had to dismantle the stroller to get it across the locks! It was a lovely walk and Elizabeth seems a bit better tonight. She even more or less behaved when a long-time family friend dropped by from Collingwood to see her.
You might also like
- Auntie Muriel's
(0.350825)
- Extended family Christmas
(0.349711)
- Music Recital
(0.338608)
- Canal
(0.3375)
- Mastitis
(0.334307)
All
June 3, 2009
One of the most important parts of being a parent is surely the ancient art of making noises to calm, soothe and otherwise entertain one's child(ren). Promptly upon learning that parenthood was impending we started practicing our noise making skills. Well okay so we've been making silly noises since long before then but now we've got an excuse.
Now many parents have their own personal style of noises with which they entertain little ones but throughout history I'm sure there is no greater collection of child friendly noises than the now infamous "Barnyard" collection. With Elizabeth still in the womb Daddy started practicing noises from the first volume of the "Barnyard" collection. Elizabeth was treated to many an oink during those all important formative months. Now that she is out and interacting with us, Daddy has been encouraged to move on to some of the more advanced noises from the other volumes in the "Barnyard" collection.
Today is a very special day for those of us who are proud barnyard noise makers. Today all across our great nation people are enjoying one of the most important barnyard noises of them all, the Moo. So with that I would ask that everyone now take a moment and Moo with us (for the children of course)...
0 comments
You might also like
- Easter Sunday
(0.352861)
- Language Development
(0.346652)
- First Trip to the Dentist
(0.343101)
- Field trip to Agriculture museum
(0.342629)
- Chicken Chicken
(0.342466)
All
June 2, 2009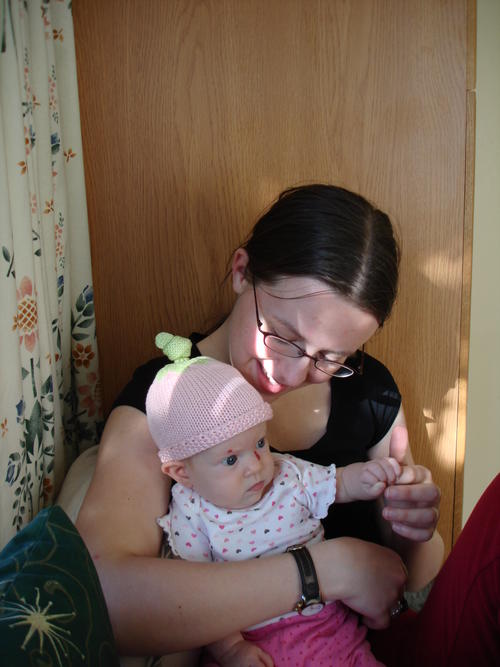 After eight years of marriage, Brendan and I really know how to party! Last year we celebrated with an awesome hike through Gatineau park with a small tub of ice cream. Our evening plans were curtailed though when Brendan got so many blackfly bites he had blood running freely down his legs, came down with a temperature and had to go to bed early.
This year Brendan was already sick with an ear infection and a bad cold that Elizabeth may be picking up, so we decided we needed to do something a bit less strenous. We celebrated by taking Elizabeth to Home Depot for the first time. We've decided that a new deck is probably in order after our stairs collapsed and a visitor innocently asked us whether the latest gap in our railing occurred as a result of someone falling through.
You might also like
- Garden
(0.337063)
- Three at a time
(0.336538)
- First Canal Skate 2013
(0.336013)
- Cousin Marc
(0.335616)
- Opthamologist
(0.335443)
All
May 28, 2009
Elizabeth is officially three months old - so it's time for photos with the bear. Teddy is still much fatter, but she's obviously grown since last month!
She's now enjoying spending time sitting in her Bumbo and jumping around on the Jolly Jumper that we tried out for the first time today. Tentative at first, she quickly got the idea. It was a bit nerve-wracking to watch her lunge towards the door frame. As a result, we have a lot of video footage that jerks around suddenly depending on whether amateur videographer or nervous mom was controlling my hands at the particular instant in question.
You might also like
- March Pukefest
(0.309091)
- Karate Nationals
(0.306688)
- Matthew and Elizabeth spectacle
(0.306122)
- It's for you
(0.305281)
- Four stripes to black belt
(0.304189)
All
May 27, 2009
I caught a glimpse of life with two kids today as we took Erika for the afternoon. Mom - I'm quite impressed...
Elizabeth enjoyed hearing her cousin sing to her, but naptime suffered a wee bit. We played with toys, puzzles, made cookies and read books and more books and more books. And then suddenly it was 5:30pm and Auntie Mary ran out of steam.
So we resorted to computer games. Fisher-Price has a phonics game that Erika found very interesting and she enjoyed the alphabet zoo game too. Most of the others she found about as lame as I did. Watching an animated hockey player shoot a puck into a net over and over again while a narrator counts is not the most thrilling way I can think of learning your numbers (and Erika knows her numbers already anyway). We tried out a memory matching game that was deemed a little too ugly and a classic adventure style game that I highly doubt was designed for preschoolers.
Then we discovered the free colouring sheets and the computer lost its appeal except as a magic colouring sheet generator.
0 comments
You might also like
- Pony Dancing
(0.339037)
- Grade 1 update
(0.335323)
- A shower and the Great Glebe Garage Sale!
(0.333964)
- Summer school aug 3-7
(0.331573)
- Dovercourt
(0.330049)
All