June 16, 2009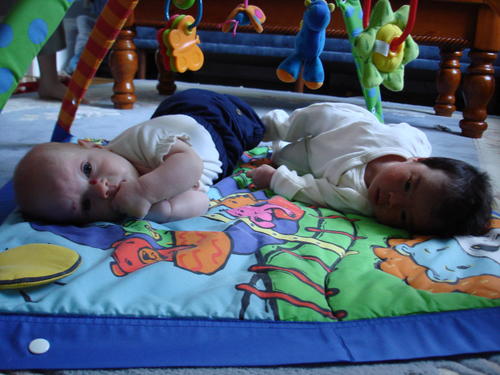 Cousin time! Elizabeth and I went to visit Uncle Chris, Auntie Yukiko and cousins Erika and Maria this afternoon. We came bearing many vegetables - so many that Elizabeth actually had to ride in the sling. As other people crossed us on the way, they all tried to see whether I had a second child riding in the stroller I was pushing and seemed confused when they noticed that it was full of cauliflower, broccoli, mushrooms, asparagus, vegetable greens etc etc.
You might also like:
-
Easter Sunday
-
Family skate
-
Thanksgiving
-
Bikes
-
Sailing time!
June 15, 2009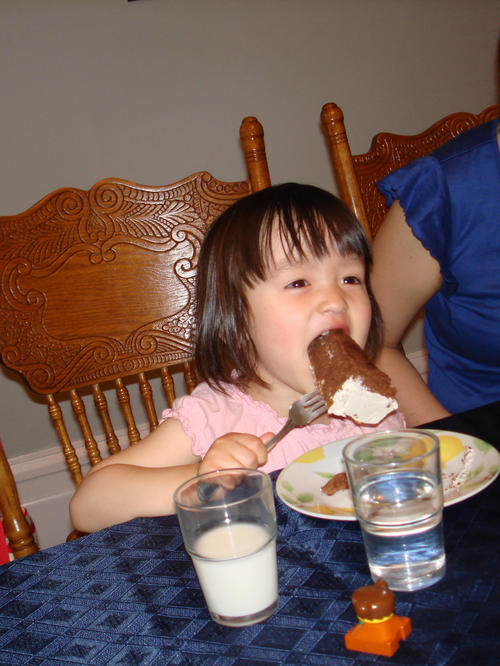 Happy Birthday Uncle Chris!
I was so excited to get to hold Maria again, but felt a bit guilty since Uncle Brendan still hasn't had a chance to hold her at all. It's amazing how much heavier Elizabeth feels compared to Maria. Only a few months have passed and it seems I've already forgotten what holding Elizabeth was like when she was a newborn.
It was Chris' birthday, but he very kindly made his cake a Mary-friendly one. It was a wonderful gluten-free sacher torte which I enjoyed a great deal. It tasted just like I remembered...
Although Elizabeth has lately enjoyed being a "big girl" and often sits at the table with us in her bubblegum pink Bumbo, supper was past her bedtime. So we more-or-less followed our bedtime routine at someone else's house and were pleased that she went to bed quite peacefully. I say more-or-less because cousin Erika was very interested in "helping" with the story, spreading out blankets and then finally demonstrating how to sleep. (I was amused) When it came time to go home, we managed to get Elizabeth into her car seat, drive home and remove her from her car seat without waking her! She did wake up slightly when we put her into bed, but went right back to sleep.
You might also like:
-
Four months
-
A zoo party
-
52 cm of Snow
-
First outings: Music, library, karate
-
Party
June 13, 2009
Grandpa J is a member of Canada's parliamentary press gallery and in that capacity he and his family were invited to visit our Prime Minister for a garden party on Saturday.
We were thrilled to be asked to come along and even happier to get a picture of Elizabeth with Mr. Stephen Harper! Mr. Harper certainly knows how to throw a party, but the poor man didn't really get to enjoy it as he spent the entire two hours we were there smiling for the camera with group after group after group. He's good enough at his job (or enough of an extrovert) that when it was our turn I felt that he was genuinely interested in saying hello. I did wonder how much of his day consists of a never ending receiving line... I'd find it nerve wracking during flu season. I wonder if he gets sick more than when he wasn't prime minister, or whether all the exposure to people has strengthened his immune system!
They had a bouncy castle slide, a clown, lots of food, GREAT views, some of the nicest hostas I've seen in a while and lots of security people! The security folks wanted to confiscate our diaper bag at first, but when we explained it was baby stuff they let us cart it around with us after all. They were stationed all over the place, with ear buds and wrist-watch walkie-talkies and one guy lurking in the bushes. My favourite were the mounties (Okay - so I just like their hats!) who humoured us with a picture.
They also had a whole bunch of older fire trucks to admire and they even let Elizabeth drive one :)
You might also like:
-
Amelia is 2
-
The Log Farm
-
How many weeks?
-
River Oak
-
Apple Picking Reprise
June 12, 2009
Auntie Janice got all dressed up today. Mom and dad were pretty excited. They said she was graduating from a place called University. I didn't get a chance to spit up on her dress, but I did get to go on a walk with Mom to the store to pick up some celebration ice-cream.
Not that I got to eat anything other than Mom's hair today... (Ed Note: Elizabeth may think no one ever feeds her, but we know better!)
You might also like:
-
Cheveux Fou
-
Green Belt
-
Aviation Museum: 50th Anniversary
-
First Steps
-
Ready, Set, Pack!
June 11, 2009
We appear to have survived Elizabeth's first illness. It was some sort of flu - and yes, based on symptoms it is possible that the lot of us suffered from the pandemic virus although they are only testing those people who are sick enough to warrant emergency treatment. I always told Brendan that no good would come of all the oinking he does at the baby!
In any case, Elizabeth is now mostly over it and we officially have our happy smiley baby back. To celebrate, she seems to be going through another growth spurt. She spent basically all of yesterday eating. She would finish eating and we would think "Ah finally" and then five minutes later it was as if she hadn't been fed in hours... It's a good thing she is really cute!
You might also like:
-
Room swap
-
Caitlyn's birthday
-
Dermatology Peek-a-Boo
-
Packing List
-
Decision making study