June 26, 2009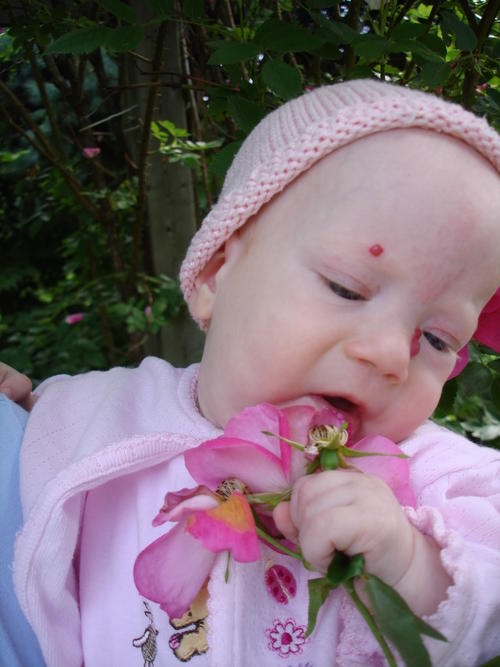 We've been having lots of adventures the last week or so. I got terribly busy helping Brendan, Grandpa H and Uncle Chris rebuild our deck at the request of our insurance company. Okay, so mostly I looked after Elizabeth (and one day Yukiko and I had fun wrangling all three kids), but I did screw together a support beam all by myself while she napped. We had less than ideal deck building weather - it was dangerously hot followed by dangerously hot and humid.
On Thursday Grandma H, Elizabeth and I headed out on an epic adventure to Durham for a family retreat, via the Big City of Toronto. This was not without trepidation as Elizabeth is not a big fan of the car seat. We've had to pull over on the way to the South Keys Home Depot (less than fifteen minute drive), so we had visions of many, many stops. The men stayed behind to work an extra day on the deck. I was given strict instructions to turn around if we got to Kingston without a break in the crying, so we were pleasantly surprised when Elizabeth slept all the way there! There definitely was some crying - she was done travelling by the time we reached the last service station before Toronto and was not impressed to find out that we expected her to get back in the car, and we've confirmed that travelling around bedtime is not a good idea - but all in all the trip involved much less screaming than we thought there might be.
We stayed with Great-Aunt Muriel overnight and Elizabeth enjoyed her garden very much. Apparently she doesn't know that she's only supposed to look and smell (not eat!) Grandma H and I went to Cloverdale mall on Friday and were quite impressed with their "nursing room", complete with swanky change table. Their family washroom down the hall also had a swanky change table and a tiny seat with straps meant for parking your child while you use the facilities yourself. So of course I had to take a picture!
You might also like:
-
At Mary's
-
London
-
End of an Era
-
Broken nose
-
Road Trip!
June 20, 2009
Today was Maria's one month birthday, and we celebrated with a trip to the Mud Oven for all three cousins.
Erika made adorable handprint butterflies, braving the mess to have her hands painted in two different colours. Elizabeth and Maria were both extremely well-behaved, sleeping until time to have their feet painted and pushed firmly against the plates. This was Elizabeth's second experience making footprints on ceramic, and unlike the first time she didn't howl a bit today. Maria hardly seemed to mind either, although I think she was asleep when they started painted her feet and the shock of the cold paint on the toes was a very abrupt way to wake up! I can't wait to see the finished product next week...
Uncle Chris expertly showed off his ability to manage two infants at once while the older ladies finished up our masterpieces.
In the evening we went to Grandma and Grandpa J's house to celebrate Father's Day and a belated Mother's Day with palatschinken and marillenknoedel. Or as Grandma J explained to Erika "dessert, followed by dessert". And I learned that it is not a good idea to stick my tongue out at the camera, even if it is manned by a very cute three year old who asks you to make faces, unless I can delete the resulting picture before my husband decides it needs to go online...
You might also like:
-
Cottage Days:Cousins
-
Little Camper
-
CHEO Anniversary
-
Preparing for Gingerbread
-
Good Friday 2015
June 19, 2009
I've noticed a number of news articles and commentaries in the past few months asking whether having children are a net positive or negative influence. Apparently there is some recent "scientific evidence" that proves childless couples are happier than families. I'm thinking that this is similar to the science behind love (those pesky chemicals in the brain I like to tease new couples about). Might be part of the story, but certainly not the whole story.
I have noticed though that many parents love to tell horror stories about their kids. If your kid hypothetically poops on your mother or pees with such velocity that she hits the wall nearly a meter away, I can understand why childless listeners might react with dismay. Cleaning up from such a hypothetical incident might not be your favourite activity in the world, even if said incident reduces you to helpless giggles ("What just happened?").
But after nearly four months of child raising experience, I'm thinking that this is more like the stories avid campers like to tell when reminiscing about their favourite trips. Even the best trips always have parts where the mosquitoes were so numerous they had to line up in order to get a bite in, or where you end up ankle deep in slime while looking for a portage that is no longer maintained. In general, these less fun parts don't mean that the trip itself wasn't worth making.
Not to mention that there's something about a tale of successful survival that is tremendously appealing.
1 comments
You might also like:
-
Hawaii
-
Child Labour
-
Cows
-
Gingerbread the 20th
-
Hemangioma update
June 18, 2009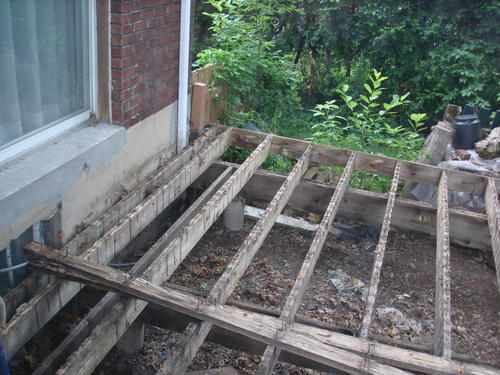 Our insurance company thinks that our deck is a safety hazard and has given us until mid-July to repair it. So Grandpa H came over today to pull it down. I sat Elizabeth in her Bumbo so she could watch him from the dining room. She sat quietly for quite a long time, although I'm not sure if she was more fascinated by what Grandpa was doing or by her toes!
Surprisingly, her initiation into the world of power tools was not the most exciting milestone reached today - as of about 5am she finally learned how to deliberately roll from her back to her front. She first rolled from front to back some time ago, and has been happily rolling onto her side for a long time but the other direction was not consistent until today.
It's amazing how quickly she's mastered the skill. Two days ago she could roll but it was accidental. It was obvious she couldn't quite figure out what she was doing to make it happen. Yesterday she was able to mostly get from back to front except for one arm and her shoulder which was stuck under her body. This morning she figured out how to free the arm, and by 8am she was rolling over and over and over and over. Daddy kept moving over in bed in order to give her space, and nearly fell out! Maybe the little one has been listening to mommy sing one too many silly songs...
You might also like:
-
Big Baby Bed
-
First snow!
-
Number 3
-
Inhouse Tournament
-
Egg Hunt
June 17, 2009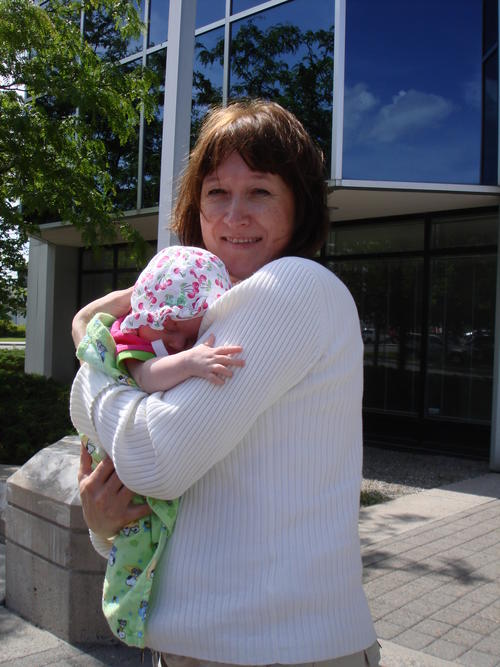 Elizabeth came to work with us today for the first bbq of the summer. Grandpa H dropped by too and managed to put her to sleep, leaving us with time to tidy up our office and swap equipment around.
The company we share space with wondered if we might swap for a smaller office since I'm mostly on maternity leave and Brendan has been working from home much of the time. Although we were at the office for four hours, Elizabeth was not particularly disruptive. After her nap she amused herself by watching the cars go by and cuddling with coworkers. I may have to lobby the building for a change table in the washrooms though...
You might also like:
-
Work
-
Life with two kids
-
Chicken Chicken
-
Water baby in the pool
-
Thanksgiving