July 5, 2009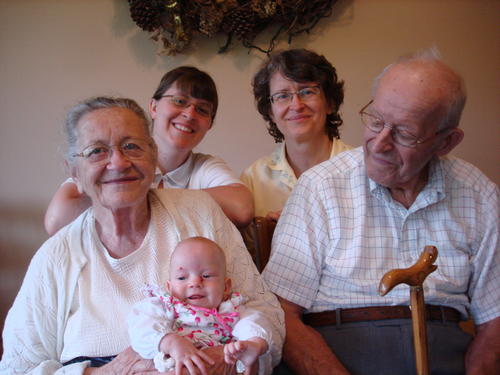 From our family retreat last weekend - the four generations! I'm hoping that some of the other folks that took a four generations picture will let me post it here too.
Incidentally, has anyone else noticed that it is hard to get a group shot where all participants are looking at the camera and not at the baby? It's just so tempting to look down...
You might also like
- Heat Wave
(0.296912)
- Raccoons!
(0.295238)
- Poodle Bear
(0.28866)
- Two for one
(0.284165)
- Le Patinoire
(0.279373)
All
July 4, 2009
Yukiko's aunt is visiting Ottawa from Japan this week, so we took her to Patterson's Berry farm for some strawberry picking! It was perfect picking weather - about 15 degrees celsius, enough of a wind that there were no bugs, no sun to burn delicate baby features and no rain! Elizabeth was quite interested in all the activity, although we should have brought the Bumbo as she will sit quietly in it much longer than the car seat. Case in point, later that afternoon mom and I spent at least an hour weeding the front yard while Elizabeth supervised from the Bumbo.
The berries were huge and plentiful, so we had a great time and it didn't take too long to fill a basket. Erika decided quite early on that she was done picking but kept herself occupied eating berries and taking pictures. (Any photos today that include me were taken by Erika.) She's actually developed into quite a good photographer - keeping in mind she's only three years old. She had a better shot of the berries, but I decided to keep the one with the tell-tale rain boots :)
You might also like
- Dying our countertop
(0.375)
- Apple Picking Reprise
(0.37469)
- Butterfly Show
(0.367177)
- Rainbow Camp
(0.363384)
- Wedding #RayCray2016
(0.362884)
All
July 1, 2009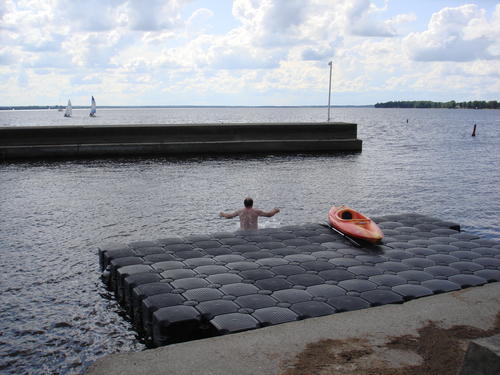 Today Elizabeth was a very, very busy baby. Brunch, sailing, block party, a new friend coming to visit and fireworks at Uncle Dave's...
You might also like
- Grading and birthday party
(0.261905)
- Ryan and Rebecca's visit
(0.256917)
- Friend Janice
(0.239234)
- Pitou
(0.236842)
- Maddie has a birthday
(0.233918)
All
June 30, 2009
Today is Vegetable Christmas!
Very early every Tuesday morning we put out our empty cooler and the vegetable fairies come and fill it with local organic heirloom vegetables.
I've been interested in Community Supported Agriculture (CSAs) for a couple of years now, and now that Elizabeth has come along we decided to do something about it. Essentially CSA allows farms to sell a share of their crop for the year. You pay a certain amount up front (usually several thousand dollars) and in return you receive a corresponding percentage of that farmer's crop. If the crop does well, you receive a lot of really fresh vegetables. If the crop does less well, so do you.
This is pretty popular in parts of the US and many CSAs exist in Southern Ontario, but even here in Ottawa where it is much less common we found quite a variety of options on the Community Supported Agriculture theme, including an urban version. After hemming and hawing over the various options (we could get fresh eggs! Pick your own flowers! Be forced to spend a few hours in the fields to allow your kids to have a stronger connection to the land!), we signed up with Bryson Farms. While they are a food basket service rather than a true CSA as described above, the big draw was the promise of vegetables all year round.
We get a four-person basket and share it with Uncle Chris & Auntie Yukiko. Elizabeth is posing beside our share of the vegetables. She seems to approve.
You might also like
- Crawling and Co-Sleeping
(0.367933)
- Children's Museum
(0.365254)
- Social Bubbles: Day 89
(0.364121)
- Our first teenager
(0.363717)
- River Oak
(0.362832)
All
June 29, 2009
This weekend was a weekend of many firsts - first time waking up in a different location, first time travelling more than half an hour from home, first time meeting many great-aunts and uncles, my cousins and of course her great grandparents on my mom's side, and her first time swimming and tubing...
You might also like
- Museum and Birthday
(0.283828)
- Baby shower and Canal
(0.276316)
- Happy Anniversary
(0.270042)
- Ryan and Rebecca's visit
(0.262626)
- More Mother's Day
(0.253788)
All