July 31, 2009
I think I've mentioned before that we don't usually bathe Elizabeth. Cousin Maria kindly lent us her baby bathtub when she was still hanging out in her mom's tummy, but Elizabeth objected so loudly to bathtime that we actually only used it once before resorting to the Internet for ideas.
In the end, I decided to bring her into the shower with me, which magically stopped the screaming until time to get out of the tub. Try increasing the temperature of the bathroom, one site advised. Develop a "getting out of the tub routine" said another. Feed her immediately. Try running a hair dryer on low heat. We did all of the above, but the hair dryer was one of the more effective. Switching towels also seemed to help - many baby towels are rather thin and actually a bit rougher than the lush towels we received as wedding gifts. The most effective solution by far was time though, and by the end of June we were able to discontinue the use of the hair dryer.
So this is why Elizabeth has had less than half a dozen opportunities to splash around in the tub. Yesterday was bath number five and it was notable since she seemed to enjoy it for the first time. The only problem? She wants to drink the bath water. If you aren't paying attention, she'll lean waaay forward. Lap, lap, lap goes the tongue. Cough, splutter, splash! As she tries to drink it all at once. BIG smile. I guess I should have expected it since she tends to slurp the water droplets off my shoulder in the shower...
You might also like:
-
Plasma Car
-
Buskerfest
-
Water Baby
-
Virtual Piano Recital
-
20 Months Old
July 29, 2009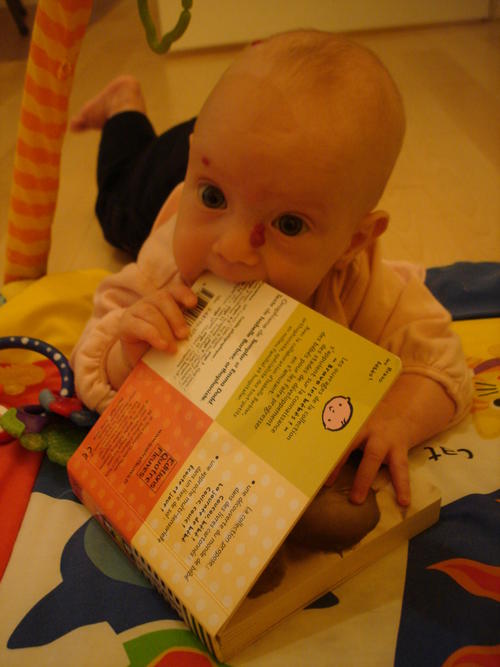 Do you think we might be teething?
You might also like:
-
Beautiful day
-
Throwback
-
Teacher cards
-
Big Brother
-
Palm Sunday
July 28, 2009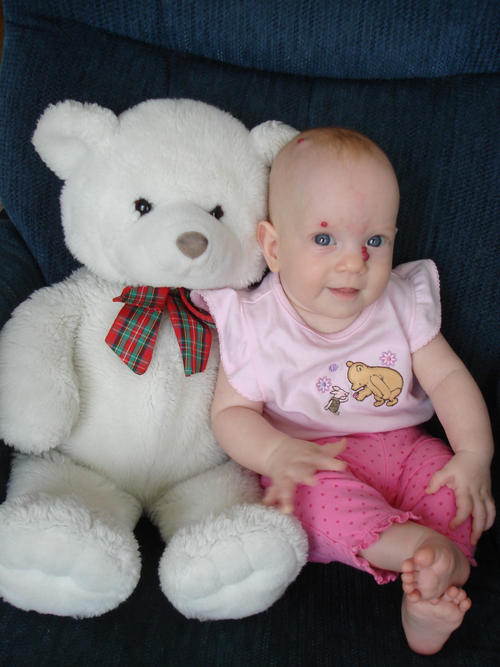 It's picture with the bear day! Elizabeth is getting rather less cooperative (read: poseable) as she gets older...
After babytime with cousin Maria and friend Aidan, Aidan's mom Dianne invited us to watch a DVD about Dunstan Baby Language that her doula lent her.
The three babies were tired out after babytime and by the time we arrived all three were sleeping! Elizabeth didn't stay asleep long though. She was absolutely fascinated by all the babies in the video. The video was quite interesting, although because the words are based on reflexes that fade after about three months it's most effective for babies between 0 and 3 months. If you have a baby in that age range, I think it's worth checking out. The Ottawa Public Library even has a few copies available to request.
You might also like:
-
A safe arrival
-
Capital of extremes
-
Happy Birthday Aidan
-
Pregnancy Announcement
-
Music classes (Kindermusic)
July 26, 2009
Elizabeth can hold herself propped up in a more or less seated position now! We're not sure this really counts as sitting, because usually you don't need to prop yourself up with your arms when you are sitting... The first few times we tried this last week she could only stay upright for a few seconds (shades of Westley from the Princess Bride), but now she's good for several minutes. It's pretty fascinating to watch her getting stronger and more coordinated day by day.
Babies have some pretty intense focus. We often joke that if you could harness the energy of a toddler you would instantly solve the power crisis. Imagine what the world would be like if we all had the dogged determination of an infant?
You might also like:
-
Did you know diapers have features?
-
Picture with a bear - Six months
-
The birds and the bees
-
Skating
-
Strangers
July 22, 2009
Too bad there was no way to take a picture of Elizabeth's expression when we played glow in the dark mini-golf today!
It was almost as good as Elizabeth's expression watching her cousin Erika demonstrate how to somersault. Later, we played "store" and Erika bought a doll from me. "Be very careful with my doll," she instructed. "My doll is very fragile, because she is made of baby."
You might also like:
-
It's a boy!
-
Two stripes
-
Hashi
-
Sink Baby
-
New favourite way to get home from the bus stop