August 12, 2009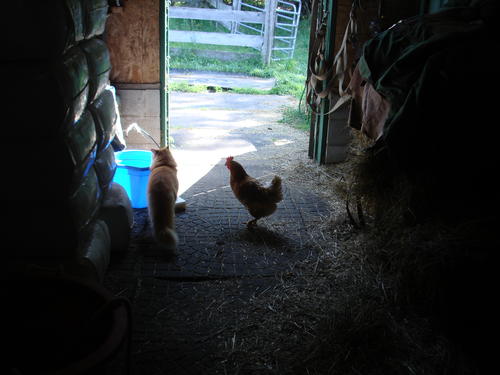 Brendan and I always spend at least one of our days window shopping in Huntsville. Elizabeth loved the place with the fancy soaps, wind chimes and handblown glass balls. The women at the cash thought it was hilarious the way she was rotating her head around trying to see everything at once. The best part was apparently the ceiling fan. Sorry kid - that one wasn't for sale! Next door mom got to visit the wonderful quilt shop with the most beautiful fabrics. Brendan didn't let me indulge this year. Something about not having used the fabric I bought last year yet...
Elizabeth helped flame her first marshmallow and assisted me with the annual "watermelon" spitting contest (we used popcorn kernels this year again). Strangely, babywearing is not particularly helpful in achieving a spectacular spitting distance. We didn't let Elizabeth try. Maybe next year!
The extremely free-range chickens were an unexpected highlight of our Bondi visit this year. We went to visit them and they came to visit us. Elizabeth was just fascinated. "Chicken racing", chicken petting and chicken dust bath watching were all popular. She didn't even manage to pull out any feathers! The horses and pony were also interesting, but Elizabeth seemed to find them more intimidating.
You might also like
- Chicken Chicken
(0.38822)
- Skating
(0.371396)
- Fifteen months
(0.36989)
- 12 Days of Christmas: New Year's Eve
(0.367542)
- Jaundice
(0.366242)
All
August 11, 2009
I made a new (lighter) wrap at the cottage. To test it out we hiked up to the lookout point and back. Elizabeth seems to approve!
You might also like
- Cottage 2021
(0.280952)
- Good night little bus
(0.273585)
- Stair Master
(0.255172)
- Back to school
(0.254545)
- Clapping
(0.251572)
All
August 10, 2009
We arrived at Bondi Village safe and sound Sunday evening, with a brief stop at Golden Lake to let her paddle her feet (a tradition on Mom's side of the family!). She was fascinated by her first waves, and didn't want to get back into the carseat. She's getting strong enough that getting her into the car seat when she doesn't want to go is rather challenging. Elizabeth travelled extremely well for the first two hours, but a mere half hour after Golden Lake we had to pull over at a Hydro station to calm our wailing daughter.
She slept on and off in between crying fits for the remainder of the journey, so perhaps it wasn't surprising that she was not interested in bedtime until nearly 9pm (about three hours later than normal!)
You might also like
- Cottage Time
(0.36039)
- Cottage Arrival 2019
(0.356259)
- Trip to the big city
(0.347458)
- Daddy and the buck bucks
(0.3472)
- Butterfly Show
(0.343658)
All
August 9, 2009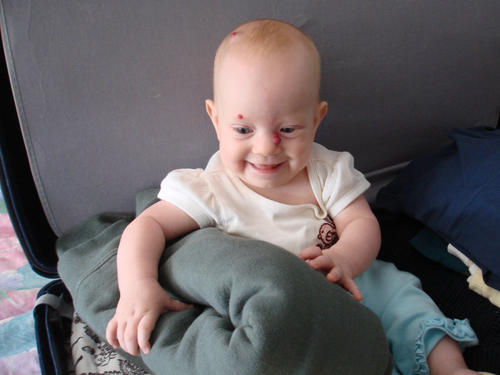 We've packed our suitcase, checked it twice and now we're off to the cottage to hopefully introduce Elizabeth to paddleboats, canoes, sand castles and deer. Well, maybe we'll hold off on the sand this year. We have another month to go before she's allowed solids!
You might also like
- Spring!
(0.294118)
- Photo with the bear day
(0.276923)
- Cottage Days: Arrival
(0.275401)
- Ducks
(0.27439)
- Ray
(0.268551)
All
August 6, 2009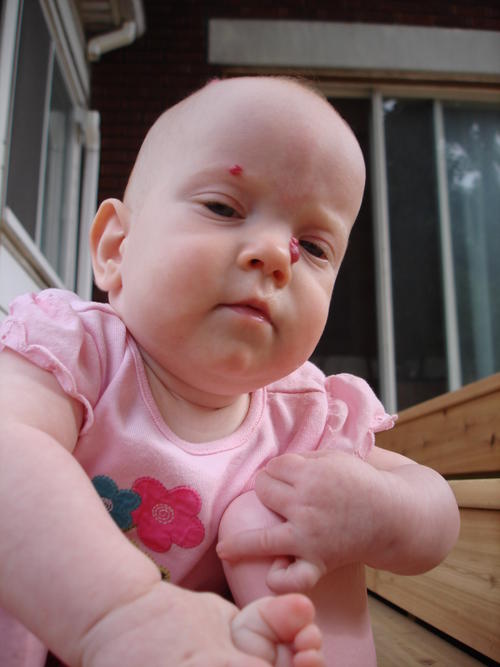 It's our "unofficial hobby" to renovate things here and we've been particularly busy this summer. Exterior painting, deck repair and now fixing the floor of our garage; Elizabeth has supervised it all closely.
There's a reason why Brendan is also called "Uncle Power Tools"!
You might also like
- Amelia baptism birthday, visit from Hayley
(0.279188)
- Theo is 5
(0.277228)
- Museum and Birthday
(0.266272)
- Lead line lesson in the barn
(0.263789)
- Full Black Belt
(0.263323)
All