September 16, 2009
Is sticking your tongue out to one side and blowing raspberries an important developmental stage? Perhaps it's an inevitable one if your parents model similar behaviour when trying to get you to smile...
You might also like
- Double Rainbow
(0.208092)
- Happy Birthday Heather
(0.202952)
- Homemade pool
(0.19685)
- 4th grade
(0.194842)
- Cottage Days: Trampoline
(0.192661)
All
September 14, 2009
Elizabeth had her six month checkup today. She's still on the 10th percentile for weight (6.18 kg or 13.6 pounds) and on the 25th percentile for height at 65cm.
The doctor told us no more shots for another six months! I guess this means that she doesn't recommend any variant of the flu shot for Elizabeth. Elizabeth actually took her shots quite calmly this time, although she was not particularly happy to be examined by the doctor immediately afterwards.
You might also like
- Attack of the two year old
(0.286149)
- End of Year concert
(0.283582)
- Sushi Dogs
(0.280464)
- Spring snow angels
(0.279113)
- Feeding the sheep
(0.277904)
All
September 9, 2009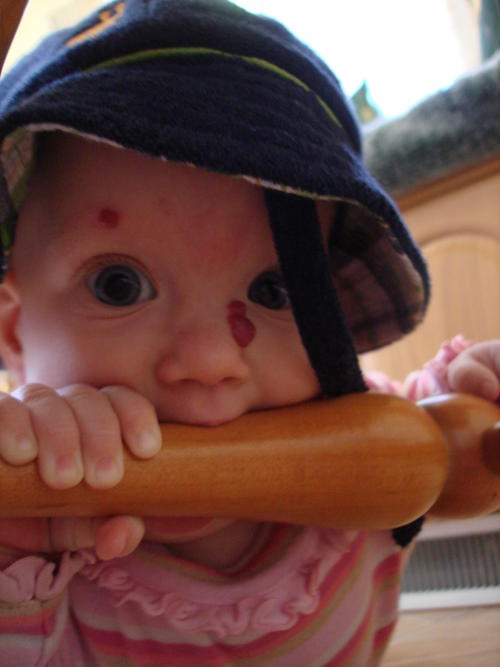 It's hard to say whether we should worry more about the fact that Elizabeth has taken to gnawing on chair legs, or the fact that she is mobile enough to make it over to the chair in the first place...
You might also like
- Let it Snow!
(0.328283)
- Groceries by sled
(0.297872)
- Arboretum
(0.286853)
- Guy Fawke's 2017
(0.278196)
- Sand sprinkles
(0.278196)
All
September 4, 2009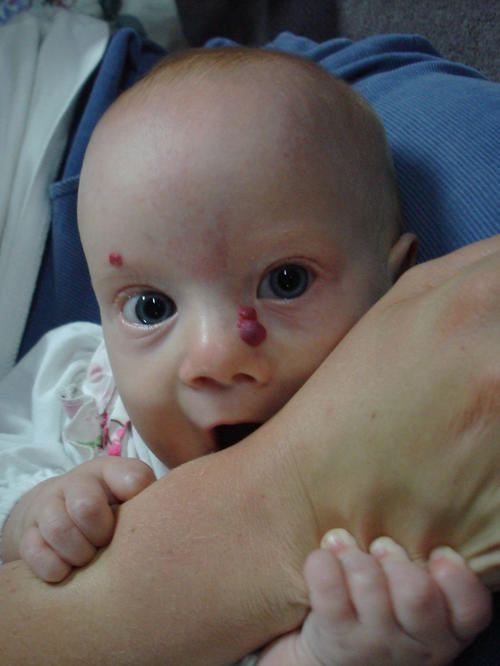 It's no secret that Elizabeth loves tummy time. Having a child that prefers to spend time on her front makes diaper changes rather entertaining sometimes, but we're obviously grateful that we don't have to deal with the alternative.
Some of the other moms at Strollercize were admiring Elizabeth's obvious comfort on her tummy and decided their child might be more willing to participate in tummy time with such a good role model. Elizabeth definitely agreed this was a good idea, immediately reaching out for the other baby's head.
"Gentle, Elizabeth" I said, quickly removing her hand. "Whack! Whack!" went Elizabeth's other hand, narrowly missing baby by a few millimetres. "We don't touch other babies, Elizabeth" I said. "Oh - it's okay" the other mom said. "You can let her."
I told the other mom that I didn't think that was such a good idea. I suspect that if she saw this photo she might understand why...
You might also like
- Grade 1
(0.334262)
- Orange swimsuit please
(0.332386)
- Jello bath and peaches
(0.325893)
- Look Ma! No hands!
(0.324194)
- Princess Party
(0.324117)
All
August 31, 2009
This blog entry was supposed to be about our walk by Dow's Lake to visit the posse of extremely tame ducks, seagulls and Canada geese. The ducks let you get close enough that you think you might be able to touch one, although they waddle into the water pretty quickly if they think you might try! The geese were less shy. One rather fat goose eyed me so speculatively that I decided to beat a calm but hurried retreat. I wouldn't want Elizabeth to be traumatized by an overenthusiastic goose after all...
Elizabeth loved the ducks and we had a wonderful time, but without photographic evidence I might have forgotten that we even saw ducks because on the way home Elizabeth sat completely unassisted for the first time! So she sits now. Not for very long nor very enthusiastically (she'd rather be on her tummy), but she sits!
You might also like
- Chicken Chicken
(0.360902)
- Skating and Swimming
(0.353116)
- Come Sing Messiah
(0.348506)
- Skating on the Canal
(0.347471)
- On the canal
(0.344932)
All