October 16, 2009
You know it's getting cold when the winter clothing appears. Elizabeth isn't a huge fan of snow suits or bunting bags because they restrict her movement quite a lot, but she puts up with it as long as there are enough interesting things to look at! Like Mr Pumpkin Head, who lives down the street! Elizabeth fits her winter clothes much better than last winter. Wasn't she tiny? (She's wearing the same snowsuit if you follow the link. Or rather, drowning in it...)
During our walk today we stopped at Fifth Avenue Court to stretch our legs. It was the first time I've been, but I suspect not the last! Elizabeth loved watching the fans, fountain and playing with the foliage. While we were there, we met another baby aged six months. Her grandmother brought little Sophie over to meet Elizabeth. "Sophie has never seen another baby before", she said. I was pretty surprised! Sophie was quite fascinated to meet another baby, so I recommended babytime - we'll see if she appears at Sunnyside on Tuesday.
You might also like
- Ballet
(0.371831)
- Capital of extremes
(0.354505)
- Walk through Bethlehem
(0.35324)
- Happy Birthday Aidan
(0.353018)
- Elizabeth end of year concert
(0.352381)
All
October 15, 2009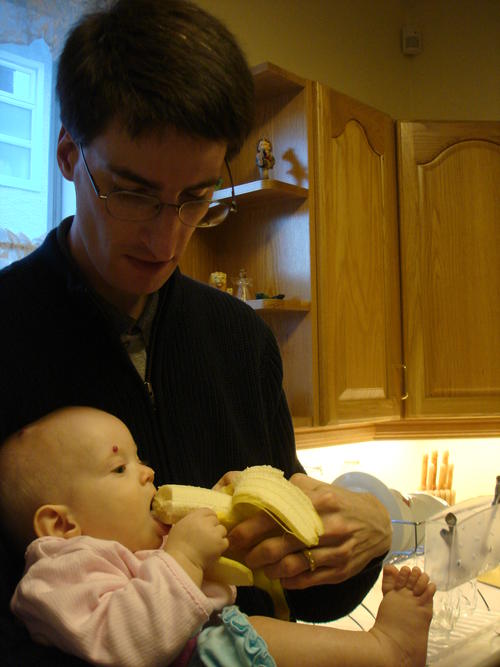 Mealtimes are slowly but surely improving as Elizabeth gets used to the idea of solids.
We fed her chili for the first time yesterday (well, okay, rice and kidney bean paste) and she seemed to enjoy it. In fact, she's stopped crying at mealtimes and while we go to fairly extreme lengths to entertain her during the meal, she's actually starting to swallow food on purpose. As opposed to swallowing when we've tricked her into actually putting food into her mouth. It's nice to see some progress but we're still thankful that it's not the quantity of food that she eats that counts, but introducing her to the idea of flavours and textures, since she only eats a couple of teaspoons worth of food at a time. Patience is definitely in order.
Her favourite food is still popsicle (strawberry-blueberry or strawberry-orange), especially if she can share mom or dad's. She seems to like mashed bananas, but not avocado. Cream of rice is okay, squash is better but leek-potato soup was definitely NOT a hit. Beef gravy was tolerated better than the banana - it would be interesting to see what she makes of it now that she's starting to get the hang of this. She's getting neater about the actual eating part too!
Oh and she seems to have a taste for toes as well...
You might also like
- One year old
(0.371076)
- Nine months
(0.367102)
- Sixteen Months
(0.354983)
- Cooking Class
(0.352459)
- 14 Months
(0.346067)
All
October 14, 2009
Elizabeth and I went to CHEO for our followup appointment with Dermatology today. The thyroid and ultrasound results were both normal, so we are officially just being "monitored". We have to go back on November 25th, but at least that will give us a month's break after next week's ENT appointment! Since the interested strangers didn't strip Elizabeth totally naked - a sign she has correctly decided means someone is about to poke her with something sharp or otherwise prod her - she pretended to be a model child, cooing, laughing and even condescending to cuddle with the head dermatologist.
You might also like
- Medical appointments
(0.324786)
- Best waiting room ever
(0.323232)
- Matching Faces
(0.316358)
- Missed by the camera
(0.316306)
- Come Sing Messiah
(0.312684)
All
October 12, 2009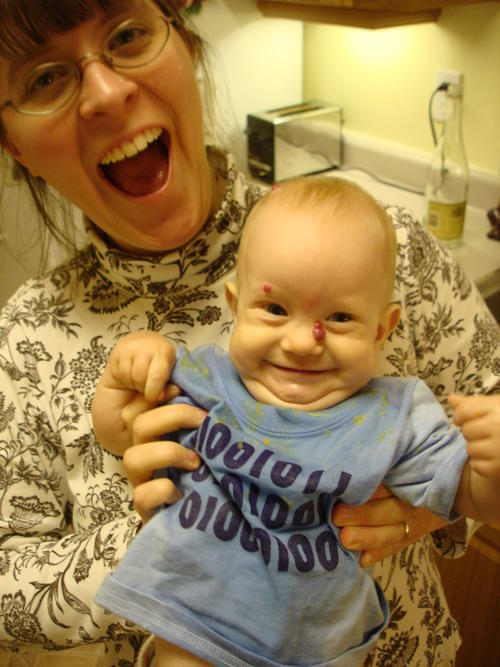 Ah food. Our good friend and source of nutrients. Right?
According to Wikipedia:
Food is any substance, usually composed of carbohydrates, fats, proteins and water, that can be eaten or drunk by an animal, including humans, for nutrition or pleasure.
Oh, well that's the problem. Elizabeth has obviously been reading Wikipedia again. She seems to think that eating is about how much food she can get on her clothes (or occasionally on Mommy) rather than how much food she can... um.. well... ingest.
She seems to vary between having fun spraying food all over the place and making really sour faces when Mommy or Daddy actually manage to get some food past her defense systems and into her mouth. Oh well, we'll just have to keep trying.
One added benefit to eating solids is apparently having a really clean baby. Elizabeth may soon be having a bath after every meal. Fortunately she absolutely loves bath time now. Good thing we put in extra water-proofing in the bathroom...
You might also like
- Daddy and the buck bucks
(0.341829)
- Smiles melt a Daddy's heart
(0.332851)
- Water Baby
(0.331776)
- Attack of the two year old
(0.330357)
- Easter Sunday
(0.325613)
All
October 11, 2009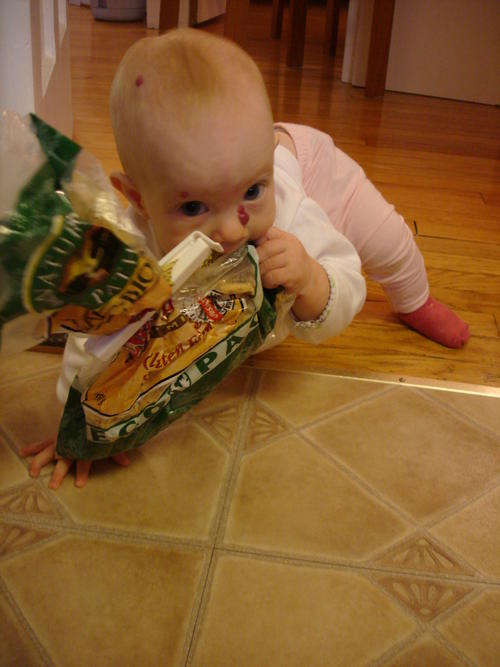 It's Canadian Thanksgiving weekend and the end of autumn (regardless of calendar conventions). I know this because today marks our first serious frost warning, plunging temperatures and a hail storm that caught Brendan, Elizabeth and I by surprise during our afternoon walk. Luckily a lady noticed our predicament as I futilely tried to shelter Elizabeth with my body and invited us onto her porch until the storm passed.
Uncle Dave, Auntie Karen, Uncle Chris, Auntie Yukiko, and cousins Erika and Maria all came to help Auntie Janice, friend Ray, Brendan, Elizabeth and I celebrate in proper style. Since no grandparents were in Ottawa to supervise, we decided to forego the traditional dishes in favour of potato leek soup, beef, salad, delicata squash, turnip/apple casserole, rolls and a pretty amazing scalloped potato made with boursin cheese. For dessert, gluten free pumpkin pie loaded with whipping cream.
Elizabeth tried the soup and a bit of beef gravy, but wasn't a big fan of either. She seemed to be enjoying her banana at lunch slightly more than the first couple of tries, but an enthusiastic eater she is not (yet)!
We managed to connect with Grandma and Grandpa H via Skype in the afternoon to the entertainment and amusement of all. Grandpa H thinks that the pixellation mades Brendan look like a Cardassian, so we may still want to experiment with settings, but it was definitely more fun than a normal phone call.
You might also like
- Easter egg hunt
(0.380328)
- Good Friday 2015
(0.366698)
- Family Retreat (Part I)
(0.366366)
- Rive Nord
(0.365169)
- Happy Birthday
(0.364774)
All