December 1, 2009
Auntie Yukiko, cousin Erika and cousin Maria joined Elizabeth and I for a great adventure at the Canadian Agriculture Museum this afternoon.
The museum itself is closed for the winter, but as we discovered, anyone can visit the barns between 9am and 5pm completely free of charge from November to March. We had great fun wandering around visiting the various animals (horses, sheep, goats, pigs, cattle, a bull and a rabbit).
The cattle barn was by far the most popular. Not only was it heated (unlike the barn with the horses!) but we arrived in time to watch the milking machines in action! The cows are milked twice daily at 6am and 4pm. We were quite surprised by how close we were to the animals and so fascinated to watch their curved tongues licking the floor that I just had to take a video, which I've posted here for your viewing pleasure. We were amused by the poster that declared "Every cow you see is a working mom" and sympathetic to the very pregnant cows in the maternity ward (hooves! ow!) Elizabeth got her picture taken with her bovine namesake, while Erika was captivated by the calves and screwed up all of her courage to pet a few of them.
We'll definitely pay a repeat visit, maybe in January when some of those pregnant mamas are due to have delivered their babies!
You might also like:
-
Mommy dear, I NEED to see the cows
-
Cows
-
The birds and the bees
-
Baby time at the Library
-
Pumpkin picking
November 29, 2009
Elizabeth has learned how to clap (and will do so on command!) We now have our own live applause track.
You might also like:
-
Lookout point
-
Second stripe
-
REACH Coop: Egypt
-
Charlotte and Elizabeth
-
Bye to Laura
November 28, 2009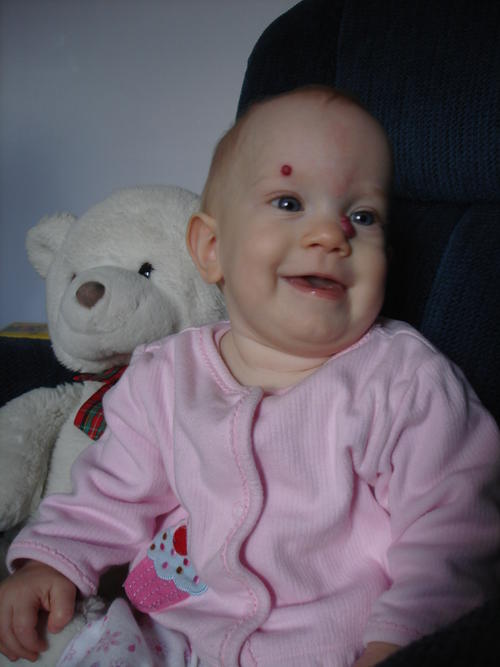 It's picture with the bear day again! Apparently time has continued to march on despite our best efforts to slow it down. It seems like only yesterday that Elizabeth was just a bump in Mommy's tummy. At 9 months she is walking around the edges of furniture and crawling over anything and everything faster than you can blink an eye.
You might also like:
-
Seven Months Old
-
Leftovers
-
First Steps
-
Packing List
-
Picture with the Bear
November 27, 2009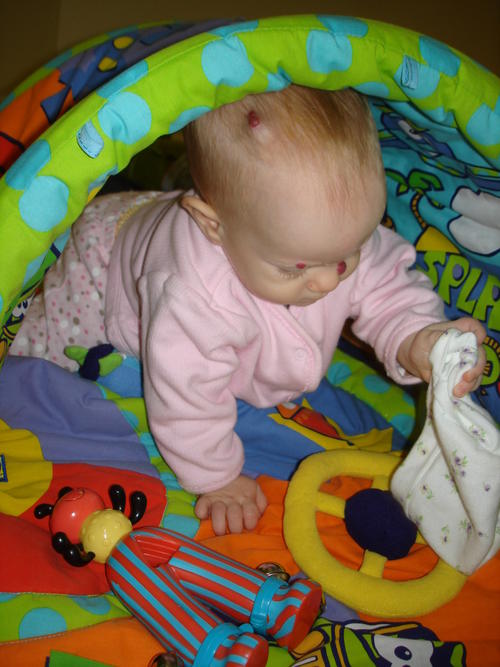 Elizabeth and I just started Baby Sensory classes. Elizabeth was a very solemn baby for most of the class, hardly venturing out from my lap. The circle time should be somewhat familiar due to babytime, and we actually know many of the moms and babies from babytime, but the unfamiliar surroundings and unfamiliar instructor were slightly overwhelming.
We sang songs with sign language and played with interesting feathers. Then we played with various sizes of balls. The beach balls were a bit scary for some reason, but Elizabeth did alright until the instructor made eye-contact with her. "Waaah..." she cried, burying her head in my lap.
During the social time, Elizabeth was very interested in a large inflatable wading pool filled with small balls, but as soon as I put her inside she decided that I was too far away for comfort's sake. "Mum, mum, mum, mum, mum" she wailed. So we compromised. I let her lean into the pool but she didn't actually have to let go of me.
After the class, we headed by Grandma and Grandpa H's apartment for lunch. Elizabeth had great fun playing with Grandpa's beard!
You might also like:
-
Bold Baby
-
Bells and Smells
-
Non-stop party!
-
A dull day
-
Matthew's first skating class
November 25, 2009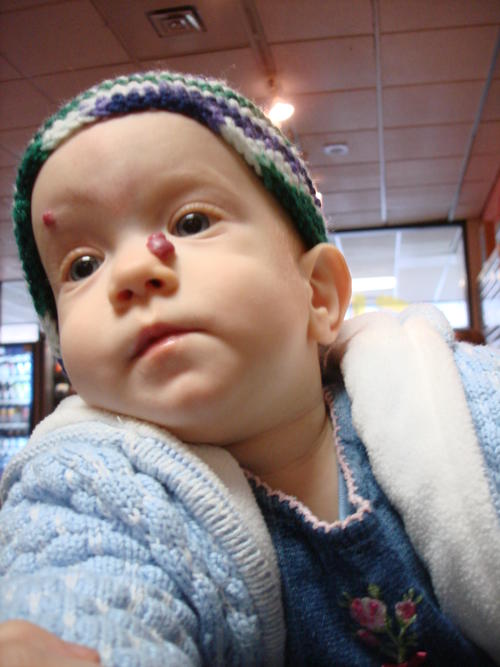 Our follow-up dermatology appointment was cancelled because the staff were reassigned to CHEO emergency department for H1N1. But with new flu cases on the decline in the capital, they were able to reschedule and we ended up with a new appointment on the same day as our original appointment (but an hour and a bit later).
We try to take extra care over Elizabeth's presentation when we go for medical appointments. My theory is that if Elizabeth looks especially cute, the staff will pay extra attention to her. So far this seems to be working, although it's possible the strategy backfired slightly this time...
The resident who did our preliminary assessment today was determined to get a smile out of Elizabeth, bopping her with "Stomach Ulcer" (Elizabeth's favourite giant microbe toy) - in the stomach of course - complete with sound effects. "Boop!", she said. Elizabeth is very suspicious of strangers these days but by the third or fourth boop she couldn't help a small giggle. Unfortunately Elizabeth wouldn't go peacefully to Dr. K (the head dermatologist) this time, to his obvious chagrin. This led to a rather comical exchange as the various members of the crowd of students and doctors huddled around Elizabeth. "What treatment would you recommend?" he asked the assessing resident. She drew a deep breath and launched into a technical response. And then broke off midsentence when she realized that Dr. K was not exactly paying attention. "Peek-a-boo" he said, as he covered and uncovered his face with his hand. Elizabeth laughed, along with the rest of the staff.
The doctors are now all agreed that most of Elizabeth's hemangiomas are officially in the so-called "rest" phase. This means that they aren't going to get any bigger but they aren't getting smaller yet either. Elizabeth's facial hemangiomas are showing signs of involution already, silvering on the outside. They were quick to caution that it can still take years for the hemangiomas to disappear. Dr. K said that it is also still too early to tell whether there will be excess skin on the side of the nose that will need to be surgically treated.
You might also like:
-
CHEO Anniversary
-
Ultrasound
-
Garden
-
H1N1 Rock Concert
-
Auntie Janice steps on a crack