December 5, 2009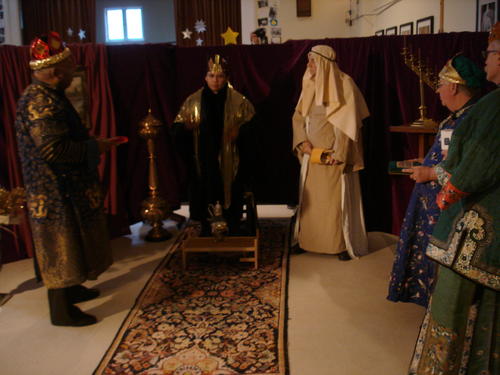 A local church (Fourth Avenue Baptist) presented a walkthrough Christmas pageant today, and Elizabeth, Grandma H, Brendan and I were all excited to go check it out.
Greeted at the door by a Roman soldier, we were exhorted to sign in for the census, which we thought was a very clever way to take registration! After a few minutes of Christmas carols, we started off on our tour which wound its way around the basement of their church.
Mary and Joseph were visited in turn by angels, and then we inspected the famous inn, tended by a rather tipsy inn-keeper. Off to Herod's court where a truly gifted advisor to the King informed us of the upcoming birth of Jesus. On to the hillside with some wiggly shepherds (three of whom we later learned belonged to the Roman soldier at the front door) who were serenaded by one of the cutest angel choirs I have ever seen. Elizabeth was enchanted.
We then headed outside to the stable which was surrounded by live animals. A couple of llamas, a donkey, a small horse/pony cross, sheep and goats wandered around Mary and Joseph. I don't know whether the goats will make a repeat performance, given their propensity to eat the church gardens but they were extremely entertaining to watch! Elizabeth seemed quite interested in all of the animals and although she stuck close to Mommy around the donkey and the goats she did manage to find the courage to pet one of the sheep while the goats were off butting heads elsewhere in the garden.
You might also like
- Walk through Bethlehem
(0.388954)
- River Oak
(0.36996)
- Mochi Making
(0.368365)
- Double deck train
(0.3625)
- Mooney's Bay
(0.358763)
All
December 4, 2009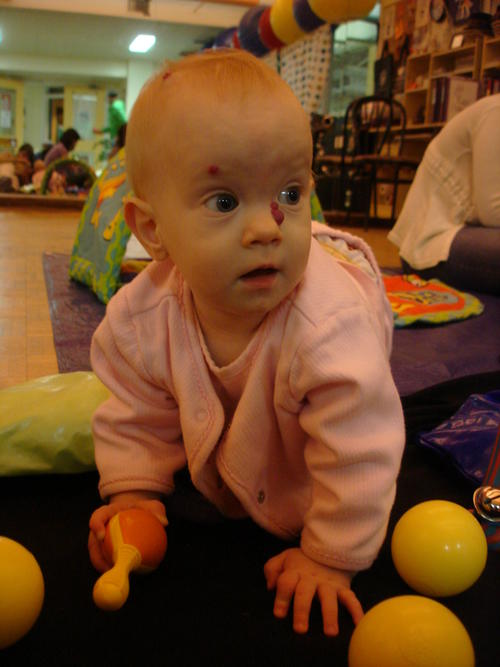 We decided to invest in Baby Sensory classes because we felt that Elizabeth's weekly routine was becoming a bit stagnant. Although she does get to visit with lots of other babies through the library babytime program and at church, we tend to visit the same places and people over and over again. This is not necessarily a bad thing, but Elizabeth can be very uncertain when introduced to new things, so we thought it might be time to broaden her horizons a bit. This was confirmed when I went to get new glasses at Spinnewyn Opticians, and Elizabeth burst into tears at the sight of the optician. Mark Spinnewyn is actually a very nice man that we have been dealing with since shortly after they opened in 2003, but something about this new man was apparently quite terrifying for her. Despite all the tears, I really love my new glasses!
Elizabeth was true to form last week at Baby Sensory - cautious and wailing when the new instructor dared to make eye contact. Apparently the newness of the experience has already worn off. This week when toys were placed into the middle of the circle for babies to explore, Elizabeth was the kid making a bee-line for each of the items long before any of the other babies worked up the courage to leave the safety of mom's lap!
You might also like
- Water fun
(0.375862)
- Pregnancy Announcement
(0.371532)
- Broken nose
(0.368205)
- Dovercourt
(0.364919)
- Music classes (Kindermusic)
(0.36475)
All
December 1, 2009
Auntie Yukiko, cousin Erika and cousin Maria joined Elizabeth and I for a great adventure at the Canadian Agriculture Museum this afternoon.
The museum itself is closed for the winter, but as we discovered, anyone can visit the barns between 9am and 5pm completely free of charge from November to March. We had great fun wandering around visiting the various animals (horses, sheep, goats, pigs, cattle, a bull and a rabbit).
The cattle barn was by far the most popular. Not only was it heated (unlike the barn with the horses!) but we arrived in time to watch the milking machines in action! The cows are milked twice daily at 6am and 4pm. We were quite surprised by how close we were to the animals and so fascinated to watch their curved tongues licking the floor that I just had to take a video, which I've posted here for your viewing pleasure. We were amused by the poster that declared "Every cow you see is a working mom" and sympathetic to the very pregnant cows in the maternity ward (hooves! ow!) Elizabeth got her picture taken with her bovine namesake, while Erika was captivated by the calves and screwed up all of her courage to pet a few of them.
We'll definitely pay a repeat visit, maybe in January when some of those pregnant mamas are due to have delivered their babies!
You might also like
- Mommy dear, I NEED to see the cows
(0.372449)
- Cows
(0.36532)
- The birds and the bees
(0.360529)
- Baby time at the Library
(0.359649)
- Pumpkin picking
(0.353974)
All
November 29, 2009
Elizabeth has learned how to clap (and will do so on command!) We now have our own live applause track.
You might also like
- Lookout point
(0.251572)
- Second stripe
(0.240642)
- REACH Coop: Egypt
(0.239437)
- Charlotte and Elizabeth
(0.232394)
- Bye to Laura
(0.231293)
All
November 28, 2009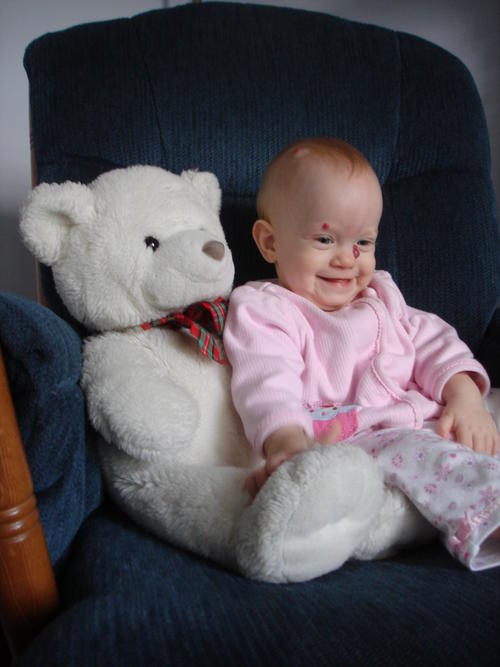 It's picture with the bear day again! Apparently time has continued to march on despite our best efforts to slow it down. It seems like only yesterday that Elizabeth was just a bump in Mommy's tummy. At 9 months she is walking around the edges of furniture and crawling over anything and everything faster than you can blink an eye.
You might also like
- Seven Months Old
(0.316614)
- Leftovers
(0.3)
- Distanced walk
(0.295775)
- First Steps
(0.292978)
- Packing List
(0.285714)
All