December 23, 2009
It's our family tradition to welcome Christmas with a raclette. We ordered extra fingerling potatoes from our Bryson vegetable Christmas elves, acquired a half round of swiss raclette cheese, pickles and picked onions, various kinds of cold cuts (including the required viande des Grisons aka bindinfleisch) and Grandpa H even went to extraordinary lengths to acquire some Fendant wine. There was none to be had in all of Ontario, but he managed to purchase the last two out of three bottles across the river in Gatineau.
My dad has traditionally been in charge of the ceremonial scraping of the cheese, but in preparation for their impeding departure to warmer climes we took turns so that this important skill would be preserved for Christmases to come. Being a little young for cheese, Elizabeth and Maria had to settle for cheerios.
You might also like
- Foolish Chicken
(0.315104)
- Christmas Eve
(0.314645)
- Elizabeth is eight
(0.313358)
- Michael is baptized
(0.307597)
- Vegetable Christmas
(0.30605)
All
December 20, 2009
Elizabeth and I went for a walk by Dow's Lake with my cousin Heather just before sunset.
It's looking a lot like winter and soon the canal will be ready for skating. We can hardly wait!
If you look closely, you can see part of Canada Post's HOHOHO holiday lighting in the windows of the Canada Post building (behind the Canal huts in the photo with all the street lights)!
Only see one photo and that one doesn't look right? Click on the photo to see all the other photos associated with this post.
You might also like
- First Steps
(0.309693)
- Still Tulips
(0.293399)
- Photo day
(0.292614)
- First official walk
(0.291506)
- Skating with Angie
(0.291045)
All
December 19, 2009
When I was a child, my mother used to make gingerbread houses with my brother and me. We'd carefully place each smarties on the roof for shingles, and make presents and clocks out of licorice all-sorts with icing for clock hands and ribbon. We were usually not allowed to sample the candy; something that changed after the year that we accidentally put gummy cough candies all along the ridge of the roof. In my mom's defense, the cough drops looked a lot like candy!
As we got a bit older, our interest in gingerbread waned and we stopped building.
The tradition was revived in high school when a group of us decided to get together to do something over the holidays. I can't remember whose idea it was to make gingerbread, but I remember that everyone was immediately enthusiastic. We didn't limit ourselves to mere houses, and so a tradition was born. Over the years we've seen stain glass windows, spheres, moving parts (The Guillotine, a record player and a telephone) and a lot of really creative candy use ("Revenge of the Gingerbread Man", "Gummis in Peril", this year's volcano).
Fourteen years later the gingerbread making is going strong and the concept has been duly introduced to the next generation. She was a bit overwhelmed by all the people and noise, but by the end of the event had warmed up enough to stop clinging to mom like a petrified monkey. Grandma and Grandpa H took the opportunity to introduce her to pop and junk food, both of which she liked a little too much. For the record: Mom, Dad - we are officially horrified. We don't think Elizabeth was given any candy but I brushed her tooth extra thoroughly anyway!
You might also like
- 121212
(0.396325)
- Preparing for Gingerbread
(0.3914)
- Winter Wonderland
(0.388385)
- Sleepover time
(0.381726)
- Train!
(0.381672)
All
December 16, 2009
Elizabeth definitely understands the difference between "allowed" and "not allowed" now. The trouble is that so many exciting things are on the "not allowed" list. Christmas trees, electrical outlets, telephone wires, puddling in the toilet...
Elizabeth is actively moving towards things that are "not allowed" and seeing how long before someone tells her off. Grandma J observed her back away guiltily from the Christmas tree when mom came around the corner. I guess awareness of wrong doing has to come before obedience!
"Hand Hand Fingers Thumb One Thumb, One Thumb Drumming on a Drum..."
You might also like
- Noel
(0.313901)
- Advent
(0.289735)
- In which we introduce Elizabeth to our main hobby
(0.283489)
- Telephone
(0.274336)
- Bikes
(0.274223)
All
December 14, 2009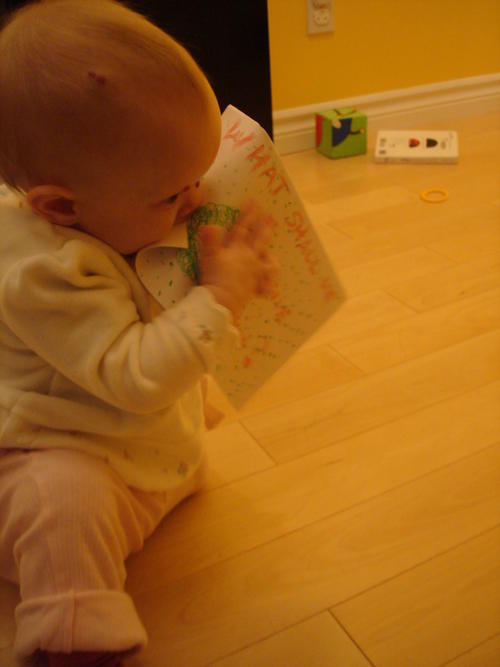 When Brendan and I were first married, we decided we should send out our very own Christmas cards. We even sat down and wrote a multi-page Christmas letter.
You never got that one? That's because we didn't actually send it out. Eventually we updated it to be an Easter 2002 letter. That one starts: "We're told that during the first years of any marriage couples usually start to form their own traditions, particularly around the holiday season. However, as we prepare to celebrate our first Christmas as a married couple, we seem to have at least adopted one tradition [from Mary's side of the family], sending out our Christmas letter very, very late\u2026"
We still didn't actually send the letter to anyone. It underwent various iterations until March 2003 at which point I gave up.
So when Elizabeth was born, we thought maybe this would be the year we'd finally get around to sending out a card. Forget the idea of a letter though...
We are running out of time for a "real" Christmas card but we did manage to decorate and return Christmas cards for our church this week (Click on the picture to see all the photos).
We discovered a few things:
Elizabeth isn't quite ready for crayons
We're not so used to being parents that we check the ingredients of our art supplies before giving them to Elizabeth
Our crayons are non-toxic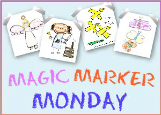 You might also like
- Arts N Crafts
(0.461709)
- Painting; Take 2
(0.449657)
- Valentine's Desk
(0.436249)
- Playdough
(0.416114)
- Aqua Doodle
(0.38488)
All