April 1, 2010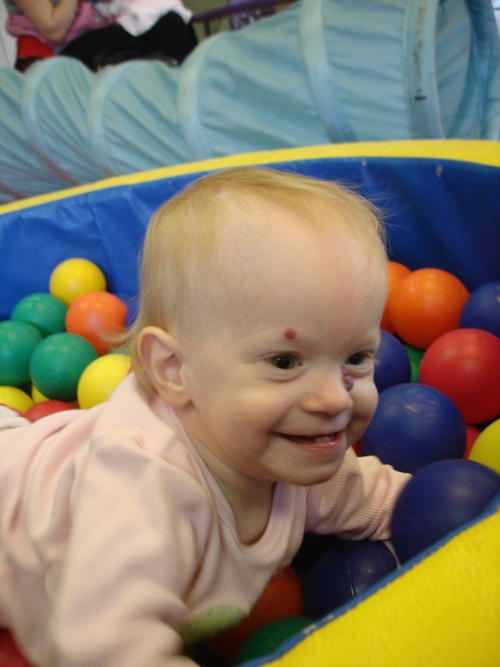 We've been extremely busy at work gearing up for the next phase of a project implementation. I spent yesterday exercising my rusty French in Quebec while training a new batch of users while first Daddy and then Grandma looked after wee munchkin. Many walks were enjoyed. "I think she might be almost ready for the baby swings", said Grandma.
So when my turn came today and it was beautiful, Elizabeth and I naturally headed to the park first. Elizabeth is definitely ready for the baby swings. The higher I pushed, the more she giggled!
After lunch, Daddy decided to head to the office, so we hitched a lift to the Mothercraft Ontario Early Years Centre Drop-in playgroup. I'd heard about it several months ago but usually don't think of it before about three o'clock in the afternoon when they are about to close. What a fantastic resource it is though! A giant room full of toys, sensory bucket, a craft... Elizabeth made a beeline for the mini ball pit and spent more than half an hour "swimming" around joyfully.
Thursday afternoons are pretty quiet and there were only three other kids there. One little eleven-month-old boy is very affectionate and took quite a shine to Elizabeth, following her around and trying to hug and kiss her. He actually did give her a big hug and kissed the back of her head to Elizabeth's alarm and outrage. The next time he tried, his mom blocked his access and in doing so earned herself a huge smile, grateful look and an instant friend in Elizabeth. All too soon it was circle time and time to go home, but not before succumbing to the lure of the toy library, where you get to take out up to two toys for up to two weeks.
Then we walked back to Carling and Kirkwood and took Elizabeth's first public transit home (OC Transpo Bus route 101). It was rush hour and pretty crowded but we were given a seat, which I took gratefully. I cannot imagine managing a folded-up stroller on top of everything.
You might also like:
-
Cumberland Heritage Museum
-
Family Day
-
Cottage Days: Eggs
-
The Big Clock
-
Je d'école
March 29, 2010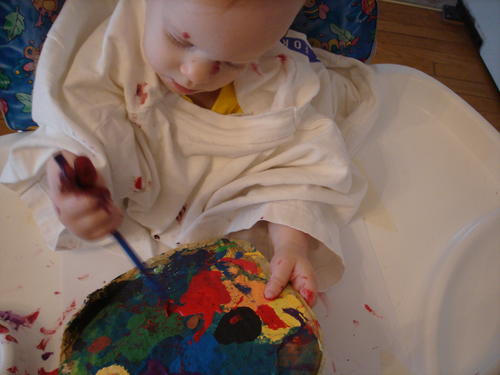 We let Elizabeth mess around with paints and a paintbrush this past week. We put her in an old t-shirt of my mom's and stuck her in the highchair in order to try to limit the mess.
This was pretty successful, except that our highchair tray is now rather pink in spots. Elizabeth loved painting, especially the part where she got to rinse her brush. We had one rather teary moment when she discovered that paint isn't too yummy. Luckily it was "non-toxic"... Hopefully she has now learned that we don't eat paint.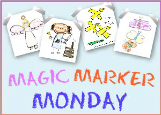 You might also like:
-
Aqua Doodle
-
Arts N Crafts
-
Painting; Take 2
-
Christmas Cards and Crayons
-
Valentine's Desk
March 28, 2010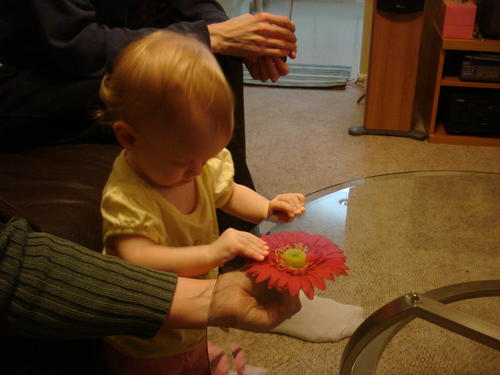 Elizabeth and I didn't get to go to church this morning because she still had a fever and we felt we shouldn't pass it on to the numerous babies there.
Sometime mid-morning the fever broke and Elizabeth went back to her normal chipper self. We had church just the two of us, reading her Noah's Ark book and singing Jesus loves me complete with actions. Auntie Janice and Daddy brought home a palm to wave, which was very popular.
You might also like:
-
New back
-
Home again
-
Snow!
-
Pooh Sticks
-
A safe arrival
March 27, 2010
We obviously need to eat more apples because no sooner did Elizabeth finish her antibiotics than she came down with another big fever in the night and we spent 24 hours giving her Tylenol every four hours or so.
Elizabeth and I duly headed off to the clinic, and after a long and patient wait we finally managed to see the doctor. He checked that her ears were now free of infection and listened to her chest. "Hmm", he said. "I thought from your description that she had a chest infection, but it is clear." He heard that she had stopped throwing up but was now on day 12 of diarrhea. "That's too long!" he said. No kidding! So Elizabeth is supposed to avoid dairy in case she's developped some lactose intolerance as a result of the flu, and we're to go back in seven days. In the meantime I need to feed her more (she's lost weight) and hydrate her. "Give her more fluids" he said sternly. "Try coke." Coke?!? Apparently it has electrolytes.
PS. After checking with my pediatrician neighbour, I've determined that I'm going to ignore the advice about coke. We seem to be attracting goof-ball doctors lately.
You might also like:
-
Street Sweepers
-
The orange cup
-
Vomiting blood
-
Broken nose
-
Mastitis
March 25, 2010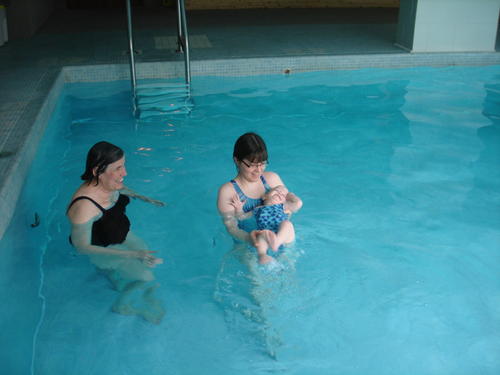 Elizabeth is feeling much better (no more throwing up - woo hoo!) but she does seem to have caught a nasty cough. Hopefully it will go away soon because I am bored of writing about injury and illness. Bleh.
It's time to start doing fun things again, like the time we went swimming at Grandma and Grandpa J's condo a couple of Saturdays ago right before we got sick. Elizabeth loved the giant bathtub... I had been worried about how she'd react to the temperature but it turned out the water was 32 degrees; warm enough that even Daddy admitted it was a nice temperature. She splashed and laughed and played with the pool macaronis (what else would YOU call short pool noodles?).
In other news, Elizabeth has discovered that her finger is exactly the same size as her nostril. Daddy spends quite a lot of time these days explaining to her that while it is a pretty exciting discovery, she really needs to stop showing off this new skill. Mommy probably doesn't help matters with all the giggles.
You might also like:
-
Water Baby
-
Boxing Day
-
Roommates
-
Three at a time
-
About the boy