April 11, 2010
I read online somewhere that small children like to sort beans. "It's kind of like playing in a sandbox indoors", someone wrote, "but without the mess."
I happened to have couple of jars of ancient beans in the back of her cupboard and a very bored little girl who was looking for something to do. The weather wasn't suitable for going to the park. Mom wasn't feeling up to going to a museum or playgroup due to a bad cold.
So I got out the beans and a muffin tin and let her at it. Just in case there are other moms out there who think that sorting beans sounds like a fun and relatively low-mess activity, it's definitely fun.
You might also like:
-
End of year field trip
-
First day of preschool
-
Museum of Nature
-
Cottage Days: Jack and Olivia
-
Flour letters
April 10, 2010
Last time we went to the Agriculture museum we bought a family pass that also lets us into the Museum of Science and Tech and the Aviation museum. So Elizabeth and I went to the Museum of Science and Tech on Friday and the Aviation museum today.
Elizabeth got to play with Auntie Janice at the Aviation museum. They might have had a little too much fun; at one point they set off an alarm because they got a little too close to one of the planes! The main thing I learned at the museum this time is that the floor is much cleaner at the Aviation museum than the Science and Tech museum. Okay, so I also found out that the first airplane steered with your shoulder blades, but I bet most moms of nearly-toddlers would be more interested in my rating of the cleaning staff...
I didn't take any pictures of the Science and Tech museum this time (left the camera at home!), but Elizabeth spent a lot of time crawling while pushing her stroller. She also enjoyed the flashing lights in the networking exhibit so we spent a lot of time pretending to be network packets again while she poked at the "fiber optic" cable. She sent a telegraph, talked on the phone, was confused by the rotary dial phone and tried to send Grandma and Grandpa H a photo by email. I don't know whether it arrived. We also spent a lot of time playing with the fake plastic food in the play kitchen by the food exhibit and throwing braille blocks on the floor. We learned that you can make a sound like a weird laughing dog if you pull on a wet shoelace attached to a soup can.
I'm realizing that if I go to a museum with Elizabeth on my own I'm going to see a lot of carpet and not a lot else. Surprisingly, this is okay.
You might also like:
-
Where does all the laundry come from?
-
River Oak
-
Camping!
-
Valley View Farm
-
St Nicholas Day
April 7, 2010
I hate to say it, but Elizabeth is a bit picky about what she eats. We're continuing to offer her a variety of different foods and not making a big deal about whether she eats or not, but I confess it is a bit stressful given her weight. The good news is that all the Easter chocolate (271 calories per small animal) seems to be helping this week. The bad news is that we are almost out of Easter chocolate...
You might also like:
-
Strawberry picking
-
Berry Picking
-
Skating with Angie
-
Aidan is 3, Caitlin is 1
-
First Letter
April 6, 2010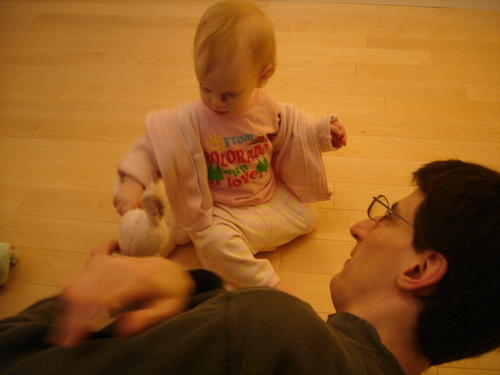 Elizabeth is thirteen months old. In the last week we've made it back to 7.7 kg which is almost 17 pounds!
I can't remember if I mentioned that Elizabeth was climbing down stairs on her own, but after a couple of weeks of backwards stair climbing she has refined her technique. She still turns around and goes down backwards on the first step. This is to indicate her intentions. Then she turns around and holds her hands up to grab onto the closest supervising adult, stands up and walks down the stairs one at a time (like an adult does, except with more enthusiasm). It's way more efficient! She goes so quickly that it's difficult to keep up while walking backwards. She's started deciding where she wants to go. We spend a lot of time going down to the second floor to colour, then down to the basement to play on the piano, ride her tricycle or swing in the jolly jumper, then back up to the third floor to play with her toys or read a book.
She loves going outside. "Out" she says, pointing to the door. She's still not walking independently but spending more and more time walking with help. A few days ago she "walked" all the way around our house and to the end of the block. She especially likes climbing up and down the stairs on the deck. She likes to visit the park and swing on the baby swings. When she's done she can point to her stroller and even told Grandma J "stroller". She's getting much more vocal about what she wants to do.
Books are still a favourite activity but so is tossing things across the room. If you offer to read her a book she'll often choose one and bring it to you. She's learning to put things away. She can open her drawers and pick out her own clothes (we give her a choice of two items). She's especially fond of animals and pink. She turns on and off light switches and brushes her own teeth at night.
Elizabeth likes to roar like a lion. She also moos and quacks, although if you ask her what sound an animal makes she'll usually roar regardless of whether this is right. She seems to like teasing Daddy.
She "talks" a lot. Many of the sounds she makes are very complicated and we can't reproduce them no matter how hard we try. She waggles her tongue around. It spends a lot of time sticking out one corner or another, especially when she is concentrating on something.
Can you tell we're enjoying this stage?
You might also like:
-
16 Months
-
Elizabeth
-
20 Months Old
-
11 months
-
Amelia is ONE
April 4, 2010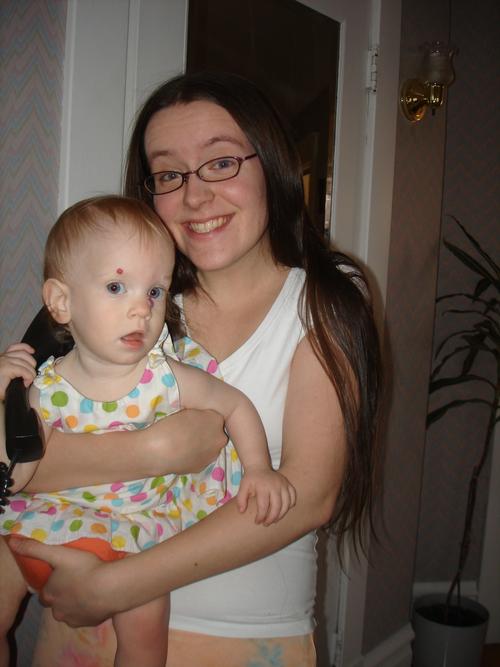 Happy belated Easter! Although I didn't actually get around to posting this until today (Wednesday), I've decided it just makes more sense to put the pictures closer to or on the date they were actually taken.
It's our Easter tradition to decorate eggs using Ukrainian wax techniques and natural dyes, but this year we decided that it would be easier for the kids to help if we allowed them to paint with food colouring instead. I still dyed a bunch of eggs with tumeric, cabbage and onion skins but we allowed Erika and Elizabeth to add their own personal touches.
Elizabeth's eggs were surprisingly beautiful, with lots of colour and many brushstrokes. Erika was much more precise and serious about her paintings. Each one had a specific picture and only one colour painted per egg. She especially liked painting the eggs that were already coloured.
Afterwards we made hot cross buns. Elizabeth helped crack the eggs and Erika did almost everything else, including carefully painting each bun with egg white.
Easter Sunday we enjoyed the 5 minute Easter story and the rest of the service too and then went home for Easter lunch with Uncle Dave, Auntie Karen, friend of the family Geoff G, Uncle Chris, Erika, Grandma and Grandpa J, our tenants Jesse and Ray, Auntie Janice, Brendan, Elizabeth and me! Maria was not feeling her best so Auntie Yukiko stayed home with her. The whole family is leaving for Japan on Wednesday and wanted to be sure all are healthy before then!
Then we celebrated Erika's fourth birthday with a brownie strawberry cake. I thought we had loads of pictures but they must be on someone else's camera (Dave?). Sadly our brief period of good health then came crashing to a halt. I'd started feeling unwell after a run-in with someone's strong perfume during church and by evening Easter Sunday I was definitely sick. Elizabeth and I have spent the last few days barking like seals.
You might also like:
-
Happy Birthday
-
Good Friday 2015
-
Good Friday
-
A shower and the Great Glebe Garage Sale!
-
Social Distancing: Day 20