April 25, 2010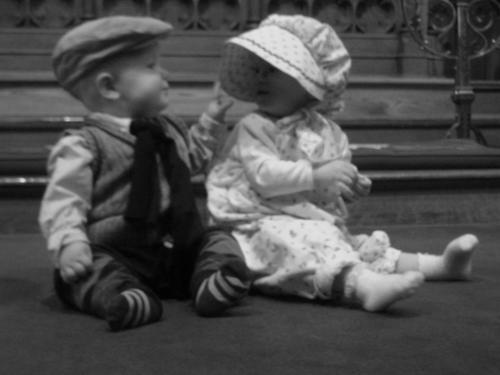 Our parish, St. George's Ottawa, celebrated its 125th anniversary today. We didn't rent period costumes but we did find some period-ish clothing to wear.
Videos to come tomorrow...
You might also like:
-
Wedding Bouquet
-
Christmas Cake 2013
-
Hike and picnic
-
30 Hour Famine
-
Aviation Museum: 50th Anniversary
April 24, 2010
Elizabeth and I went for a little red wagon ride to see the tulips at Dow's Lake. She grinned all the way there.
Once at the park we attracted a lot of attention. "May I photograph your wagon?", asked one of the hundreds of photographers out in full force. Others waved, smiled and told Elizabeth how lucky she was.
One little boy rather wistfully asked me if I didn't think that Elizabeth was too small for it. I think she overheard him because she let go of the tulip she was holding, looked at me in the eye, and said "Done!"
I think "Done!" might be her favourite word. The way back home was a little more difficult because she discovered the back wheel midway at which point she was desperate to touch it, especially while it was moving. Then she was too hot and took off her sweater. Then she had to play peek-a-boo with the sweater and threw it on the ground. I promptly ran over it with the wagon, which was so popular that I ended up having to carry the sweater rather than leave it within arm's reach. Eventually I resorted to giving her bits of vegetation to investigate and throw overboard.
You might also like:
-
Wedding prep
-
Tulips
-
Orange swimsuit please
-
The birds and the bees
-
Cottage tooth fairy, swim, more fish, ponies
April 23, 2010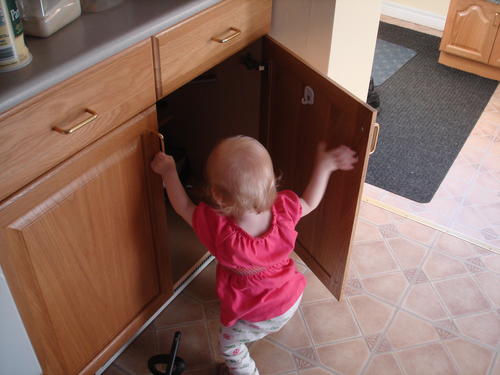 Elizabeth can now open cupboard doors (not just drawers). She's extremely proud of this and likes to show Mom and Dad at every opportunity. She's especially fond of climbing all the way into the pot cupboard and closing the door behind her. Then she opens the door again with a "peek-a-boo" and a big grin. I predict that some day soon she's going to scare someone out of ten years shrinking!
It may be time to get some kind of lock, especially after a certain fish food incident...
You might also like:
-
Summer week 6: Circus and Gymnastics
-
Paint fight with Samia
-
Matthew
-
Waterskiing, fish and clams
-
13 months
April 22, 2010
We celebrated Earth Day at the Museum of Nature, as they were offering free admission! Next month the renovations will be complete and many new exhibits are coming online, so I wanted to go one last time before everything changes. The museum is still extremely inaccessible for strollers and wheelchairs. Apparently this is not going to change in the near future. Maybe next year, said one security guard. I get that the renovations were pretty involved with wiring and plumbing and other behind the wall items but it's a bit disgraceful that wheelchair users will still need help to open the doors to the washrooms after millions of dollars and more than five years. Speaking of security guards, I felt they were creepily attentive on this visit. One guy even repeatedly walked in and out of the nursing area. I think they were probably just bored but it made me feel a bit uncomfortable.
Elizabeth actually already visited this museum this year with her Auntie Janice, but it's been just under a year since I last visited. I was surprised by how little has changed in that time. The bird sanctuary play area has more plastic containers to play with, but the stethoscopes have disappeared, as has the exhibit that compared your weight to that of a hummingbird or a turkey. The mammal dress-up area is down to two and a half costumes. There's a new special exhibit about Canada's native plants.
We spent ages playing in the bird sanctuary area, but eventually I got tired of rescuing Elizabeth from the clutches of other kids. Many were determined to snatch anything she picked up as they felt that Elizabeth was not rescuing the birds correctly. Elizabeth was happily pouring air from jug to plastic bowl, then taking eggs out of the incubator, putting them into the bowl and stirring vigourously, so they may have had a point.
The parents were annoying too. "Watch out for the little boy, he's just a baby dear" called one mom after a particularly aggressive eight year old nearly crushed Elizabeth's fingers in the rescue carrier. Another mom told her daughter to kiss the frog on Elizabeth's shirt. "Then he might turn into your prince." So we moved on to a less crowded area of the museum.
In the mammal area, Elizabeth was still frightened of the fake ice and polar bear exhibit, but this time she was happy to pet the polar bear fur. She liked dressing up and playing with the puppets. She liked scanning food for the growling bear. The special exhibit was great too with a lot of little doors asking questions that you could open to see the answer on the other side. Elizabeth really loved opening and closing these, and sliding the Canadian flag up and down to see what it would have looked like if we'd chosen a different native plant as the central symbol. I took a picture of the one that asked us to identify the type of maple leaf found on our pennies. Can you figure it out?
You might also like:
-
Museum of Nature
-
Healthy Girl
-
Logan Hall
-
Grand Reopening
-
Vanier Museoparc
April 20, 2010
Elizabeth delights in going to the playground, especially if it has sand.
She likes to carefully give me small handfuls to keep for later and has started working on figuring out how to bury Daddy. The only problem? When we come home, half the sandbox comes too.
You might also like:
-
Winter
-
New favourite way to get home from the bus stop
-
Grandma and Grandpa H
-
Making up songs
-
Splits Club