May 9, 2010
Elizabeth's cousins have been in Japan for many weeks. Our cousin calendar hangs in our kitchen, and Elizabeth pointed to Erika and Maria and Auntie Yukiko's picture several times a day while they were gone. So she is very happy to have them back.
On Friday Erika came to visit before and after baby sensory. We made cards for Mother's Day, went to the Agricultural museum and then to Grandma and Grandpa J's for supper. Erika tried to talk me into taking Elizabeth down the twisty slide but I chickened out.
At the museum we got to see five-day-old twin calves learning to drink from a bucket. I was extremely shocked to (re)learn that calves drink milk, possibly due to that old silk, silk, silk joke but more probably because I find the whole milk production process is slightly disturbing while I'm lactating myself. Actually, these particular calves weren't even drinking real milk - they get formula since people drink the real milk!
You might also like:
-
Cousin Marc
-
Do you ever feel like a gerbil?
-
Junior Black Belt
-
Study in Motion
-
Babytime
May 7, 2010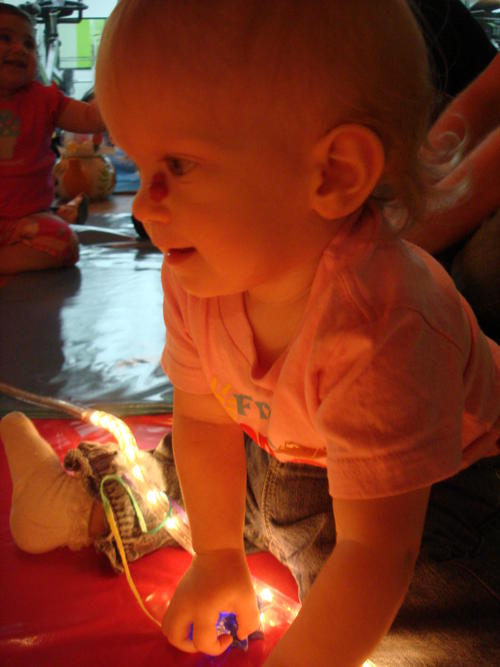 Yesterday Elizabeth realized that she can stand independently all by herself. She's been squatting and standing up without holding on to anything ever since (BIG GRIN!)
Today, she took her first (five) steps at Grandma and Grandpa's. Only Daddy saw them.... She took one more Saturday morning for Auntie Janice and Daddy. Saturday evening Heather and I joined the "We saw Elizabeth walk!" club. Elizabeth is now up to eight steps and is very proud.
We have no pictures of walking, so you'll have to make do with lights! from baby sensory instead.
You might also like:
-
Life with two kids
-
Retirement Party
-
Big Day
-
Come sing Messiah Rehearsal 2
-
Pancake Chef
May 4, 2010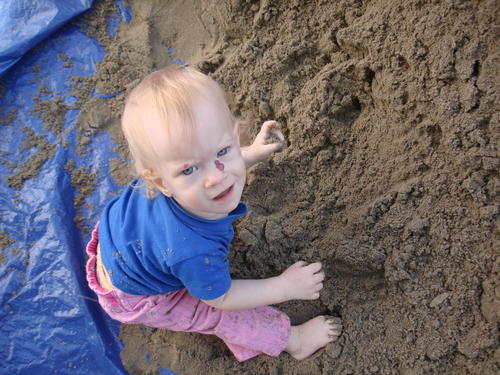 Given Elizabeth's love of all things sand, we decided to have a sandbox at home as part of the playstructure we're planning to build. Cousin Erika got a sandbox too for her birthday, so it made sense to order the sand at the same time even though we haven't quite gotten around to actually building our sandbox yet. (Now we have motivation!)
The sand arrived today. Auntie Janice and I may have enjoyed it almost as much as Elizabeth. Although we didn't feel the need to indulge ALL our senses.
Obviously we're going to have to come up with a way to rinse before coming indoors if we don't want to replace our plumbing again.
You might also like:
-
New back
-
Great Glebe Garage Sale
-
Josie and Daniel
-
Playdough
-
Baptism
May 3, 2010
I've been threatening to do something drastic about my hair for years.
In the last couple of weeks I decided that my hair was just too long. How long is too long?
Long enough that it brushed the floor when bending (and I do a lot of bending these days!)
Long enough to be a safety hazard around Elizabeth (she'd taken to rolling over and over in my hair and I was worried she'd strangle herself).
Long enough that I could and did pull my own hair by accidentally sitting on it.
Long enough that I had to keep it out of the way when taking Elizabeth to the washroom. Dipping hair in the toilet is really not my idea of fun.
So it was time for a haircut. Auntie Janice needed one too. So she and I both decided to cut our hair and donate it to Locks of Love, working our way towards Janice's goal to donate at least one wig's worth of ponytails over her lifetime. Now she's half way there, or two-thirds if you count my hair too!
You might also like:
-
Pooh Sticks
-
Climbing dome
-
10 days
-
How did THAT get there?
-
In which we introduce Elizabeth to our main hobby
May 1, 2010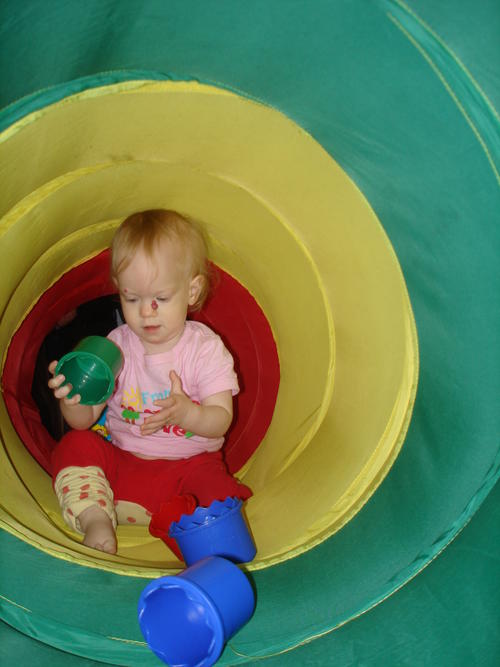 We borrowed a tunnel from the toy library this week. Elizabeth didn't want to go through at first even though Mommy demonstrated how. Auntie Janice demonstrated too and finally coaxed Elizabeth through with strategically placed toys. Now she plays in the tunnel quite happily.
Later, I was telling friend Janice R and Daddy that my foray through the tunnel was not going to be repeated because half way through I became concerned that I might be re-enacting the story of Pooh visiting Rabbit. (I thought it might be hard to explain any resulting tunnel damage.) An offhand comment that Brendan would have gotten himself stuck for sure if he'd tried to go through had predictable results. Elizabeth was bemused. Janice R was amused. And I still say he cheated!
You might also like:
-
Repointing
-
Family time
-
Easter
-
Sleepover
-
Touch a Truck