May 15, 2010
Elizabeth went to Home Depot with us today to order the rest of the supplies we need to build her playstructure and sandbox. (Anyone want to come and help build?)
I have to say that riding in the funky shopping cart is fast becoming a favourite activity and it doesn't even cost money! Elizabeth just loves zooming up and down the aisles "steering" and making vrooming noises.
You might also like
- Sand Delivery
(0.325221)
- Sandcastles
(0.324607)
- Rainbow Camp
(0.289474)
- Thanksgiving
(0.281796)
- Leftovers
(0.280612)
All
May 14, 2010
Fourteen (and a half) months is playing twenty questions with small and busy who is able to communicate just enough to let you know that that was NOT what she meant.
But big grins if you get it right.
Today was also the last day of Baby Sensory; just in time because Elizabeth won't sit for circle time anymore!
You might also like
- Still Tulips
(0.32199)
- Matthew
(0.301676)
- Maria's first swim
(0.298283)
- Waiting...
(0.296392)
- Photo with the bear day
(0.293515)
All
May 13, 2010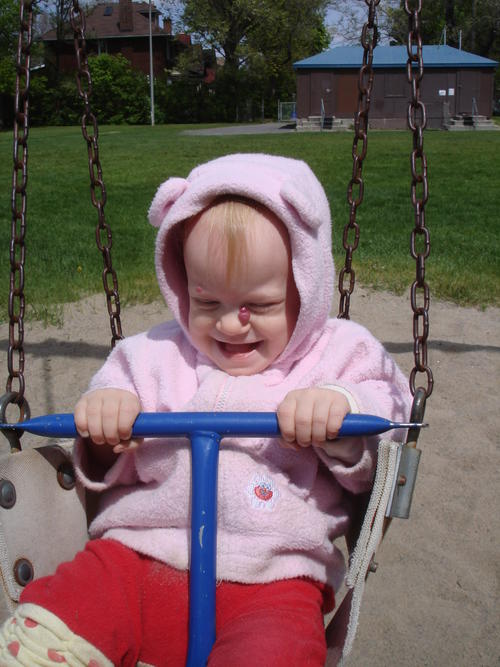 How do you like to go up in a swing,
Up in the air so blue?
Oh, I do think it the pleasantest thing
Ever a child can do!

Up in the air and over the wall,
Till I can see so wide,
River and trees and cattle and all
Over the countryside--

Till I look down on the garden green,
Down on the roof so brown--
Up in the air I go flying again,
Up in the air and down!
You might also like
- Windstorm
(0.247166)
- Double Rainbow
(0.242054)
- Leaves
(0.241784)
- Spring
(0.239919)
- Theo is ONE
(0.237443)
All
May 11, 2010
We had a lovely Mother's Day. The moms had the evening off, while dads were in charge of producing the meal and non-parents in charge of the clean-up. Grandpa J usually "helps" prepare meals by staying out of the kitchen, but not this time!
You might also like
- Cherry Picking
(0.285714)
- Grandma has a birthday
(0.270492)
- Table Manners
(0.266881)
- Christmas Cake
(0.264789)
- Raclette
(0.260726)
All
May 9, 2010
Elizabeth's cousins have been in Japan for many weeks. Our cousin calendar hangs in our kitchen, and Elizabeth pointed to Erika and Maria and Auntie Yukiko's picture several times a day while they were gone. So she is very happy to have them back.
On Friday Erika came to visit before and after baby sensory. We made cards for Mother's Day, went to the Agricultural museum and then to Grandma and Grandpa J's for supper. Erika tried to talk me into taking Elizabeth down the twisty slide but I chickened out.
At the museum we got to see five-day-old twin calves learning to drink from a bucket. I was extremely shocked to (re)learn that calves drink milk, possibly due to that old silk, silk, silk joke but more probably because I find the whole milk production process is slightly disturbing while I'm lactating myself. Actually, these particular calves weren't even drinking real milk - they get formula since people drink the real milk!
You might also like
- Cousin Marc
(0.366667)
- Do you ever feel like a gerbil?
(0.355177)
- Junior Black Belt
(0.350063)
- Study in Motion
(0.346207)
- Babytime
(0.346103)
All