May 17, 2010
Mommy had her first sailing practice tonight which left Daddy at home with Elizabeth. Now these days Elizabeth can sometimes be a touch tricky to convince that she should take a break from tearing around the place at warp nine and close her eyes for a few minutes. She does however seem to be getting the message that no, crying won't bring Mommy or get her out of nap/bed time.
So... tonight after a brief display of what do you mean my Mommy's not here, she settled down nicely - to fidget (while lying down) for ages. When an hour later Daddy had just decided that she might really be asleep and started to get up, the phone rang. Elizabeth sat bolt upright, saw Daddy and lay right down again, and proceeded to squirm (while lying down) quietly around her crib. When she had managed to work her way over to the aquarium her hand ever so slowly crept up towards the on button (while lying down). Strangely she didn't seem terribly surprised when Daddy caught her arm and put it back down.
You might also like
- Piano Recital
(0.371223)
- Sleepover with Auntie Janice
(0.353107)
- Water Baby
(0.349879)
- Piano recital and Mother's day karate
(0.348395)
- Fireworks
(0.347619)
All
May 16, 2010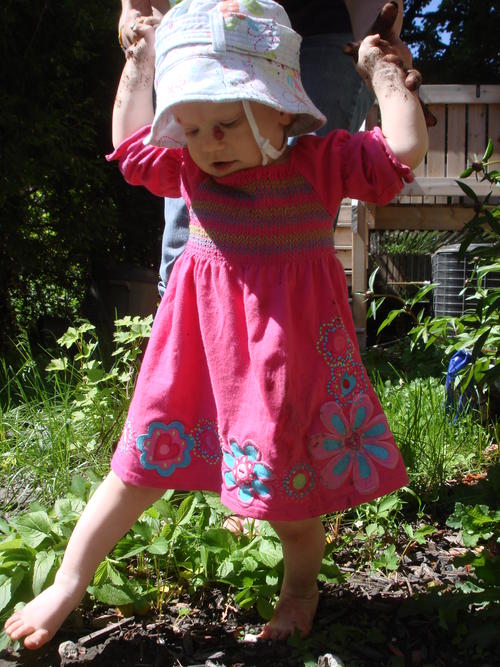 It's not quite May 24th but we decided to plant the window boxes today anyway. Elizabeth helped us to weed and had to be stopped from weeding the flowers too.
After the flowers were planted and watered, Elizabeth was so muddy that her parents decreed a watering session (aka bath) for Elizabeth too.
You might also like
- New favourite way to get home from the bus stop
(0.349206)
- Grading and birthday party
(0.318898)
- Happy Birthday Rachel
(0.302158)
- First Ultrasound
(0.300613)
- Snow play
(0.3)
All
May 15, 2010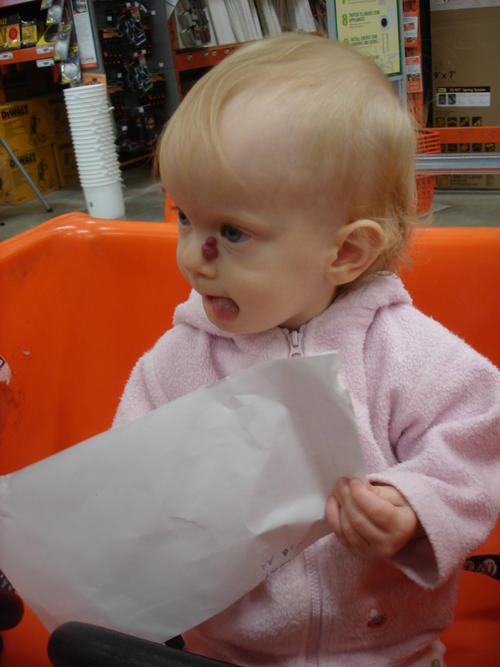 Elizabeth went to Home Depot with us today to order the rest of the supplies we need to build her playstructure and sandbox. (Anyone want to come and help build?)
I have to say that riding in the funky shopping cart is fast becoming a favourite activity and it doesn't even cost money! Elizabeth just loves zooming up and down the aisles "steering" and making vrooming noises.
You might also like
- Sand Delivery
(0.325221)
- Sandcastles
(0.324607)
- Rainbow Camp
(0.289474)
- Thanksgiving
(0.281796)
- Leftovers
(0.280612)
All
May 14, 2010
Fourteen (and a half) months is playing twenty questions with small and busy who is able to communicate just enough to let you know that that was NOT what she meant.
But big grins if you get it right.
Today was also the last day of Baby Sensory; just in time because Elizabeth won't sit for circle time anymore!
You might also like
- Still Tulips
(0.32199)
- Matthew
(0.301676)
- Maria's first swim
(0.298283)
- Waiting...
(0.296392)
- Photo with the bear day
(0.293515)
All
May 13, 2010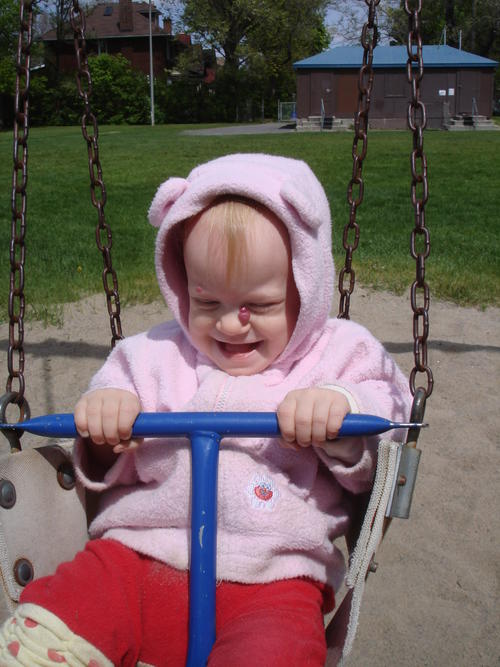 How do you like to go up in a swing,
Up in the air so blue?
Oh, I do think it the pleasantest thing
Ever a child can do!

Up in the air and over the wall,
Till I can see so wide,
River and trees and cattle and all
Over the countryside--

Till I look down on the garden green,
Down on the roof so brown--
Up in the air I go flying again,
Up in the air and down!
You might also like
- Windstorm
(0.247166)
- Double Rainbow
(0.242054)
- Leaves
(0.241784)
- Spring
(0.239919)
- Theo is ONE
(0.237443)
All