May 26, 2010
It's been HOT here in Ottawa, and although we have air conditioning at home the weather has been cramping Elizabeth's routine. She wants to go out, but it's not going for a walk weather.
So cousin Erika and Elizabeth and I headed to Grandma and Grandpa J's pool for a little splashing around. Elizabeth seems a little more comfortable in the water every time we go swimming. Supported by copious numbers of pool noodles I was able to tow her around the pool and get a little exercise myself! She's started to kick her legs in the water and even paddle with her hands from time to time instead of clinging desperately to Mommy like a little koala.
She even floated on her own although she still needs to be reminded that we don't drink pool water...
You might also like
- First swimming pool
(0.340568)
- Maria's first swim
(0.334477)
- Spring
(0.332759)
- Big Bed
(0.323097)
- Cottage Days
(0.321608)
All
May 24, 2010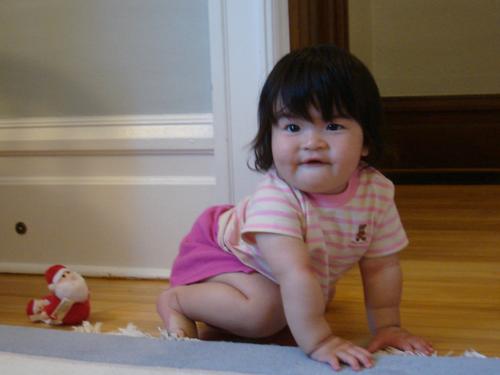 Cousin Maria is now one year old!!! She's started to crawl around a lot recently. It was fun watching the three cousins interact.
We celebrated with dinner on Sunday - Vegetable Christmas soup, roast beef, salad, broccoli and fresh bread from the farmer's market. Maria needed help blowing out her candles on the apple cake. Big sister Erika was happy to oblige! Erika would have "helped" open all the presents too but had to be satisfied with watching.
You might also like
- Playdough
(0.329749)
- Christmas Cake 2012
(0.308271)
- Christmas Cake
(0.305668)
- Decorating Tree
(0.305206)
- Family
(0.30313)
All
May 23, 2010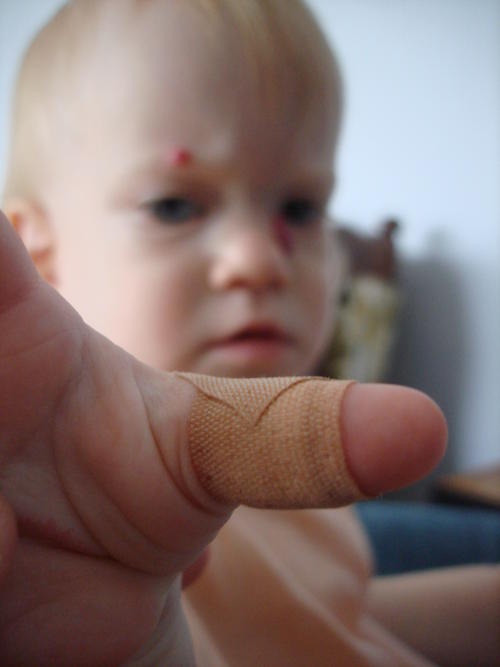 It had to happen given Elizabeth's propensity to vigorously open and close the kitchen cupboards and drawers. Today she learned why Mommy and Daddy frequently tell her to be more gentle, and not to "squoosh" her fingers.
It's her first cut that warranted a bandaid. She was fascinated and kept showing Daddy her "ouchie". Later she figured out how to get the bandaid off. Her method involves teeth and chewing, which Uncle Dave thought was a bit gross. Luckily it was bedtime by then so we didn't need to figure out how to convince her to keep the bandaid on!
You might also like
- Date with Daddy
(0.317352)
- Antibiotics
(0.302632)
- Visitors
(0.302144)
- Life with two kids
(0.301754)
- Mommy dear, I NEED to see the cows
(0.301459)
All
May 22, 2010
The Museum of Nature had its grand reopening this weekend. Saturday offered free admission along with many special events. We went, along with 13,000 of our fellow Ottawans. The museum only has a capacity of 5,000 so it was pretty crowded and a long line to get in. Once in there was a lot of fighting with crowds (woe betide those trying to go against the flow of traffic!) which was pretty overwhelming at times. Elizabeth took it all in stride, until she wanted a snack. We happened to be near the nursing room but unfortunately they had removed most of the chairs in the room for some reason. Last time we were there a male security guard kept wandering in and out of the nursing room (distracting Elizabeth and annoying me). This time numerous parents - both moms and dads - wandered in with hordes of obviously not nursing kids to play with the puzzles (distracting Elizabeth and annoying me). When another mom showed up to actually nurse a wee little one I finally told the other parents off and shooed them away. She was very grateful.
I miss the old mineral gallery. The new one somehow seems less beautiful and more specimens-behind-glass. The gallery had an adventure into a mine that the new one lacks. The plant exhibit is gone altogether, along with the bees. Animalium is a pale imitation of the old creepy crawly exhibit. It's still a collection of live creepy crawley animals including tarantulas, cockroaches and black widow spiders, but now housed in natural surroundings. I especially miss the old cockroach exhibit, which I thought was pretty funny (complete with bed, ashtray and cigarette butts).
On the plus side, the renovations are wonderful. I've always loved this building and I'm very happy that it is now being looked after properly. Some of you will know that the tendency to "defer maintenance" is one of my pet peeves, especially when beautiful old buildings are involved. I actually felt a bit emotional walking up the staircase of the lantern for the first time. The weird creatures dancing around were really cool and I think the museum should totally invest in a live band playing in the new lantern on a regular basis. Also awesome: the National Capital Concert Band was playing. I used to play in this band back in the late nineties before celiac-related issues forced me to quit. I was happy to see that it is still conducted by the famous Stanley Clark (my favourite conductor ever). Unfortunately I wasn't able to say hello but I thought they sounded absolutely fantastic.
You'll think I'm biased, but Brendan agrees that the special Frog exhibit is fantastic too. It's only here until September 6th, so you should go visit before that. The museum is free on Thursdays after 4pm, but I think this exhibit alone is worth the price of admission. The blue whale was neat too, but Elizabeth, Brendan and I didn't end up seeing the hands on area for kids at the back because the gallery was too crowded for our liking. I hear that cousin Erika and Auntie Yukiko spent quite a long time playing there though!
You might also like
- Cumberland Heritage Museum
(0.449848)
- Aviation Museum
(0.440928)
- Happy Earth Day!
(0.439815)
- Logan Hall
(0.437408)
- Museum of Nature
(0.434783)
All
May 21, 2010
I've been zoo-sitting my friend Iain's herp and reptile collection this week, to Elizabeth's great amusement. My charges included five salamanders, fourteen newts, about twenty frogs, a gecko, a chameleon and lots of crickets.
You might also like
- Scary crickets
(0.274809)
- Cottage Days: Tubing, Robinson's and Pony rides
(0.253521)
- Spring has sprung
(0.25)
- Pirates of Penzance
(0.247911)
- Hairstyles
(0.247557)
All