May 28, 2010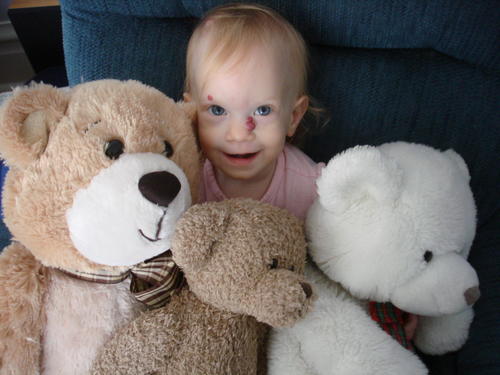 It's picture with a bear day! Just in case you were wondering, now that Elizabeth is over a year old we're only taking these every three months.
We no longer have a baby in the house. She's officially been replaced by a toddler. A slightly shaky on her feet toddler, but a toddler nonetheless.
At fifteen months, Elizabeth weighs approximately eight kilos (17.6 pounds). Her teeth are coming in one after the other but figuring out the current total is difficult without chewed fingers. There are at least ten (four front top, four bottom top and two molars). She chews her own fingers too. The other day she bit her thumbnail so hard she was bleeding from the bottom of the nail! We hope she outgrows this soon. Elizabeth still lets us brush her teeth, especially if she gets to brush Mommy's teeth too. Mommy only lets her do this as a special treat because Elizabeth brushes with great vim and vigour and Mommy has a strong gag reflex...
Elizabeth loves to do things and learn about the world around her. She is continuously pointing at things and expressing her desires. She still loves to read, play and snuggle her bears. She has started to climb anything that doesn't resist too hard and enjoys relocating objects around the house (including furniture). Anyone seen Mommy's new bank card?
You might also like
- Picture with a Bear Day
(0.361616)
- Amelia 21 months
(0.357838)
- Matthew is eleven months
(0.357074)
- Braking Leaves
(0.355198)
- Sledding
(0.354988)
All
May 27, 2010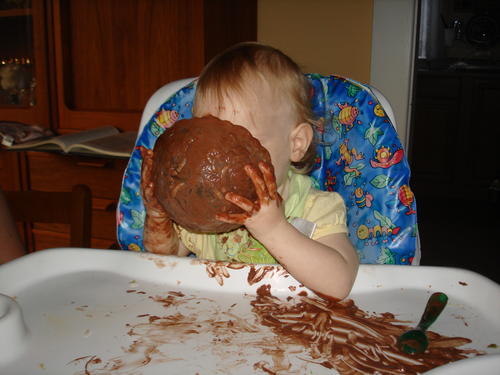 Is Elizabeth a pudding face? Did you know that toddlers used to be called "little pudding heads"? Not because they smear pudding all over their heads, either.
You might also like
- Small Spaces
(0.246753)
- Happy Dance
(0.238596)
- What's yours is mine and what's mine is yours
(0.236915)
- Photo with the bear day
(0.236434)
- Standing Unassisted
(0.236364)
All
May 26, 2010
It's been HOT here in Ottawa, and although we have air conditioning at home the weather has been cramping Elizabeth's routine. She wants to go out, but it's not going for a walk weather.
So cousin Erika and Elizabeth and I headed to Grandma and Grandpa J's pool for a little splashing around. Elizabeth seems a little more comfortable in the water every time we go swimming. Supported by copious numbers of pool noodles I was able to tow her around the pool and get a little exercise myself! She's started to kick her legs in the water and even paddle with her hands from time to time instead of clinging desperately to Mommy like a little koala.
She even floated on her own although she still needs to be reminded that we don't drink pool water...
You might also like
- First swimming pool
(0.340568)
- Maria's first swim
(0.334477)
- Spring
(0.332759)
- Big Bed
(0.323097)
- Cottage Days
(0.321608)
All
May 24, 2010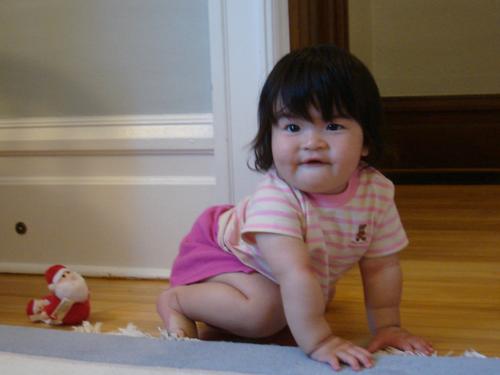 Cousin Maria is now one year old!!! She's started to crawl around a lot recently. It was fun watching the three cousins interact.
We celebrated with dinner on Sunday - Vegetable Christmas soup, roast beef, salad, broccoli and fresh bread from the farmer's market. Maria needed help blowing out her candles on the apple cake. Big sister Erika was happy to oblige! Erika would have "helped" open all the presents too but had to be satisfied with watching.
You might also like
- Playdough
(0.329749)
- Christmas Cake 2012
(0.308271)
- Christmas Cake
(0.305668)
- Decorating Tree
(0.305206)
- Family
(0.30313)
All
May 23, 2010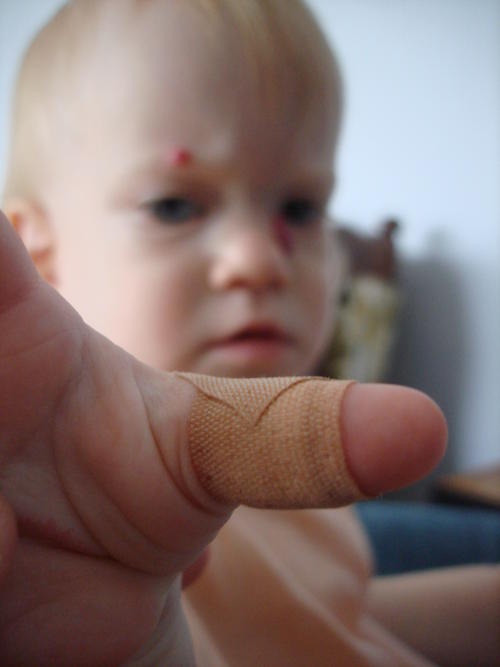 It had to happen given Elizabeth's propensity to vigorously open and close the kitchen cupboards and drawers. Today she learned why Mommy and Daddy frequently tell her to be more gentle, and not to "squoosh" her fingers.
It's her first cut that warranted a bandaid. She was fascinated and kept showing Daddy her "ouchie". Later she figured out how to get the bandaid off. Her method involves teeth and chewing, which Uncle Dave thought was a bit gross. Luckily it was bedtime by then so we didn't need to figure out how to convince her to keep the bandaid on!
You might also like
- Date with Daddy
(0.317352)
- Antibiotics
(0.302632)
- Visitors
(0.302144)
- Life with two kids
(0.301754)
- Mommy dear, I NEED to see the cows
(0.301459)
All