May 30, 2010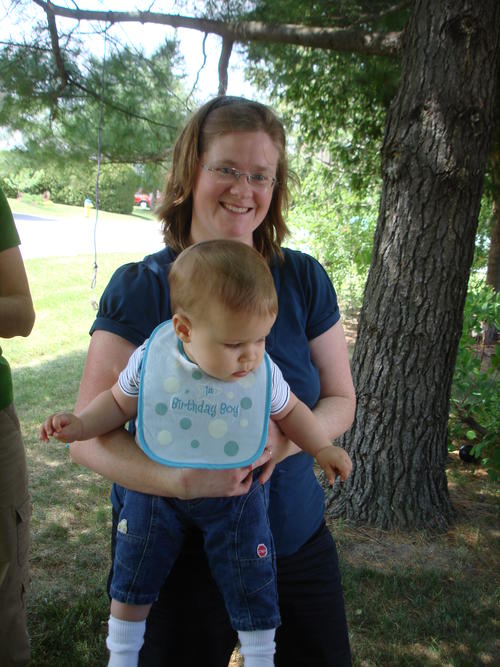 Elizabeth's friend Aidan turned one this weekend, and we were invited to celebrate with parents Dianne and David. He's changed a lot since we first met him at only a week old (He's the teeny tiny one at the end of the photo series)! He's even started to take his first steps!
Aidan had a pinata and really enjoyed seeing the other children whack at it. Every time someone made contact, he giggled and giggled and giggled. Elizabeth got play with the pinata stick, but we decided she was too little to actually try hitting the pinata. She did enjoy eating some of the chocolate that fell out, to no one's surprise. She also loved the noisemakers but although she blew vigorously she did so with mouth open. She didn't quite understand why she couldn't make it go.
She chased bubbles, "danced" with six year old Eric who was just fascinated with her and generally charmed her way around. She played very nicely with Aidan, passing plates back and forth for a long time. Then they both decided they'd like to play with Aidan's new play garden cart. Aidan was happy to share. Elizabeth was not. She has started putting her head down on the ground and wailing when she gets frustrated. After a few minutes in full meltdown mode, we decided it was time to go home for a nap.
You might also like:
-
Aidan is TWO
-
Chickadees
-
Camping!
-
First day of "preschool"
-
Elizabeth end of year concert
May 29, 2010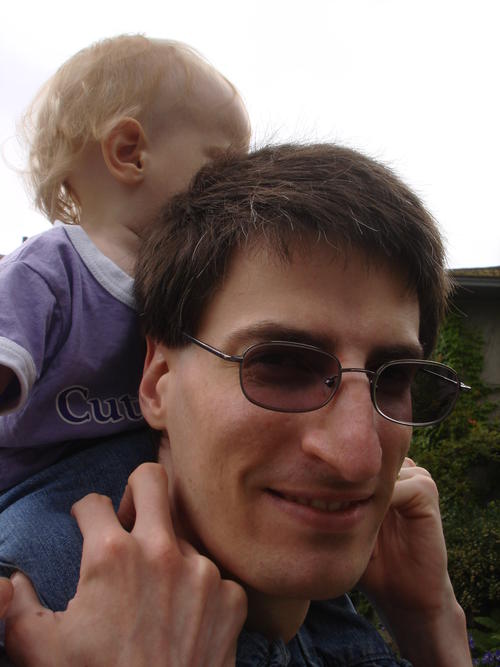 Today was the 24th annual Great Glebe Garage sale. I'm happy to report that more stuff left our house than arrived; in fact Brendan and I refrained from any purchases at all. Elizabeth would have liked to buy many, many things, mostly in the stuffed animal department. Eventually we decided to come home and let Elizabeth do some of the selling...
After the garage sale we spent a little bit of time working on the playhouse. We've finished three walls and put in the window. Elizabeth seems to approve so far.
You might also like:
-
Great Glebe Garage Sale
-
Sand Delivery
-
Like riding a bike
-
Playstructure
-
Washing the Car
May 28, 2010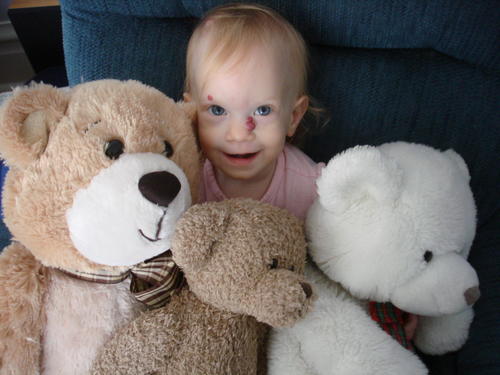 It's picture with a bear day! Just in case you were wondering, now that Elizabeth is over a year old we're only taking these every three months.
We no longer have a baby in the house. She's officially been replaced by a toddler. A slightly shaky on her feet toddler, but a toddler nonetheless.
At fifteen months, Elizabeth weighs approximately eight kilos (17.6 pounds). Her teeth are coming in one after the other but figuring out the current total is difficult without chewed fingers. There are at least ten (four front top, four bottom top and two molars). She chews her own fingers too. The other day she bit her thumbnail so hard she was bleeding from the bottom of the nail! We hope she outgrows this soon. Elizabeth still lets us brush her teeth, especially if she gets to brush Mommy's teeth too. Mommy only lets her do this as a special treat because Elizabeth brushes with great vim and vigour and Mommy has a strong gag reflex...
Elizabeth loves to do things and learn about the world around her. She is continuously pointing at things and expressing her desires. She still loves to read, play and snuggle her bears. She has started to climb anything that doesn't resist too hard and enjoys relocating objects around the house (including furniture). Anyone seen Mommy's new bank card?
You might also like:
-
Picture with a Bear Day
-
Amelia 21 months
-
Matthew is eleven months
-
Braking Leaves
-
Sledding
May 27, 2010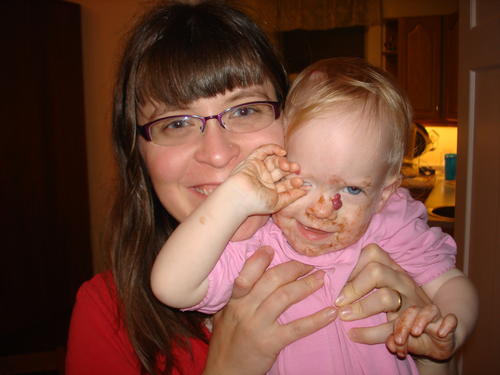 Is Elizabeth a pudding face? Did you know that toddlers used to be called "little pudding heads"? Not because they smear pudding all over their heads, either.
You might also like:
-
Small Spaces
-
Happy Dance
-
What's yours is mine and what's mine is yours
-
Photo with the bear day
-
Standing Unassisted
May 26, 2010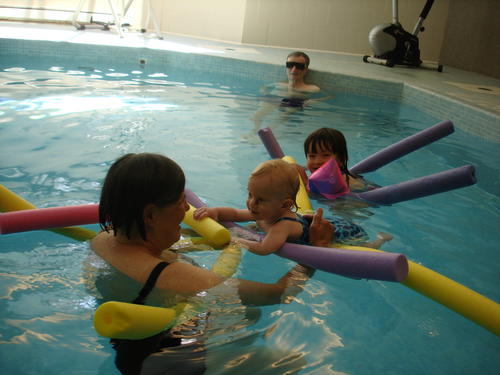 It's been HOT here in Ottawa, and although we have air conditioning at home the weather has been cramping Elizabeth's routine. She wants to go out, but it's not going for a walk weather.
So cousin Erika and Elizabeth and I headed to Grandma and Grandpa J's pool for a little splashing around. Elizabeth seems a little more comfortable in the water every time we go swimming. Supported by copious numbers of pool noodles I was able to tow her around the pool and get a little exercise myself! She's started to kick her legs in the water and even paddle with her hands from time to time instead of clinging desperately to Mommy like a little koala.
She even floated on her own although she still needs to be reminded that we don't drink pool water...
You might also like:
-
First swimming pool
-
Maria's first swim
-
Spring
-
Big Bed
-
Cottage Days